Yes, We Do Negotiate With Terrorists
Contrary to the oft-repeated slogan, the United States has negotiated with terrorists before. And we will do it again.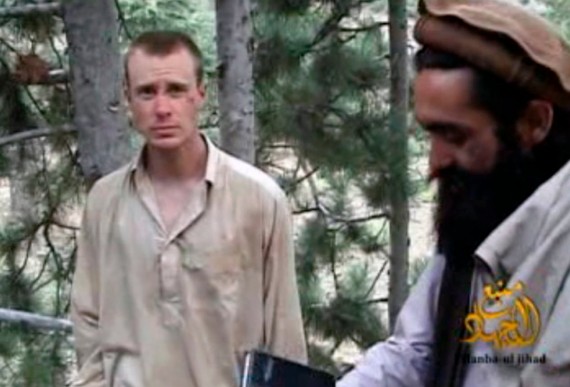 One of the common refrains that has been heard from Republican critics of the President in the wake of the deal that resulted in the release of Sgt. Bowe Bergdahl is the objection that the President "negotiated with terrorists" in order to get Bergdahl released. Supposedly, this is something that America does not do because it of the incentives that it creates for terrorists to commit more acts that result in more deals. It is indeed true that American Presidents since at least the days of Ronald Reagan have publicly stated that the United States "does not negotiate with terrorists." In reality, though, negotiating with terrorists is something that we do much more often that we'd probably like to admit:
Islamist extremists capture a young Westerner, holding him hostage for years. To secure the young man's release — and his life — the United States sets free a militant responsible for the deaths of American citizens in the Middle East.

If this sketch is ringing a bell, think again. We're not talking about Bowe Bergdahl, the American soldier released in exchange for five Taliban fighters held at the Guantanamo Bay prison. We're talking about Peter Moore, a British civilian held hostage and released by Iraqi militants after American authorities agreed to set free Qais al-Khazali, a former spokesman for influential Shiite cleric Moqtada al-Sadr. Moore was kidnapped in Baghdad after he and his bodyguards were ambushed by Shiite militiamen in 2007. Khazali was implicated in the killing of five American soldiers in Karbala. By January 2010, both Khazali and Moore walked free.

The criticism of and handwringing over the Bergdahl swap was almost immediate. A constant refrain: the United States doesn't negotiate with terrorists. But that is more Hollywood than history. The Khazali-Moore swap is only a recent — and obscure — example. Probably the best known was the Iran-Contra affair, in which the Reagan administration sold missiles to Tehran to secure the partial release of American hostages held in Lebanon.

Other deals have been less explicit. In 1985, Israel released about 700 prisoners — with tacit American approval — in what Robert Oakley, a former State Department counterterrorism coordinator, described to PBS as a "quid pro quo" for the freedom of Americans held hostage on a hijacked TWA flight. Wary of public perception, the Reagan administration allowed Israel to claim that the prisoner release was pre-planned — and independent of any terrorist pressure — instead of formally requesting a swap.

But negotiations aren't always about individual prisoner exchanges; they can be integral components of broader peace processes. The list of case studies from U.S. allies is long. Israel's 2011 exchange of 1,027 Palestinians for Gilad Shalit opened the door to later peace talks. In July 2013, Israeli Prime Minister Benjamin Netanyahu greenlighted prisoner exchanges seen as a prerequisite for the most recent — and rapidly collapsing — round of peace talks. Spain's willingness to negotiate with the Basque separatist group ETA in 1989 set the precedent for final peace talks in 2011. Perhaps most famously, the British government sat down with the Irish Republican Army to negotiate an end to "The Troubles" in Northern Ireland.
Unmentioned in Simon Engler's piece, but obviously highly relevant to this discussion are the negotiations that, principally, the United States and Great Britain engaged in to attempt to secure the safe return of the 96 people who were taken hostage in Lebanon between 1982 and 1992. One memorable part of that, of course, included the U.S. arms sales to Iran that were, at least in part, meant to try to secure Iranian aid in gaining the release of the Americans held hostage be Hezbollah. That was, quite obviously, negotiating with terrorists. However, in the end it was the only realistic way to get the hostages freed, although the whole idea of selling arms to Iran was really quite a dumb idea.
As Engler, the negotiations with Taliban representatives in Qatar that eventually led to the released of Sgt. Bergdahl serve, at least potentially, as an opening to something wider. For one thing, the fact that these people were successfully able to deliver Sgt. Bergdahl confirms that they are indeed linked with, and can speak for, the Taliban forces in Afghanistan, something that has been in doubt from the very beginning of the decision to allow the opening of a Taliban "embassy" in Doha. While this doesn't necessarily mean that wider negotiations are possible — indeed, the Taliban have shot that idea down — it does suggest that smaller-scale deals might be possible in the future. Futhermore, as I've stated in discussions elsewhere online about this whole matter, if we wanted to get Sgt. Bergdahl home then how exactly were we supposed to do that without talking to the Taliban, regardless of whether or not we consider them a "terrorist" organization? They are the ones who had control over him, he was apparently well-hidden in an area that would have proven difficult to extract him from safely, and it wasn't like there was any indication they were going to give him up voluntarily. If you wanted to get Sgt. Bergdahl home, and as recently as just a few months ago many conservatives were calling for that, then there was really no way to do it that didn't involve negotiating with the Taliban.
The broader point, though, is probably even more important. There's something satisfyingly jingoistic about saying that we'd never negotiate with terrorists and, obviously there are some situations where we wouldn't do that. To rule it out in all circumstances, however, is just foolish and ignores history and the realities of the world that we live in.