2013: The Year Marriage Equality Won
The year that will soon ended will go down in history as the year that the same-sex marriage debate changed forever.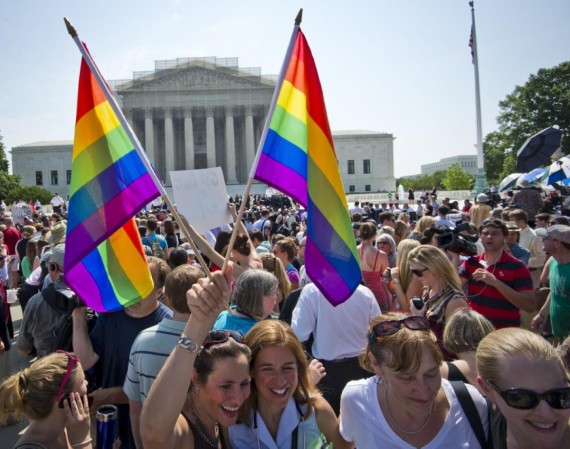 The past year has, in almost uncountable ways, been the most significant year to date for the marriage equality movement since it began moving into the mainstream nearly twenty years ago when Hawaii's Supreme Court issued a ruling that ultimately led to a movement that was supported by the right and the left to pass laws banning same-sex marriage at the state level, and to the passage of the Defense of Marriage Act by a bipartisan majority in Congress in the mid-1990s. Indeed, the forces arrayed against same-sex marriage had a virtually unbroken success rate that stretched over almost twenty years and ending with the referendum in the Spring of 2012 in North Carolina that placed a bar against same-sex marriage in that state's Constitution. During that period, of course, there were small victories for the marriage equality movement in states like Massachusetts, Iowa, and elsewhere, but for the most part the 20 years between that original decision from the Hawaiian Supreme Court and the North Carolina referendum were years of victory for the proponents of so-called "traditional marriage," and disappointment for those who supported the idea that gender should not be an issue if two consenting adults wanted to claim the status, and the legal benefits, of being married.
After North Carolina, though, things clearly began to change. First of all, mostly in response to a seemingly off-hand remark by Vice-President Biden, President Obama acknowledged publicly something that most people had assumed for some time, namely the fact that he supported the legalization of same-sex marriage. Some subsequent reports have indicated that Obama, or at least some of his closest advisers, were privately upset that the Vice-President had seemingly backed the President into a corner but, in the end, it was obvious that Obama's announcement did not hurt him publicly. Indeed, by the point he made these statements in April 2012, polling was already starting to indicate that the American public had already crossed the tipping point, with polling showing that a slight majority supported same-sex marriage. In and of itself, that alone was a remarkable transformation considering that less than 15 years earlier, the vast majority of the public opposed the idea.
Within seven months of President Obama's statement, the tide would begin to turn. In the 2012 elections, three states, Washington, Maryland, and Maine, voted in favor of  referendum questions approving same-sex marriage while a fourth state, Minnesota, became the first state where voters rejected a referendum that would have added an Amendment barring same-sex marriage to their state's Constitution. In the early months of 2013, legislatures in Rhode Island, Delaware, and Minnesota all approved bills authorizing same-sex marriage that were signed into law by their respective Governors. In June, the Supreme Court let stand a lower Court ruling striking down California's Proposition 8, thus legalizing same-sex marriage in the nation's largest state, and, in United States v. Windsor, struck down Section Three of the Defense Of Marriage Act, and thus requiring the Federal Government to officially recognize all valid marriages between gay and lesbian couples throughout the nation.
Windsor in turn led to a series of quick legal developments that is likely only the beginning of its legal impact. To start with, in September a trial court judge in New Jersey determined that the Supreme Court's ruling in that case required the Garden State to recognize same-sex marriage because the state's laws limiting gay couples to just civil unions did not comply with previous rulings by he state's Supreme Court that New Jersey law must recognize full equality for same-sex and opposite sex couples. That ruling became a fait accompli when a ruling on a request for a stay made it obvious that the state would lose on appeal led Governor Christie to order that the state drop its appeal of the trial court ruling. Just last month, legislatures in Hawaii and Illinois passed laws legalizing same-sex marriage. Then, within just the past ten days, Courts in New Mexico and Utah have ruled that same-sex marriage must be recognized within their jurisdiction. At this point, then, 18 states, plus the District of Columbia and several Indian Tribes, have recognized same-sex marriage. that accounts for ~39% of the U.S. population. If you include the states that grant civil union rights to gay couples, it rises to ~44% of the population. After just 15 years, most of which was marked by a record of success for the "traditional marriage" crowd, that's an amazing record of success.
Looking forward, Reid Wilson notes at The Washington Post that there is the distinct possibility that we may see considerable progress on the legal front:
Judges in 17 states are considering at least 31 cases seeking to allow gays and lesbians to marry, according to a private count kept by one LGBT group and shared with The Washington Post. Same-sex couples in states ranging from deep red Arkansas, Louisiana and Mississippi to purple North Carolina, Nevada and Virginia are suing, many citing this year's Supreme Court decisions, which other federal judges have recognized.

Political reality has forced same-sex marriage backers out of state legislatures and into federal court. After two years of winning legislative and electoral battles, primarily in states controlled by Democratic legislatures and governors, same-sex marriage supporters have only one more chance to change a state's laws on the ballot — in Oregon, where a measure to legalize marriage will almost certainly be on the ballot next November.
There is also the possibility of ballot measures related to same-sex marriage next year in states ranging from Oregon to Colorado to Indiana. None of these efforts are guaranteed to succeed. Indeed, there is likely to be a set back or two coming. The end result, though, seems indisputably clear. At some point, the majority of the population of the United States will live in states where same-sex marriage is legal. Soon after that, it will expand further until, at some point, every state in the Union will recognize marriage equality, even the deepest red states like Alabama and Mississippi. It may take time for people in some parts of the country are fully comfortable with the idea, but that too will come in time. At that point, the American people will look back and wonder what the heck took so long. They'll also most likely see 2013 as the year the tide finally turned and the outcome became inevitable.