8 Senate Seat Changes, All Democrat to Republican
Nate Silver has produced "The Ultimate Hour-by-Hour, District-by-District Election Guide."
Here are his current toplines:

No great surprises.   What really caught my eye, though, was this Senate chart: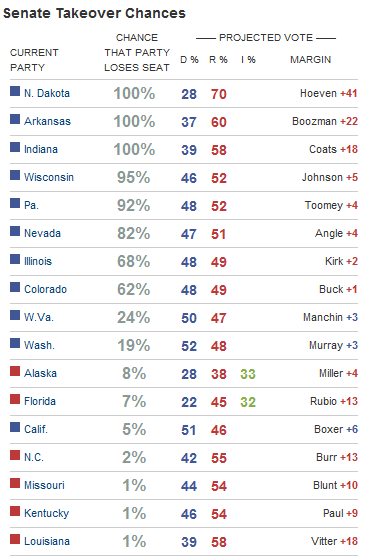 Even in an ultra-competitive election, a whopping 8 of 37 Senate contests are remotely likely to chance party hands.  And this is the body that doesn't have gerrymandering and safe seats!
Silver gives a 100% chance of the Republicans taking over in North Dakota, Arkansas, and Indian and a near certainly of them taking over in Wisconsin, Pennsylvania, and Nevada.  And a very strong chance in Illinois and Colorado.   That's all 8 takeover possibilities; there's not a single Republican held seats where the Democrats have even a remote shot at takeover.  The closest they come is an 8% chance in Alaska and 7% in Florida!