9/11 And The Never-Ending War
The world changed significantly twelve years ago today. Will it ever change back even a little bit?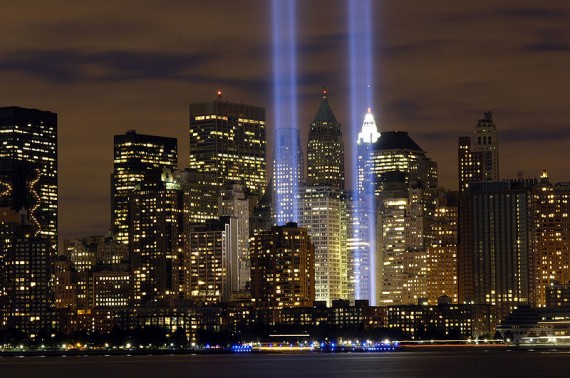 Today, of course, is the 12th anniversary of the September 11th attacks. There's really not much one can say beyond that which hasn't already been said. Indeed, it's not really my intention to add anything to a topic that I've written about extensively over the past seven years both here and at my personal blog each time we've hit one of these anniversaries. (For those interested, you can find some examples of the 10th anniversary posts we did here at OTB here, here, and here.) There just doesn't seem be much to add to those memorializations. Today, however, I happened to come across a post written two weeks ago by Mark Kogan noting that, for his generation, it marked the beginning of a war that seems to have no end:
Since I was 14-years old, the United States of America has been at war.

That's roughly triple the time we spent in World War II and three years longer than it took us to win our independence. And today, on the same day President Obama commemorates the 50th Anniversary of Dr. Martin Luther King's speech holding up non-violence as an ideal, his administration prepares to extend our time at war once again, this time in Syria.

But when is enough enough?
The length of America's post-9/11 commitment in the name of the so-called "War On Terror" has been noted many times before, of course. By most accepted measures, the war in Afghanistan is now the longest war in  American history, and the deployment of American troops isn't scheduled to end for another year. Even after then, there may end up being American forces left behind in Afghanistan if we're able to work out an acceptable agreement with the government in Kabul. Beyond that, though, the "War On Terror" shows no signs of ending any time soon. American drones will continue to target suspected terrorists not just in Afghanistan but also in Pakistan, Yemen, Somalia, and where ever else President Obama or his successor(s) might deem necessary. More importantly, the Authorization For The Use Of Military Force Against Terrorists that Congress overwhelmingly passed just three days after the attacks, and which President's Bush and Obama have both used to engage in attacks in nations well distanced from Afghanistan. Under that AUMF, Obama and any President that follows him can justify military action simply by saying that it something to do with al Qaeda or groups linked to al Qaeda and, unless Congress steps in to restrict their authority under the AUMF, his actions would be completely justified. For that reason alone, there's no real reason to think that the war that Kogan and other millennials have grown up with will really be ending any time soon.
Domestically, this never-ending war has changed us as much as it has internationally. Airport security that used to be perfunctory in many cases is now to the point where the American people take it as a matter of course that they have to take off their shoes, carry their tiny bottles of liquid in clear plastic bags,and consent to being groped by TSA agents in order get on an airplane. Surveillance cameras are now a common sight in American cities, especially in New York and Washington, D.C. The Fourth Amendment workarounds given to law enforcement by the PATRIOT Act are now used more in non-terrorism case than in investigations related to terrorism and, as we learned this summer, the National Security Agency has been given vast surveillance powers that went completely unknown until a lone systems analyst decided to make the information public. As much as 9/11 changed the face of our foreign policy, it has altered in fundamental ways the relationship between the individual and the state, and not in a good way. That's another legacy that Kogan's generation will likely be dealing with for the rest of their lives.
Of course, there is a segment of the American political world that is just fine with the idea of the never-ending war. Even in today's era of the supposedly more libertarian Republican Party standing up against a President who wants to engage in military adventurism in a Middle Eastern nation, there remains overwhelming rhetorical support for the idea of a "War On Terror" that is even more strident that what we've seen so far. The extreme fringe of the people holding this idea continues to hold to the absurd idea that we need to go to war with all of Islam, as if fighting a war against a religion composed of more than a billion people is a good idea. That's a war that would last a generation or more, and it's not one that we'd be likely to win.
I'm not sure what the answer is to Kogan's lament about the never-ending war that his generation has been handed. We obviously cannot ignore the existence of real threats to our national interests or the fact that terrorist threats that seem de minimis now could become something more substantial later. Al Qaeda taught us that particular lesson very well twelve years ago. At the same time, one does have to wonder when enough is enough and, more importantly, how much longer our nation can continue on this path before we are fundamentally changed. Or, has it already been too late for that?