A Post-Holiday Jobs Slump?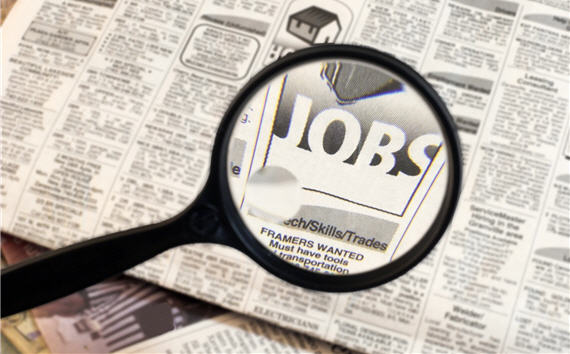 In addition to last week's encouraging unemployment report, another set of data that has been sending out positive signals for several weeks now has been the weekly initial jobless claims report from the Department of Labor. Several weeks ago, that number fell below 400,000 claims, a level it had stayed above for the better part of the past three years. Dropping below that psychological barrier was seen as a positive development, and a sign that perhaps the jobs market was turning around for real. Today, however, we got a rather disappointing report that calls much of the recent optimism into question:
The number of people applying for weekly unemployment benefits spiked last week, largely because companies let go of thousands of workers after the holiday season.

The Labor Department said Thursday that applications jumped by 24,000 to a seasonally adjusted 399,000, the most in six weeks.

That followed three months of steady declines that brought applications to the lowest level in more than three years.

Applications typically soar in the first two weeks of the year.

That's because many companies lay off temporary workers who were brought on to help during the holidays. The department tries to adjust for those patterns. But the task is difficult because the data can be volatile.

The four-week average, which attempts to smooth such fluctuations, also rose, to 381,750. It had fallen in the previous week to a three-and-a-half-year low.

When applications drop below 375,000 — consistently — that generally signals hiring is strong enough to reduce the unemployment rate. Prior to last week's spike, applications had been below 375,000 for three of the past four weeks.

The unemployment rate fell in December to 8.5 percent, a three-year low. Employers added 200,000 net jobs, double November's 100,000 gain. The economy gained 1.6 million jobs last year, up from 940,000 in 2010.

Economists forecast roughly 1.9 million more jobs will be added this year, according to a survey by The Associated Press.
That last forecast is actually quite sobering. There are currently 13,000,000 people unemployed. Adding less than 2 million new jobs a year is not the road to recovery by any means, and sustained job growth at that rate would mean that it will take years before we get anywhere close to the pre-recession employment levels, something we've seen from other forecasts over the past year or so. As David Leonhardt notes these numbers are nasty, but may not mean very much after they end up getting averaged out over a month. We'll have to wait and see. However, it does point out why it's far from too early to start playing "Happy Days Are Here Again."
Another possible fly in the water for future economic growth comes from the December retail sales figures, which were well below what was expected:
Retail sales rose at the weakest pace in seven months in December as consumers pulled back late in the holiday shopping season, cutting purchases at department stores and spending less on electronic gadgets.

Total retail sales increased 0.1 percent after rising by an upwardly revised 0.4 percent in November, the Commerce Department said on Thursday.

Economists polled by Reuters had forecast retail sales climbing 0.3 percent last month.

The upward revision for November sales suggests consumers likely frontloaded their holiday shopping. The government had initially estimated retail sales gained 0.2 percent in November.

Spending at electronics and appliance stores fell 3.9 percent in December, while shopping at department stores slipped 0.2 percent.

Fueling the overall increase in retail sales during December, receipts for motor vehicles and parts increased 1.5 percent, adding to the prior month's 0.9 percent gain.

Excluding autos, retail sales fell 0.2 percent, the first decline since May 2010.

(…)

Core retail sales, which exclude autos, gasoline and building materials, dropped 0.1 percent in December after advancing 0.3 percent the prior month.
This could be an indication that January's jobs report won't be quite as good as those we saw in November and December.