Abbott and the Border Wall
The governor of Texas vows to finish what Trump started.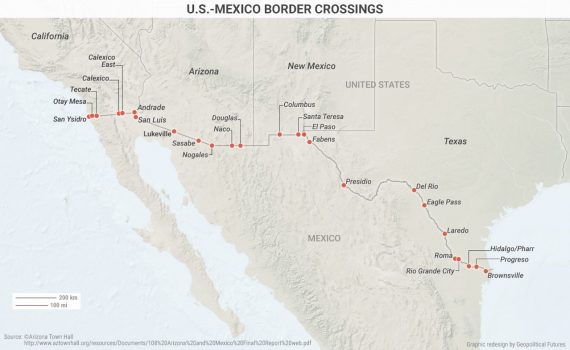 The Texas Tribune reports: Gov. Greg Abbott has touted the state's efforts to build a border wall, but many details remain a mystery
On Saturday, Gov. Greg Abbott unveiled nearly 900 feet of newly constructed border barrier on state-owned land near the Rio Grande in Starr County, six months after he promised to finish what President Donald Trump started.

It was the first section of what's expected to be a nearly 2-mile stretch of wall, and it followed a series of smaller-scale state attempts to block immigrants with chain-link fences, a row of shipping containers and even a boat blockade on the river.

But after the Trump administration managed to build just 21 miles of new border barrier on the 1,254-mile Texas-Mexico border over four years (and also replaced 34 miles of older barrier), the state hasn't publicly disclosed some basic information about Abbott's wall-building plans.
Several questions persist in my mind on this topic:
Is this worth the expense?
Is this in any way feasible?
Is this even efficacious policy?
What about property rights?
Who benefits the most from this?
Let's start with questions #1 and #2 and stipulate for the moment (before getting to #3) that, as the phrase goes, walls work. What will this cost?
The barrier being erected in Starr County offers the first insights into how the state will carry out Abbott's wall project. In November, the Facilities Commission awarded a $162 million contract to New York-based Posillico Civil Inc. to build 8 miles of border barrier, including the 1.7-mile stretch in Starr County that the Facilities Commission said will cost $34.5 million.

That's just over $20 million a mile. By comparison, border wall construction under the Trump administration ranged from $6 million to $34 million per mile, according to a Texas Tribune analysis.

Abbott has said that 733 miles of the Texas-Mexico border may need some type of barrier. Roughly 1,000 miles have no barrier.

With the $1.05 billion the state has for construction — most of it taxpayer money, but it includes $54 million in private donations, as of Dec. 13 — Texas could build just over 52 miles of border barrier at that price per mile.
At $20 million a mile, 733 miles would cost $16.7 billion (and that does not include maintenance nor the fact that the price of steel is currently going up, up, up). Using what is likely the most expensive estimate of the cost of illegal immigration to the state of Texas, it would take almost twenty years to recoup those saving assuming 100% efficacy (and, somehow, magic deportations). That is using AG Paxton's estimate that illegal immigrants cost Texas $850 million per year in state services. So $16.9 billion divided by $850 million gives us 19.83 years of spending to equalize assuming perfection. But, of course, the wall would not mean a perfect stoppage of illegal immigration (first, a huge chunk–roughly half–of it is via overstayers, not people crossing the Rio Grande in the dead of night and second, there are ways to thwart a wall). Further, one has to know what economic benefits are being generated by these folks (such as tax revenue and general economic activity) if one is going to come up with a real cost figure.
In sum: if a fantasy scenario (zero maintenance costs, perfect execution, an assumed zero benefit from immigrants, and magic deportations at some point) means the wall doesn't pay for itself in two decades, then there is no reality in which building a wall is a good investment if the goal is actually about stopping/slowing illegal border crossings because immigrants cost citizens too much.
Please also note, for whatever it might the worth, that the story talks about the unveiling of 900 new feet of a projected 2-mile new section with a contract for 8 miles.
Of course, there are the broader questions of whether there aren't better uses for those funds beyond this narrow topic.
Further, in regards to question #2, since the Trump administration managed all of 21 new miles of fencing, is there any conceivable circumstance wherein 733 miles get built along the Texas border by the state?
Even if cost and feasibility are somehow dealt with, what about question #3: how efficacious will it be? The answer is not anywhere near the level promised. Again, as noted above, roughly half of the undocumented are people who entered legally and then stayed longer than they should have under the law. A perfect wall will not change any of that.
And of course, walls aren't perfect. We know that people can go over them, under them, and even through them. Sometimes, the wind takes them out.
The numbers show (see this post from 2018) that a major driver for the wave of migrants has been the various crises in Central America. A well won't change those desperate conditions nor will they stop desperate people from attempting desperate actions.
All of this is fantasy, regardless of one's views of immigration. I would submit that even the most diehard anti-immigration proponent should oppose the wall on efficacy and cost grounds. If one wants to stop illegal immigration, there are far better ways to spend the dollars. Or, if one is a true limited government conservative, this ought to spark some concern (especially with question #4 about private property–how much land seizure will this require?).
Texas will need a large amount of private land to build Abbott's wall. The governor has said state officials are in talks with private property owners along the border who are willing to donate their land so the state can build barriers on their property.

The state manages 497,075 acres of land within 25 miles of the border, said Matt Atwood, a spokesperson for Texas Land Commissioner George P. Bush, who has sued the Biden administration for halting construction of the border wall in South Texas.

In Starr County, Posillico Civil plans to build an additional 1.2 miles on private property next to the 1.7-mile stretch, but no agreement has been reached with nearby landowners, said Francoise Luca, a Facilities Commission spokesperson. The location of the remaining 5.1 miles outlined in the Posillico contract has not been determined, Luca said.
Is it too snarky to note that these distances are essentially irrelevant? Let's say I have made the trip from San Salvador to the doorstep of Starr County, Texas. I have traveled almost 1,500 miles. Are another 1.2 miles or even 5.1 miles going to deter me?
By the way, some US citizens are finding themselves on the wrong side of the fence, which seems like a weird policy design if you ask me. It certainly isn't pro-citizen.
I am trying to mainly provide bare facts and not get overly normative, but the sheer imbecility of this policy is overwhelming (as I have noted more than once).
But wait, you say, what about stopping drugs? A Fox News piece noted the following from Abbott:
He also raised the fentanyl crisis, saying that state authorities have seized "enough fentanyl to kill every man, woman and child in Texas, California, New York, Illinois, and Florida combined." 
Sure, but first, this is a non sequitur. That lots of drugs have been seized does not mean that a wall would stop them. Most likely those drugs were seized mostly at established crossings (which is where most drugs enter). Moreover, drugs are easier to get over, under, or through walls/fences than are people. Bringing up drugs is just scare tactics/a bait-and-switch.
All of the comes down to #5 (who benefits?) and the answer is clearly Abbott. In the short term, he is seeking re-election, and fear-mongering over the border sells to enough voters to make it worth his while. He may also have other ambitions (every governor, especially of large states, at least fleetingly think of running for president). Most people are not going to spend even a few minutes doing the math (let alone on Christmas Eve!*), but rather those inclined to like this sort of thing will simply see action (and promises kept, even if they are performative in nature).
It would seem that performative xenophobia trumps efficacy. Again, even if one is a diehard on limiting illegal immigration, this is not the best way to accomplish the goal. This all about symbolism and the perception of "doing something" rather than anything else. It is a cartoon version of immigration policy.
It also shows how a silly slogan "build the wall" can take on a life of its own (like much of Trumpism has done). See this Forbes piece: Where The Idea For Donald Trump's Wall Came From for more on the origins of the notion.
---
*It's possible I have a problem.