Ahead Of Convention, Plenty Of Pitfalls For Democrats
Obama heads into his convention in a good position, but with several potential pitfalls in his path.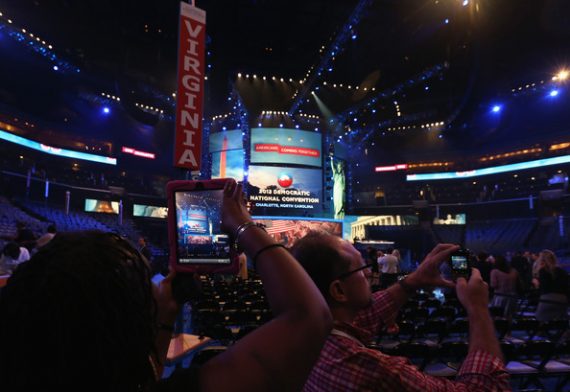 The Democratic National Convention starts tomorrow and, based on the polls at least, President Obama finds himself in a position of relative strength. He is leading, albeit by a slim margin, in the national polls, he is ahead in even the most conservative Electoral College projections, and he has slim advantages in state polling in such crucial swing states as Ohio, Virginia, and Florida. At the same time, though, there are as many risks for the Obama campaign heading into Charlotte as there were for Mitt Romney heading into Tampa. Mark McKinnon catalogs some of the more notable issues:
They're caught in a trap. And it's a trap they built. (Yes, they did build it. Nobody else made it happen.) As the 2012 Democratic National Convention nears, I do not envy Team Obama. They have to escape from the narrative trap they've built.

The political parties espouse two obviously different philosophies, neither right nor wrong. Republicans believe in individual achievement for the good of the whole. Democrats believe in collective achievement for the good of the individual. But right now, individuals are collectively hurting. And the Democrats are in power. That's a mighty big challenge to overcome.

And following a very successful Republican National Convention, there are even more.
McKinnon lays out a number of issues that he believes are likely to be potential problems for the GOP, including:
•    Finding the real front line. With the 15 minutes of fame gained by Todd Akin on the right and Sandra Fluke on the left, Democrats thought the battle lines were drawn. A "war on women" was being waged by Republicans, they charged. Funny thing is, the GOP tunneled right under that front line. The GOP convention celebrated the success of women, from Ann Romney, Condi Rice, Susana Martinez, Sher Valenzuela, and Mia Love to Paul Ryan's 78-year-old mother, Betty. And the economy, not social issues, was the primary focus.

•    Avoiding the plague. High-profile Democrats are staying half a world away from the convention. Everyone loves to be around a winner. The converse is also true. And that's not a good sign for President Obama.

•     Looking forward. How can a party go forward when it is looking backward? The convention in Charlotte will feature Jimmy Carter and Bill Clinton. The GOP showed a deeper, stronger back bench that seems to be missing this year on the Democratic side of the aisle.

•    Singing the same song. The old ideas haven't worked very well. Will there be any real, new ideas?

(…)

•  Believing in miracles. The oceans are still rising, and the earth has not healed. Even Democrats are going to be skeptical of dramatic promises. What can Obama say to inspire, yet keep it real enough to be believed?
Over at Politico, Reid Epstein lays out a number of other risks that the Democrats face this week, including:
Bill Clinton is starring in a new Obama campaign TV ad, but he's made it clear in the past he doesn't take his talking points from the Obama campaign — he's even said so explicitly.

Clinton's got a prime-time speaking slot on Wednesday night, but Charlotte will be full of chances for him to freelance on camera or speak just a bit too candidly about Obama. Republicans will be ready to pounce on Clinton if he credits himself instead of Obama for positives, or expresses doubts about an Obama proposal. And then there's the possibility Clinton could suggest support for a Republican plan, like he seemed to in June regarding the competing proposals over extending the Bush tax cuts.

(…)

Republicans built a whole night in Tampa around rebutting Obama's "You didn't build that" line. Democrats are putting in prime time the woman from whom Obama cribbed the line.

That's not the only potential trouble from Elizabeth Warren, the Democratic candidate for Ted Kennedy's old Senate seat and the woman who headed the creation of the Consumer Financial Protection Bureau. The Harvard Law professor is a political novice who will be making her debut on the national stage. And even though she'll be in Charlotte to pump up the president, her main focus will be her own election prospects, and what plays in Massachusetts — and to the Daily Kos crowd — isn't alwas what moves moderates around the rest of the country.

(…)

The Occupy Wall Street movement largely died out in the public eye after police departments, particularly in New York, forced them to abandon the public spaces they'd occupied.

Still, a ragtag group of anti-capitalist protestors are aiming to make noise at the Democratic convention, which could include protests out on the streets and flare-ups on the convention floor during the main speeches.
Both Epstein and McKinnon hit on issues that point out the extent to which the Obama campaign finds itself constrained by the reality of the world in which we live. Unlike Reagan in 1984, Clinton in 1996, or Bush in 2004, the Obama campaign finds itself with a rather short list of successes to which it can point to as evidence in support of a second term.
More importantly, as they both note, the convention itself poses its own risks for the party. The Occupy crowd turned out to be a complete failure in Tampa, in no small part due to the fact that the possibility of rain was more important to some of those dilettantes than the chance to stage a political protest. However, Charlotte has proven to be an oddly active hub of Occupy activity. The siege mentality level of security may keep much of their protests out of the popular media, but based on the blogosphere traffic on the left it seems like these people are more intent on disrupting things in Charlotte than they were about doing the same in Tampa.
Additionally, as McKinnon notes, there's the whole Bill Clinton factor. Put aside whatever you're hearing about Bill Clinton and Barack Obama being friends, the cold hard reality of the matter is that Bill Clinton doesn't do anything that doesn't advance his political interests, or the political interests of his wife. One can only assume that his speech will be as much about promoting the Clinton brand as it is about promoting Barack Obama. And, to be completely honest, if Hillary Clinton really does have Presidential ambitions for 2016, it hardly matters for her which candidate wins on November 6th.
Jazz Shaw comments:
[W}hat about the "war of ideas" we've been hearing so much about. Democrats are charging that Romney and Ryan didn't provide "enough specifics" during their convention. But what can / should Obama offer? At least Team R&R are offering a new approach for cutting costs and reforming entitlements, but they need to be elected to enact them. Barack Obama is already in office and has been for nearly four years. If he has some brilliant new plan to fix things, why isn't he already doing it? It's a tough message to sell.
That's not an unfair point at all. After four years in office and a pathetically bad economic recovery, one has to feel kind of sorry for the campaign surrogates who have to make the positive case for the Obama/Biden campaign. That's why their appearances usually involve the politically smart moves of attacking Romney and reminding everyone that George W. Bush was once President. If that's all we hear from the dais, though, it's going to become rather boring after awhile.
Finally, no matter how well the convention goes for the Democrats, no matter how good President Obama's speech is on Thursday night, there's a better than even chance that their week may be ruined by the news to come on Friday:
Ten hours after President Barack Obama accepts the Democratic nomination for reelection, the Bureau of Labor Statistics will toss a stink bomb into his post-convention party.

The August jobs numbers are due out Friday morning, just as Obama will be seeking to capitalize on his convention momentum. The timing guarantees that Obama's post-Charlotte, N.C., campaign swing to New Hampshire, Iowa and Florida will battle for headlines with the barometer of economic recovery.

It will be a moment of reality for Obama, who has spent months on the campaign trail reminding swing-state voters that he inherited an economic mess. He's warned them that GOP nominee Mitt Romney and his running mate, Paul Ryan, share the tax-cutting ideas that Obama's predecessor, George W. Bush, held when the economy tanked. And he's invoked the job growth that resulted when former President Bill Clinton raised taxes on the wealthy.

The jobs report will immediately turn the focus away from the forward-looking message Democrats will push in Charlotte. For a day, at least, the successes the Obama campaign has touted on health care, reproductive rights, gay marriage and immigration will go by the wayside as the jobs numbers suck up the political oxygen.

One thing is clear: No matter how many jobs the nation created in August, Republicans will say it's not good enough, turning the political conversation back to Obama's stewardship of the economy rather than extending the friendlier territory he'll seek out this week.
The current consensus forecast is looking for about 120,000 jobs created in the month of August, which would be below the number reported for July. However, there are also some signs that August job growth may have been worse than that. Whatever the number, though, it's not likely to be good, and it's likely to step all over the Obama campaign's post-Convention messaging.