Alabama Senator Jeff Sessions Picked For Attorney General
Alabama's Jeff Sessions will become the nation's top law enforcement officer. That's not a good thing.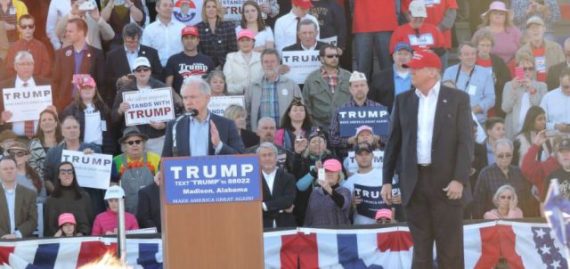 Things have been moving forward today with the President-Elect's transition team this morning. Along with the announcement that retired Lt. General Mike Flynn and Kansas Congressman Mike Pompeo would be appointed to be National Security Adviser and C.I.A. Director respectively, it's been announced that Alabama Senator Jeff Sessions has been selected to be Attorney General:
WASHINGTON — President-elect Donald J. Trump has selected Senator Jeff Sessions, a conservative from Alabama who became a close adviser after endorsing him early in his campaign, to be the attorney general of the United States, according to officials close to the transition.

Mr. Sessions was also under consideration for secretary of defense, creating debate within the Trump transition team over which job he should fill.

Mr. Sessions, a former prosecutor elected to the Senate in 1996, serves on the Judiciary Committee and has opposed immigration reform as well as bipartisan proposals to cut mandatory minimum prison sentences.

While Mr. Sessions is well liked in the Senate, his record as United States attorney in Alabama in the 1980s is very likely to become an issue for Democrats and civil rights groups expected to give it close scrutiny.

While serving as a United States prosecutor in Alabama, Mr. Sessions was nominated in 1986 by President Ronald Reagan for a federal judgeship. But his nomination was rejected by the Republican-controlled Senate Judiciary Committee because of racially charged comments and actions. At that time, he was one of two judicial nominees whose selections were halted by the panel in nearly 50 years.

In testimony before the committee, former colleagues said that Mr. Sessions had referred to the N.A.A.C.P., the Southern Christian Leadership Conference and other civil rights groups as "un-American" and "Communist-inspired." An African-American federal prosecutor then, Thomas H. Figures, said Mr. Sessions had referred to him as "boy" and testified that Mr. Sessions said the Ku Klux Klan was fine "until I found out they smoked pot." Mr. Sessions dismissed that remark as a joke.

Mr. Sessions was also accused of speaking disparagingly of the Voting Rights Act and the stringent oversight it placed on Southern states.
As noted, Sessions was among the first elected Republicans, and the first Senator, to endorse Trump during the Republican primaries so it's no surprise that he's being rewarded with a top Cabinet position. Additionally, the fact that he's from a generally safe red state means that it's highly likely that his replacement in the Senate will be another Republican, whether that replacement is selected by the state's Republican Governor or subject to a Special Election at a later date. Just as an indication of this, it's worth noting that Sessions ran completely unopposed in both the Primary and General Elections in 2014. It also pretty much guarantees that he will be confirmed by a Republican-controlled Senate notwithstanding the controversies that surrounded his attempted nomination to a Federal Judgeship in the 1980s. No doubt, of course, Democrats will seek to bring these issues up again and question Sessions regarding how he may handle issues related to civil rights and race relations as Attorney General, but the fact that there is essentially no longer a filibuster for Cabinet appointments means that Sessions confirmation is a virtual certainty absent the discovery of something more recent that might disqualify him from serving as the nation's chief law enforcement officer.
Notwithstanding the political fact that Sessions is likely to be easily confirmed, there are several reasons to be concerned about him taking this position and what it means for several important areas of the law. A Sessions-led Justice Department, for example, is much less likely to pursue cases involving police abuse or racial disparities in policing such as those that we have seen in recent years in places ranging from Ferguson, Missouri and Cleveland, Ohio to Charleston, South Carolina and New York City. They're also less likely to vigorously enforce the Voting Rights Act against actions by states that have an adverse impact on the ability of minorities to vote, such as the plethora of Voter Identification Laws that have been adopted in recent years. This change in policy could also have an impact on redistricting at the state level after the 2020 Census and the impact it has on minority political power in Congress. Sessions previously and long-stated opposition to same-sex marriage is also likely to impact Federal enforcement of any relevant legislation impacting LGBT individuals at the state level. Additionally, the rise of the Trump Administration as a whole and a Justice Department led by Sessions will likely deal a setback to efforts to reform the nation's sentencing laws, an effort which has been bipartisan but faced opposition from ultra-conservatives such as Sessions and largely opposed by Trump and his supporters. Meanwhile, we're likely to see a Justice Department that focuses on made up problems like pornography rather than real issues facing the country, much as we did under Ed Meese and John Ashcroft.
Elections have consequences, my friends.