Americans Hate Taxes And The National Debt, Don't Know What They Want To Cut
The American public still has a totally unrealistic view of what it will take to get the Federal Government's fiscal house in order.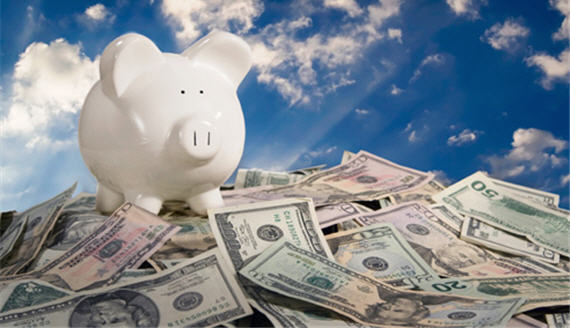 Two new polls show the eternal conumdrum that America finds itself in when it comes to Federal spending, the Budget Deficit and National Debt, and taxes. Americans all seem to agree that debt is bad, that taxes shouldn't go up, and that we need to cut spending, but they aren't willing to commit to the kind of spending cuts that would be necessary to really solve the problems we find ourselves dealing with.
First, there's a new poll from Reuters that shows, not surprisingly, that Americans are almost universally opposed to raising the debt ceiling:
The U.S. public overwhelmingly opposes raising the country's debt limit even though failure to do so could hurt America's international standing and push up borrowing costs, according to a Reuters/Ipsos poll released on Wednesday.

Some 71 percent of those surveyed oppose increasing the borrowing authority, the focus of a brewing political battle over federal spending. Only 18 percent support an increase
This isn't all that surprising. Raising the debt ceiling has never been a politically popular vote to begin with, and the consequences of failing to do aren't easy to explain to the public.
Of course, if Congress went along with the public on this, there would only be two ways to avert the crisis that a debt default would inevitably create. Either they'd have to increase revenue, meaning taxes, or they'd have to start cutting spending, and when it comes to spending, the American public has no idea what it wants. Here is a list of the areas where poll respondents said they would favor cutting spending, ranked in descending order of the percentage of support that exists for cuts:
Foreign aid – 73%
Tax collection efforts – 65%
Financial regulation enforcement – 53%
Military – 53%
Environmental enforcement -45%
Education – 24%
Medicare – 23%
Social Security – 2o%
This is not at all helpful to a reasoned discussion of how we are going to deal with Federal spending.  Even if the top three spending categories were eliminated entirely, they would make virtually no dent at all in the Budget Deficit. The one good sign is that there appears to be public acceptance of the idea that military spending is on the table, although even there significant reductions in the $ 700 billion we spend every year on defense unless we start rethinking our role in the world and whether we really do want to continue to be the world's policeman. And the good news ends there. Two of the biggest line items in the Federal Budget are Medicare and Social Security (and yes, I know that SSI is technically independent of the Federal Budget, but it's being funded with IOUs from the Federal Budget), and only 1 in 5 Americans are willing to consider cuts.
So, if you're not going to make big spending cuts, then the only other option is to raise taxes, right? Not according to a new poll from CBS News:
News poll finds that Americans strongly prefer cutting spending to raising taxes to reduce the federal deficit. While 77 percent prefer to cut spending, just nine percent call for raising taxes. Another nine percent want to do both.

Yet most Americans could not volunteer a program they'd be willing to see cut in order to reduce the deficit – only 38 percent could name a program they would support cutting. The top responses were military/defense (six percent), Social Security/Medicare (four percent) and welfare/food stamps (four percent).
And, as with the Reuters poll, there isn't a whole lot of agreement on what should be cut: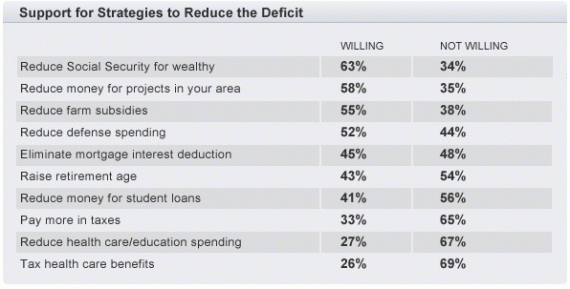 The numbers are actually a little better here than in the Reuters poll, but it's still true that most of the programs for which there is majority support for cuts amount to a very small part of the overall budget, and part of the reason for that may be that the public does not have a realistic idea of what the budget is made up of:
Most Americans do not know exactly how the government spends its money. For example, when asked what percent of the budget goes to earmarks, 41 percent said they make up less than 20 percent of the budget, 13 percent said 20-50 percent, 4 percent said more than 50 percent and 42 percent didn't know. Earmarks actually make up less than one percent of the budget.
When the public doesn't know what is actually in the Federal Budget, they're not going to have a realistic idea of how to fix our fiscal problems,
There's only one way to fix the budget mess that we're in. It's unpopular, it won't be easy, and some people will have to make sacrifices, but it is absolutely necessary:
In order to really get at the heart of federal spending, entitlements need to be on the table, and right now. We need to start scaling them back to safety-net size rather than comprehensive entitlements. Federal pension systems have to be transformed into defined-contribution rather than defined-benefit plans. It won't be popular, but structurally, that's the only approach to the budget that gets us back to fiscal balance.
We're only going to get there, though, when politicians start being honest with the American people, and that isn't happening.