Americans To The White House: It's (Still) The Economy, Stupid
President Obama's job approval numbers are even worse when you just look at the economy.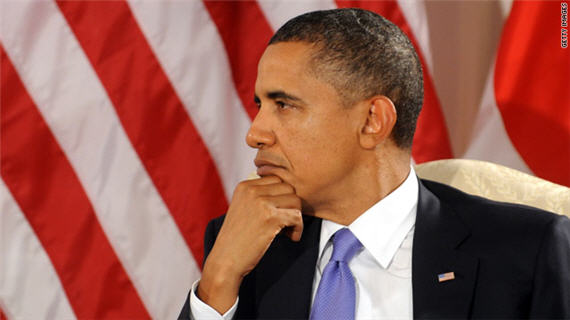 There's more bad news for President Obama in a new Gallup poll showing that the public has soured significantly on his job approval as it relates to the economy:
A new low of 26% of Americans approve of President Barack Obama's handling of the economy, down 11 percentage points since Gallup last measured it in mid-May and well below his previous low of 35% in November 2010.

Obama earns similarly low approval for his handling of the federal budget deficit (24%) and creating jobs (29%).

The president fares relatively better on foreign policy matters, with 53% of Americans approving of his handling of terrorism and roughly 4 in 10 approving on foreign affairs and the situation in Afghanistan. Also, 41% approve of Obama on education.
That last part isn't entirely surprising since President's tend to get a higher approval rating in the foreign policy area than they do on domestic matters. However, the 2012 election isn't going to be decided on foreign policy or the war in Afghanistan, it's going to be decided based on the state of the economy and, for Barack Obama, those numbers have been moving in the wrong direction for quite some time: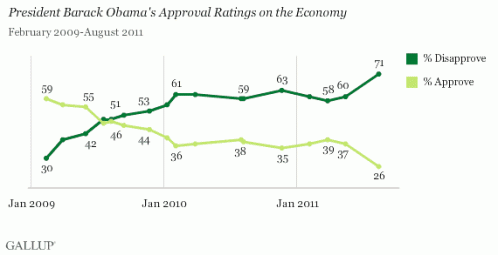 Not surprisingly, there's a significant partisan breakdown on the President's approval numbers, but even there, the bad news is still quite apparent: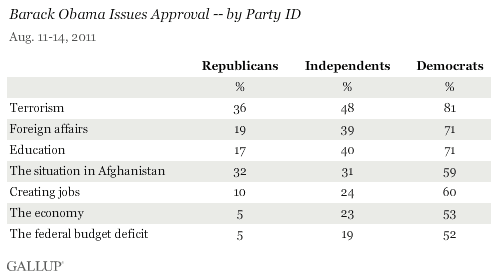 Take a look at that middle column. Even when you take the foreign policy issue areas into account, there isn't a single issues area where a majority of independents approve of the President's handling of his job. On the economy, the President's job approval among independents is even lower than it is among the population as a whole. A quick glance at the poll top lines (PDF) reveals that this is also true of the job approval on the budget deficit and "creating jobs"; in each case the President's job approval among independents is lower than it is among the general population by at least several percentage points. Given the importance of independent voters in states like Florida, Ohio, Virginia, North Carolina, and elsewhere, this is a something that could be a serious problem for the President if it continues.
Democrats seem to be basing their 2012 hopes on the idea that they'll be able to characterize whoever the GOP nominates as so far right as to be outside the mainstream. Clearly, if they select a candidate like Michele Bachmann or Sarah Palin that could easily happen. However, if the President ends up facing someone like Mitt Romney or Rick Perry, which seems far more likely at this point, it's going to be hard for them to paint their opponent as some wild-eved extremist when they've got a long record of government or business experience and the American people are more concerned about the economy than whether or not the guy running for President supports the Defense of Marriage Act. I'm not sure the White House realizes that yet.