An example of the "trial tax"
With choices like these it's easy to understand why people take plea deals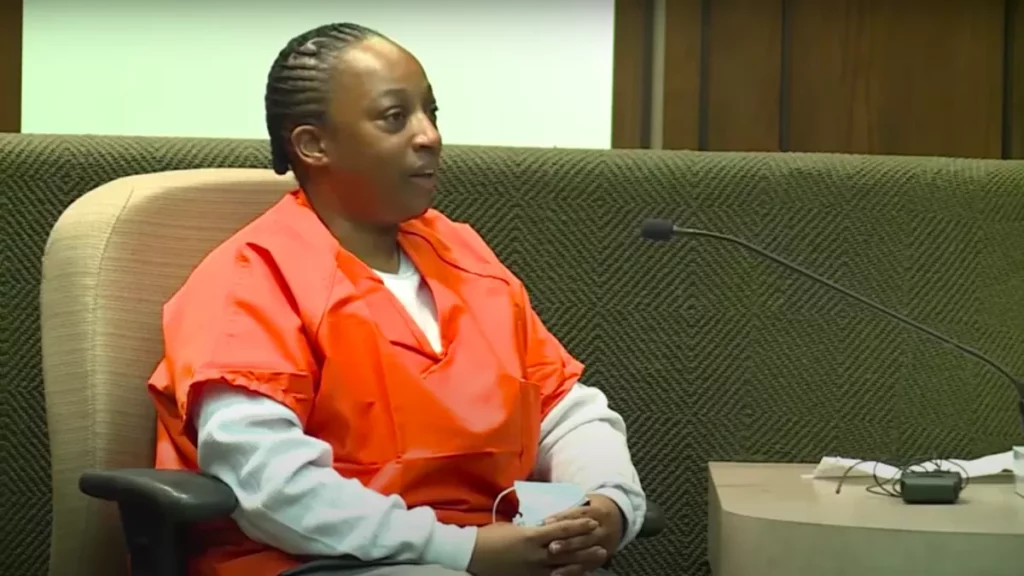 [Update 2: – 2/20 @ 5:07pm EST] – They say the second draft is always better. And in an example of that, I just realized that I wrote the "TL;DR]" version of this post in response to two comments below. So as an experiment, I decided to move it to the top along with three context-setting sentences to see how it works!
Context:
In Tenessee, a woman with a past criminal history was sentenced to six years in prison for attempting to reregister to vote while still on probation. The Tenessee Department of Corrections had mistakenly given her permission to do so. The county prosecutor had offered a plea deal with no prison time, but the woman chose to exercise her constitutional right to trial.

Response:
@Bnut:
Not being a lawyer, didn't the DA have the power to not prosecute at all?
Yes, the DA could choose not to prosecute.
@CSK:
I suspect, given the fact that Moses has "an extensive record of felony convictions," to quote the article, that they were looking for a reason to nail her and grabbed it.
Her criminal history most likely played a role in sentencing. Which ALSO gets to the disconnect between the plea deal and the sentence-if her criminal record somehow suggested that she deserves a particularly harsh sentence, then why was she offered such a light plea (i.e. no jail time).
---
Supreme Court Justice Anthony Kennedy wrote in a 2012 opinion that "criminal justice today is, for the most part, a system of pleas, not a system of trials." According to the Department of Justice's Bureau of Justice Assistance, up to 95% of state cases and 90% of federal cases are pleaded out. Simply put, the US criminal legal system would literally grind to a halt, overwhelmed by trials, if those numbers were to significantly change.
To ensure that the system continues to function many (if not most) prosecutors use a "carrot and stick" approach. The carrot is the promise of often a significantly lower sentence if you accept the plea. The stick is often referred to as "the trial tax," the possibility of a harsh sentence if convicted.
The trial tax can be seen in the recent case of Pamela Moses. The Washington Post summaries the facts at hand:
Moses, a Black Lives Matter activist and former Democratic mayoral candidate in Memphis, had an extensive record of felony convictions, including a conviction for tampering with evidence that caused her to permanently lose her voting rights in the state. To restore rights that she says she didn't know she had lost when she pleaded guilty, the corrections department and county election commission both signed off on Moses's voter registration application in 2019 certifying that her probation had ended, granting her full voting privileges once again.

But there was a problem: The officials who signed off on Moses being eligible to vote acknowledged they made an error in saying her probation was over, meaning her voting rights had not been restored. So when the 44-year-old Black woman submitted the certificate as part of her voter registration, she was charged with trying to illegally register to vote.

[…]

[Moses] refused to take a plea deal for the charges this time because she thought she had done nothing wrong, Anyanwu said. Yet she ended up being convicted last year.

https://www.washingtonpost.com/nation/2022/02/04/tennessee-pamela-moses-voting-fraud-prison/
In the deal in question, Moses would have pleaded guilty to a misdemeanor and received no jail time. Instead, she decided to go to trial and received a six-year jail sentence. Reason's Billy Binion sees the disparity between those two outcomes as deeply problematic:
[W]hile Shelby County District Attorney Amy Weirich agrees that prison term isn't proportional to the offense, she says it is justified for a different reason: the defendant, Pamela Moses, insisted on going to trial.

"I gave her a chance to plead to a misdemeanor with no prison time," Weirich said in a statement. "She requested a jury trial instead. She set this unfortunate result in motion and a jury of her peers heard the evidence and convicted her." […]

Weirich's statement came in response to a segment on Rachel Maddow's MSNBC show. During that slot, the host compared Moses' case to four other voter fraud cases centered around white Republican men who usurped dead relatives' identities to vote for former President Donald Trump; three received probation, while the fourth served three days in jail. That's evocative of "two justice systems," said Maddow.

In other words, Weirich's statement was meant to rebut those claims: Moses, too, could have taken advantage of a good deal should she have wanted to. Yet that's not necessarily the strong argument Weirich thinks it is, says Carissa Byrne Hessick, a professor of law at UNC Chapel Hill and author of Punishment Without Trial: Why Plea Bargaining Is a Bad Deal. "What's stunning to me is that there is just no recognition by people inside the criminal justice system," she tells me, "that sending someone to prison for six years for exercising their constitutional right isn't equally problematic and disturbing."

https://reason.com/2022/02/17/pamela-moses-voter-fraud-requested-jury-trial-6-years-in-prison/
It's easy, in hindsight, to say Pamela Moses was foolish not to take the deal. The general facts of this case were not in question–under Tenessee's particularly harsh felony disenfranchisement laws*, she was not eligible to register to vote. However, this was complicated by the fact that state corrections officers, who are by their jobs responsible for knowing those laws and should have access to all the necessary sentencing data, also made a mistake in approving the paperwork in the first place. If the state had done its job correctly, then the process should have been stopped and Moses should never have been charged with anything. Moses took the position that this was an honest error on all sides and believed the jury would side with her. They did not.
This brings us back to the sentence and the disparity between the offer of no jail time and the outcome of six years in jail. Again, because the facts were not in question, this case highlights the absurd nature of the trial tax. Moses has an established criminal record. So if that was taken into consideration in the judicial sentencing, why the lenient plea offer. Or if she isn't a danger to the community, then why the harsh sentence.
This leads us to the point that if Moses had been willing to make the state's life easier, she would have been released (with another misdemeanor on her record and, most likely, an extension to her probation period). No further incarceration would be necessary to punish or, in theory, rehabilitate her. Instead, she may spend the next six years of her life in prison as punishment for choosing to exercise her constitutional right to a trial.
A lot of people want to use this case to point out how racist the system is. While I know our criminal legal system is full of racial disparities, I honestly see this case as an example of how dependent our system is on plea bargaining (in all of the other cases Maddow cites, the individuals took the pleas offered) and the lengths it will go to coerce pleas from people caught up within the system.
---
[Update 3: 3/25] – There have been a series of updates on this case since I wrote this article. For details see An Update On Pamela Moses, Plea Bargains, & The Trial Tax.
---
[Update 1: 2/20 @ 1:35pm EST]: I just realized that the Christian Science Monitor has a recent and exceedingly good deep-dive into the "black-box" that is plea dealing. The article is too long to summarize. However, one section particularly relevant to the underlying discussion here explores cases where it again demonstrates how the administrative goal of plea bargaining (keeping the courts working) runs against the supposed goal of justice.
The rampant and uneven nature of plea bargaining has had severe consequences for defendants and victims alike.

In 2002, for example, Christopher Ochoa was exonerated after 13 years in prison for the rape and murder of a young woman. He had confessed to the murder after more than 12 consecutive hours of police interrogation, and pleaded guilty in order to avoid the death penalty.

And last week a woman in Baltimore complained publicly about attempted murder charges against her ex-boyfriend being dropped as part of a plea bargain, despite his having set her house on fire while she and her roommates slept inside.

"Plea bargaining is rapidly becoming a system of ultimatums delivered by prosecutors, rather than real negotiation," says Martín Sabelli, president of the National Association of Criminal Defense Lawyers.

https://www.csmonitor.com/USA/Justice/2022/0112/A-step-toward-better-justice-Prying-open-the-black-box-of-plea-deals
---
* – Felony disenfranchisement really deserves its own post. The practice is deeply tied to suppressing minority voting power and Jim Crow laws. It's unsurprising that the harshest Felony Disenfrancement laws are found in the former confederate states.