Analysts: Failure To Raise Debt Ceiling Means 44% Spending Cut, 10% Drop In GDP, Recession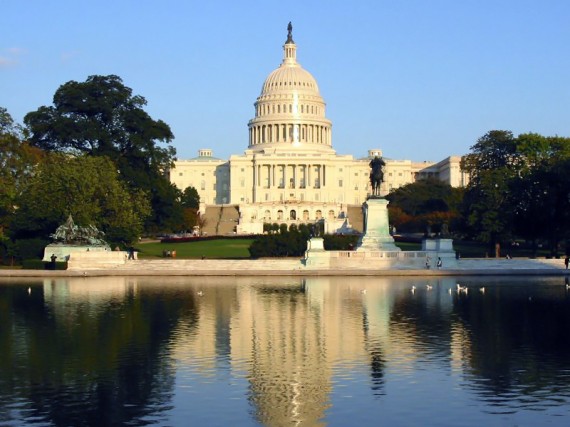 As we get closer to the August 2nd deadline to raise the debt ceiling, estimates are starting to come out of what a failure to raise the ceiling might mean and it isn't pretty:
New analysis by the Bipartisan Policy Center (BPC) which has been shared extensively with members of Congress estimates that the Treasury Department would not be able to pay all its bills and would need to implement an immediate 44 percent cut in federal spending in the event of a default.

On an annualized basis, the cut in spending alone is a 10 percent cut in GDP, BPC scholar Jay Powell told reporters.

The report released Tuesday concludes that Treasury would not be able to pay all its bills between Aug. 2 and "probably" not later than Aug. 9 if the debt ceiling is not increased.

"Handling all payments for important and popular programs" including entitlements and military pay will "quickly become impossible."

The day-by-day picture of default shows a 44 percent cut in federal spending. It concludes that the daily inflows of revenue and outflows of obligations are "lumpy" and it would be difficult for Treasury to prioritize 80 million different payments. For the month of August, the deficit from Aug. 3 to Aug. 31 would be $134 billion.

"If you are going to be cutting 44 percent of the budget overnight, you are going to be cutting many popular programs, there is no way to avoid it," BPC scholar Jay Powell told reporters Tuesday.

"The result would be chaotic," he said, noting the current inability of Treasury computers to handle the payments.
Meanwhile, Moody's analyst Mark Zandi says that failure to raise the debt ceiling will lead to another recession:
Moody's chief economist, and former McCain economic adviser Mark Zandi is forecasting GDP growth of 4 percent by the end of the year and into next. But in response to a question from TPM, he told reporters at a breakfast meeting hosted by the Christian Science Monitor that his forecast would be "blown out of the water," if Congress fails to "reasonably gracefully" raise the national borrowing limit.

If Congress fails to raise the national debt limit by early August, the Obama Treasury Department will have to choose between defaulting on obligations to the country's creditors — triggering higher interest rates and perhaps damaging the country's credit rating for months and years to come — or freezing outlays to contractors, entitlement beneficiaries and others who are also expecting prompt payment as well. In either case, the macroeconomic impact will be staggering, according to Zandi.

"I think we go into recession and my forecast would be blown out of the water," he said. "I think if we get to August 2nd and there is no debt ceiling [increase] and there has to be significant spending cuts, I think even if Congress and the administration reverse themselves days later, I think the damage will have been serious and we'll probably be thrown into a recession."

Additionally, Zandi noted, "The cost to taxpayers would be enormous, because we would nail tax revenue and spending would increase because of the automatic stabilizers in the budget. So it would be just the wrong thing for the economy and the wrong thing for trying to address our long-term fiscal issues."
Are you listening Congress? Because your drop dead date is only 35 days away.