Anti-Vaccine Paranoia Infects The Republican Race For President
There was far too much pseudoscience in evidence during the Republican Debate on Wednesday.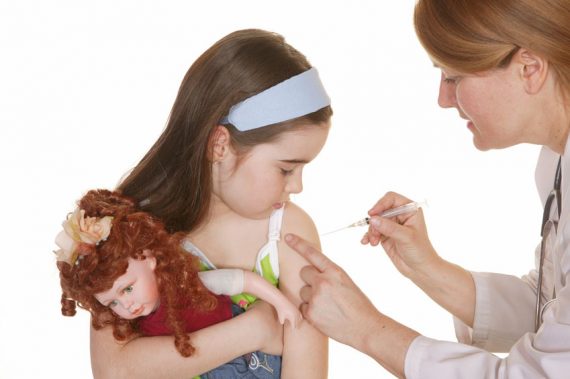 One moment from Wednesday's Republican debate that is raising concerns in many circles, including most especially the medical profession, came when the candidates were asked their opinion about childhood vaccinations:
When New Jersey Gov. Chris Christie suggested seven months ago, at the height of the Disneyland measles outbreak, that parents should have "a measure of choice" about whether to vaccinate their children, he was widely condemned — and quickly reversed himself.

On Wednesday, two GOP presidential candidates who are both medical doctors, Ben Carson and Sen. Rand Paul (R-Ky.), waded into similar territory. This time, the fury rained down from a medical establishment that felt betrayed by its own.

While personal liberty is an important value, "it's well-established in our society that we don't allow you to do things that put others at risk," said infectious disease specialist Mark Sawyer of the University of California at San Diego. "That's where we draw the line."

The notions that vaccines are linked to autism, or should be given in small doses over longer periods of time — both scientifically discredited — appear to be seeping into the Republican mainstream, potentially undermining a long consensus around the role of government in protecting populations from disease.

For decades, only those on the fringes opposed vaccination, citing reasons such as a contamination of the body, government mind control and, more recently, concerns about autism. The vast majority in both political parties saw campaigns to widely vaccinate children as healthy and wholesome as mother's milk.

Now, though, a significant portion of GOP voters are skeptical. An April CBS poll found that only 59 percent of Republican voters thought parents should be legally required to vaccinate their kids. Among Democrats, the percentage was 75 percent.

"We're at a low point of trust in government, especially among Republicans," said Robert Blendon, a professor of health policy and political analysis at Harvard. "I can't imagine a politician like John Kasich doesn't believe in mandatory vaccination, but because of that anti-government feeling, they aren't going to leap at a debate and defend it."
To a large degree, of course, the question regarding vaccinations came up largely because Donald Trump is in the race. In the past, Trump has claimed that there is some kind of connection between childhood vaccinations and autism and other childhood disorders. He repeated that claim in the debate, where he said, without any indication that he had any medical evidence to back him up this, that the recommend vaccination schedule means that children dosages for many vaccines in a short period time was somehow linked to instances of autism. The reality, of course, is that there is no evidence at all linking childhood vaccinations and autism. The original report that was published in the British medical journal Lancet in 1998 and written by Andrew Wakefield was thoroughly discredited to the point where Lancet formally retracted the paper in 2010. A year after that retraction, a study was released that determined that the results purporting to support Wakefield's claims were utterly fraudulent. More recently, a new study has concluded as definitively as possible that there is no causal link at all between autism and childhood vaccinations.
Despite the fact that it was definitively discredited, that Wakefield study has done real damage to public health efforts to encourage vaccination against common childhood illnesses. Thanks in no small part to websites of dubious around the Internet and ill-informed celebrities like Jenny McCarthy, parents have been choosing to skip routine vaccinations based on unfounded fears that their children will be endangered. The result of that is that diseases once thought to have been largely under control if not eradication for all practical purposes, such as Measles and Whopping Cough, have made a return in numbers unseen for more than two decades. The paranoia about vaccines has also infected the political process, with candidates such as s Michele Bachmann and Donald Trump, and even a medical doctor like Rand Paul, making claims about links between vaccination and autism that simply aren't supported by the facts.
When vaccination came up in the debate on Wednesday, though, there was at least some expectation that the paranoia would receive a thorough rebuke since there were two doctors on the stage. However, that didn't really happen:
Many viewers expected a ringing endorsement for vaccines when CNN's Jake Tapper asked Ben Carson — a retired pediatric neurosurgeon — what he thought of Donald Trump's claim that vaccines cause autism.

Carson disputed the autism link, but then pulled back and offered what doctors considered a confusing and misleading equivocation.

"Certain ones" are important, he said. "There are others, there are a multitude which probably don't fit in that category. … A lot of this is pushed by Big Government, and I think that's one of the things that people so vehemently want to get rid of, Big Government."

A University of Michigan physician who studied under Carson in the late 1980s expressed dismay. "Trump is a buffoon but I respect Dr. Carson, and he should know better," said Howard Markel. "You take the Hippocratic Oath, which is to first do no harm."

Trump, meanwhile, insisted children were over-vaccinated — "you take this little beautiful baby, and you pump — I mean, it looks just like it's meant for a horse, not for a child."

Carson agreed: "It is true that we are probably giving way too many in too short a period of time."

He went on to say that pediatricians were "cutting down on the number and the proximity in which those are done, and I think that's appropriate."

That statement is false, according to the American Academy of Pediatrics. Doctors are not changing vaccine schedules because "delaying vaccines only leaves a child at risk of disease for a longer period," said Karen Remley, the group's executive director. "It does nothing to make vaccines safer."

Rand Paul, for his part, praised smallpox vaccinations, which eradicated that disease in the 1970s. He claimed — falsely — that smallpox vaccination was "all done voluntary."

"So I'm all for vaccines," he said. "But I'm also for freedom."

"When they talk about 'freedom' they should finish the sentence," responded pediatrician Paul Offit of Children's Hospital of Philadelphia. "They mean freedom to allow their children to catch and transmit a fatal infection."

In response to queries Thursday from POLITICO, the Jeb Bush and Sen. Marco Rubio (R-Fla.) campaigns both issued endorsements of mandatory childhood immunization. None of the other candidates responded.
In a piece at The Washington Post Eric Merkley and Dominik Stecula lament the fact that this issue came up in the Republican debate at all, and Kevin Drum's about the consequence if what is presently still a widespread public consensus in favor of childhood vaccination. These are valid points, and it would be very unfortunate if the efficacy and appropriateness of vaccination became a right v. left political issue, not the least because of the threat that could pose to public health. At the same time, though, I don't think you can blame the political media for the fact that paranoid ideas about vaccination continue to be widespread in the public. To a large degree, those ideas play on a parent's natural instinct to protect their children, and the fact that unvetted "scientific" information is easily available on the Internet to the point where someone can convince of something that is quite obviously not true quite easily. Combine that with the anti-government sentiment that is a strong force on the right, and it's not surprising that some politicians in the Republican Party, although thankfully not all, would embrace discredited scientific theories to support the idea that parents should be free to leave their children unvaccinated.
The opinions that these politicians, like Donald Trump, express on an issue like vaccination is also a good guide into determination how they think about other things and how they approach the world. The arguments in favor of vaccination are so strong as to be nearly irrefutable. Even though it is the case that there is some risk from vaccines, that risk is far outweighed by the costs that would incurred if we didn't vaccinate against these diseases. The fact that a politician would reject public health science that goes back more than a century now in order to pander to some small wing of their political party is an indication that either the politician in question is ignorant about science and unwilling to learn, or that they just choose to ignored. Whichever the case is, it ought to a disqualifying position. The fact that too many people on the stage Wednesday night decided to pander rather than stand up for science seem to me to be an indication of just how bad the Republican Presidential field actually is this election cycle.
Update: Tara Haelle at Forbes has a particularly good rejoinder for Drs. Paul and Carson and the comments they made about vaccinations at the debate.