AOC's Outrageous Haircut
Sigh.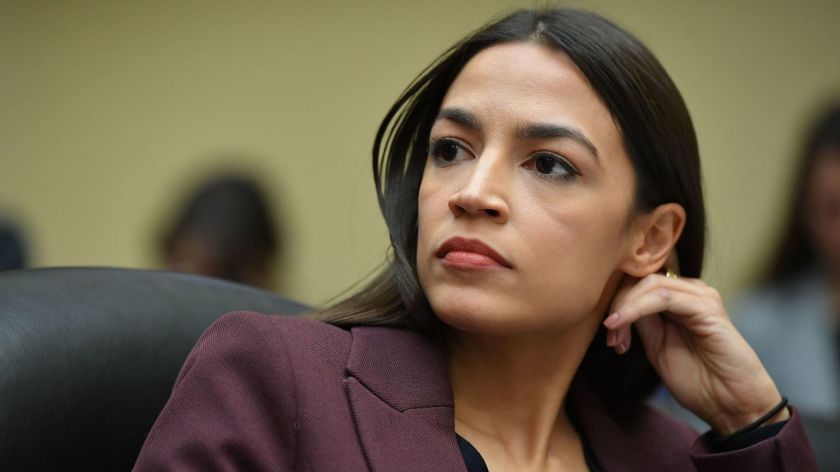 Scrolling through memeorandum to get a sense of what people are saying about the most important news of the day, I stumbled across the least important news of the day. It seems that a Member of Congress got a haircut.
The Washington Times' Alex Swoyer,* surely in line for a Pulitizer if not a Nobel, breaks the story wide open.
Rep. Alexandria Ocasio-Cortez has allowed life in Washington to go to her head — literally.

The self-declared socialist, who regularly rails against the rich and complains about the cost of living inside the Beltway, spent nearly $300 on her hairdo at a pricey salon she frequents in downtown Washington, The Washington Times has learned.

The New York Democrat ventured into Last Tangle Salon on 19th Street Northwest last month and shelled out $80 for a haircut and $180 for lowlights, according to sources familiar with the salon.

A 20% tip would have added $52 to the bill.
Whoa!
Breaking out the calculator, I see that comes to a whopping $320. Who does she think she is, John Edwards?
While I'm old enough to remember when Edwards became an object of ridicule for his high-priced hairdo, that was quite a few years ago. And he was, you know, a man.
I'm even old enough to remember when Bill Clinton was ridiculed for getting a high-priced haircut way back in the 1990s. But the main story then was that he did it while parked on the tarmac of an airport and other planes had to wait. (The delays turned out to have been virtually non-existent, but I must confess to not remembering the after-the-fact corrections.)
Alas, Swoyer's attempt to reprise a golden oldie has one slight problem. And one big one. First, it's 2019, not 1993; prices have gone up a mite since then. Second, AOC is a woman.
Having been married to two of them and now having two teenage stepdaughters, I can report that $80 isn't a particularly high price for a woman's haircut—even if you're not going to a fancy salon. And while $180 for lowlights—or, you know, lowlights—seems extravagant from a man's perspective, adding color to one's hair and spending enough for several men's haircuts in the process is not that unusual even in middle-class circles for women. It's a thing.
But it gets better.
"AOC is the Eva Peron of American politics. She preaches socialism while living the life of the privileged," said Richard Manning, president of Americans for Limited Government, referencing the former first lady of Argentina who was known for dressing in designer gowns and jewels while advocating a socialist agenda.

"There is nothing wrong with spending money to make yourself look better, especially as a personality who depends upon visual mediums for her power. But it is a bad look to spend hundreds of dollars to get your hair done to make a video decrying income inequality," Mr. Manning said.
Now, one presumes that poor women don't spend $312 with tip for their haircuts. But AOC makes $174,000 a year and goes on television regularly. Paying the going rate for a professional woman's haircut is hardly scandalous. And, presumably, her problem with income inequality isn't that people who make a decent living can afford decent haircuts but that there are many people who don't make a decent living.
But here's the kicker:
She could have saved roughly $100 for the same hairstyle at the government-subsidized Capitol Hill barbershop.

Her high-dollar hairdo stands in stark contrast to that of former Attorney General Jeff Sessions, a former senator from Alabama who is a regular customer at Senate Hair Care Services in the basement of the Russell Senate Office Building.

At that place, open to members of Congress and the public, a men's cut runs about $20, though men's haircuts there and everywhere else are cheaper than women's.
Yes, ladies and gentlemen, rather than going to a woman's salon, she should emulate the grooming practices of Jeff Sessions. I mean, why not suggest a Flowbee?
Moreover, as Defense One's Katie Bo Williams points out, it's rather amusing to decry AOC's socialism while recommending that she bypass the private sector in favor of a government haircut.
____________
*The first commenter noted that Alex Swoyer is a woman, which a quick Google search confirmed. Indeed, she's the Times' legal affairs correspondent and an attorney. This actually makes the story much worse. I could understand a youngish male reporter genuinely thinking $300 was a scandalous price—although not it getting through editorial vetting. But Swoyer is herself a well-groomed professional woman who goes on television with some regularity. She knows damned well how much a haircut costs.