Barr Contradicts Trump on his Way out the Door
Although, as usual, he maintains his odious approach to it all.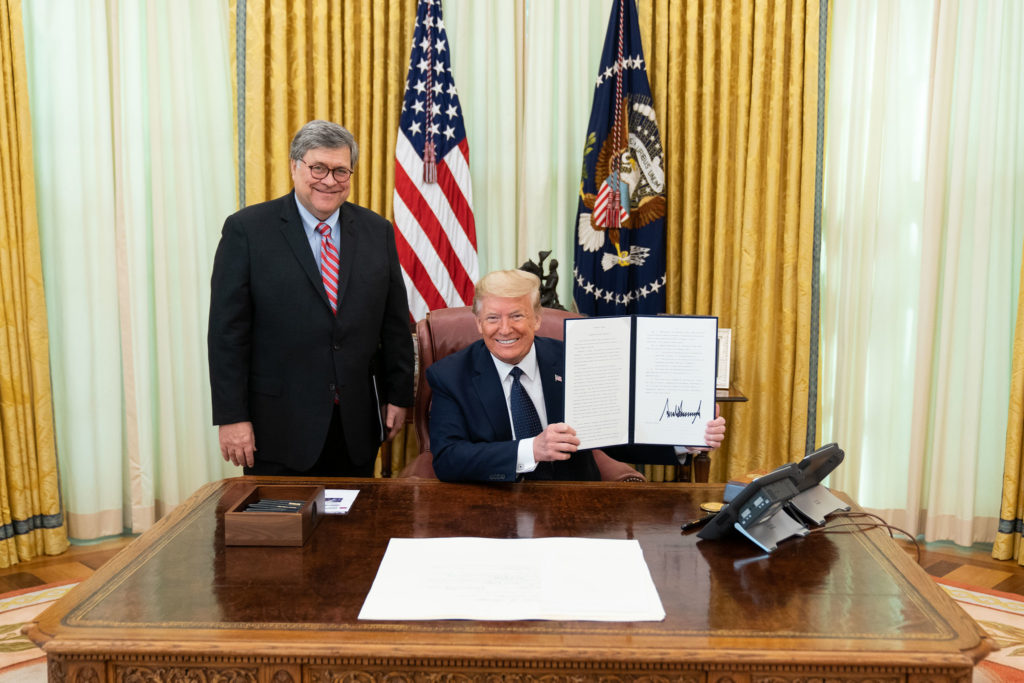 Today is Attorney General Bill Barr's last day in office and good riddance to him. He has been a historically bad AG, fueling lawlessness and corruption by the current president from pretty much his first day in office. For all the "law and order" rhetoric of his party, he has not shown much fealty to law or to justice but rather an allegiance to the sitting president that was unseemly for an AG.
I will not attempt to details all his greatest hits but will note that as James Joyner wrote last year, Yes, Barr Misled the Public on the Mueller report (see, also, my post Barr v. Mueller). There is also his handling of the Flynn and Stone cases. His role in the clearing of Lafayette Square will go down, I predict, in infamy.
He also liked to play rhetorical games that helped enliven and extend conspiracy theories popular in this administration, such as the time he talking about "spying" on Trump campaign by the FBI. This word choice was clearly designed to undercut legitimate law enforcement activity and to please Trump. Likewise, his testimony that he didn't know if the president could move election day, or various paens to Trump-favored conspiracy theories about mail-in ballots/electoral fraud all helped drive the country deeper into the realm of untruth and confusion.
These were not the actions of an AG seeking to help the public sift truth from falsity, but were instead all designed to muddy the waters (more on that below).
I could go on (and on and on). See also my posts The Corruption of Justice and He Got his Man. Also see ABC News: Barr departing Justice Department following tenure packed with controversy
---
At any rate, Barr is leaving (seemingly before Trump could fire him) and WaPo reports, Undercutting Trump, Barr says there's no basis for seizing voting machines, using special counsels for election fraud, Hunter Biden.
Outgoing Attorney General William P. Barr said Monday that he saw no basis for the federal government seizing voting machines and that he did not intend to appoint a special counsel to investigate allegations of voter fraud — again breaking with President Trump as the commander in chief entertains increasingly desperate measures to overturn the election.
On the one hand, I appreciate any amount of push-back from ostensible Trump allies against his more dangerous ideas.
On the other, Barr still had to be Barr (as per above):
Barr said that while he was "sure there was fraud in this election," he had not seen evidence that it was so "systemic or broad-based" that it would change the result. He asserted he saw "no basis now for seizing machines by the federal government," and he would not name a special counsel to explore the allegations of Trump and his allies.
It is irresponsible for him to give fuel to fraud theories by saying things like "sure there was fraud in this election" when that means things like the following via Forbes: Pennsylvania Man Charged With Voter Fraud For Casting Ballot For Trump Under Dead Mother's Name. (And I am even giving Barr the benefit of the doubt that that is the kind of thing he is referring to here).
At least he has said this (not that kooks are listening):
Barr had previously seemed to throw cold water on Powell's allegation of a grand conspiracy, telling the Associated Press, "There's been one assertion that would be systemic fraud, and that would be the claim that machines were programmed essentially to skew the election results. And the DHS and DOJ have looked into that, and so far, we haven't seen anything to substantiate that."
So while I glad that he is not willing to capitulate to Trump's fantasies of massive fraud, his willingness to let ambiguous language embolden false narratives about fraud is reprehensible.
And while I think he is correct not to have named a special counsel in the Hunter Biden case (such a move would have been an abuse of power, in my opinion) his early exit from office means that his successor might.
After he departs on Wednesday, leadership of the department will fall to Rosen, who declined to answer questions in a recent interview with Reuters about whether he would name special counsels to investigate voter fraud or Hunter Biden. Rosen did not appear at Monday's news conference.
If Barr had the courage of his convictions on these matters, he would have stuck out the last month of the administration to slow Trump's roll on matters such as these. Or, at least, been willing to be fired as a matter of principle. Instead, he is washing his hands of the whole mess so as to have a more peaceful Christmas and New Year's.
A profile in courage, to be sure.