Biden Continues To Build A Lead In Early Polling
Two weeks into his campaign, Joe Biden continues to build an impressive lead in polling at the state and national levels.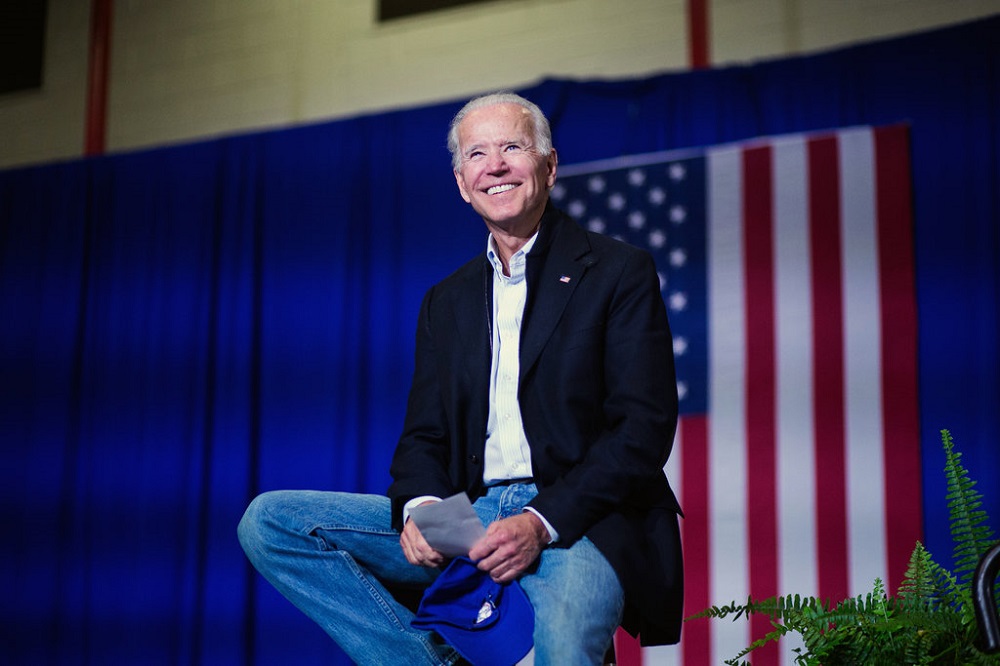 Another new poll shows former Vice-President Biden continuing to build a lead against his fellow Democrats, this time in the first-in-the-nation primary state of New Hampshire:
Former Vice President Joe Biden leads Sen. Bernie Sanders (I-Vt.) by a two-to-one margin in the first-in-the-nation primary state of New Hampshire, according to a new poll.

The Monmouth University survey released Thursday found Biden winning 36 percent support, followed by Sanders at 18 percent. South Bend, Ind., Mayor Pete Buttigieg (D) is at 9 percent support, followed by Sen. Elizabeth Warren (D-Mass.) at 8 percent and Sen. Kamala Harris (D-Calif.) at 6 percent.

Former Rep. Beto O'Rourke (Texas) and Sens. Amy Klobuchar (Minn.) and Cory Booker (N.J.) are each at 2 percent support, followed by former Colorado Gov. John Hickenlooper, Rep. Tim Ryan (Ohio) and tech entrepreneur Andrew Yang at 1 percent each.

Biden also has the best favorability rating in the survey, at 80 percent positive and 15 percent negative. Sanders rings in at 73 percent favorable and 15 percent unfavorable.


Biden is mopping up among older voters, with 53 percent of those 65 and older backing the former vice president, compared to only 9 percent for Sanders. Biden also leads Sanders 36 percent to 19 percent among those between the ages of 50 and 64.


Sanders does better with younger voters, leading Biden 27 to 20 among those under the age of 50.


Fifty-eight percent of likely Democratic primary voters in New Hampshire describe themselves as moderates or conservatives, and Biden leads Sanders 45 percent to 10 percent among this group.
Sanders leads Biden 29 percent to 23 percent among self-described liberals.


Biden has sought to highlight his time as vice president under former President Obama, and the Monmouth poll provides evidence that could help him win over New Hampshire Democrats.



Other findings in the poll also seem to favor the former Vice-President. For example, 34% of the respondents say that nominating someone who will build on former President Barack Obama's legacy is important to them, while 38% say it is somewhat important and only 21% say it's not important at all. The poll also states that Democratic voters in the Granite State are focused primarily on picking a candidate who can defeat Trump, with 68% saying they want to nominate such a candidate even if they disagree with that candidate on the issues. Given both his ties to the campaign and the fact that polling indicates that Biden is presently one of just a handful of Democrats who are beating Trump in a head-to-head matchup, these are obvious points in Biden's favor. These numbers are consistent with previous polling both at the national and state levels that show Biden pulling ahead of his competitors in the wake of his entry into the race just two weeks ago.
Looking at the RealClearPolitics average in New Hampshire, for example, we see Biden (28%) leading Bernie Sanders (15%) by 13 points. Pete Buttigieg continues to sit in third place in the Granite State with an average rating of 10.5%, followed by Elizabeth Warren at 8%, Kamala Harris at 6%, and Beto O'Rourke and Cory Booker both tied at 2.5%. The remainder of the candidates are all averaging below 2% and have yet to show any indication of moving up in the polls at the state level.
In the national polls, three recent polls all show Biden approaching the 50% level in support, with the rest of the field falling quickly behind:
In the latest Harvard-Harris poll, for example, Biden gets the support of 44% of nationwide Democrats, while Bernie Sanders is a distant second at 14%. After Sanders we have Kamala Harris at 9%, Elizabeth Warren at 5%, Cory Booker at 3%, and all the other candidates, including Pete Buttigieg at 2% or less;
In the latest national Morning Consult poll, Biden stands at 40%, with Sanders at 19%, Elizabeth Warren at 8%, Kamala Harris at 7%, and Beto O'Rourke at 7%. All the other candidates are at 3% or less; and,
This is further reflected in the national RealClearPolitics average, which shows Biden at 41.4%, Sanders at 14.6%, Warren at 8%, Harris at 7%, Buttigieg at 6.6%, Booker at 2.6%, and all of the other candidates averaging under 2.0%. As we can see in the chart, Biden has taken off, principally at the expense of Bernie Sanders, and the other candidates have basically been stranded at under 10%:
This is all obviously good news, but as Henry Olsen at The Washington Post reminds us, Biden's huge leads probably won't last:
Right now, Biden is about as close to a generic Democrat as you can get. He benefits from his long track record of supporting Democratic Party priorities and his eight years as President Barack Obama's loyal deputy. Being out of office for about the past three years also means he has had the luxury to pick and choose his moments of public engagement, which allowed him to avoid many of the intraparty fights and controversies.

That's going to change once he gets on a debate stage with his opponents. Progressives such as Sens. Bernie Sanders (I-Vt.) and Elizabeth Warren (Mass.) will presumably push him from the left, while others such as former representative Beto O'Rourke (Tex.) will likely make his age a subtle issue by proclaiming a need for new leadership. Biden will have to withstand that pressure, showing he is progressive and energetic enough to give his supporters confidence.

Running a complacent campaign can also cost him. So far, he has focused little on what he wants to do and much on attacking President Trump. But all of his competitors oppose Trump; they are also offering alternative visions of what Democrats should be for as well as what they should be against. Biden will have to do more than express gauzy Democratic pablum. It remains to be seen what Biden's American vision is.


Biden's current lead is also artificially large because the progressive vote is divided. Polls taken since his announcement show his lead is largest among Democratic voters who say they are moderates and smallest among those who say they are very or strongly liberal. The most progressive wing of the party is splitting its votes among a number of candidates, but eventually that will change. When a front-runner of that wing emerges, Biden's lead will shrink considerably, even if he weathers his other challenges.
The question, of course, is when that weaning is likely to happen. In 2016, many analysts expected that the massive Republican field would begin to shrink well before the start of the actual voting season as candidates faced financial and other pressures on their campaigns. As we saw, though, the fact that candidates can now rely on outside SuperPACs and other organizations to pick up much of the slack when it comes to at least some campaign spending such as advertising and "get out the vote" efforts, the pressure to withdraw early is much less than it used to be. In the case of the 2016 Republicans, there were a handful of candidates who withdrew from the race prior to the Iowa Caucuses but the vast majority of them stayed in the race and the first major round of withdrawals did not happen until after Iowa and New Hampshire. Partly this was due to the fact that many Republicans believed that Donald Trump's campaign would ultimately implode and that they could benefit from that by picking up at least some of his former supporters. Others believed they could be the candidate to stop Trump. It wasn't until it was far too late that the GOP field was small enough to at least look competitive, but by then Trump was on track to win the nomination and there was next to nothing that could stop him.
Something similar could happen in the Democratic race among the progressive candidates who may be unwilling to give up their spot in the belief that they could be the ones to benefit from a Biden implosion. Another factor that makes it less likely that we'll see an early coalescing of the Democratic field is the manner in which the party allocates delegates. Unlike the GOP, where the majority of the primary states give all or most of their delegates who wins even if only by a plurality of the vote, Democrats have rules that require delegates to be allocated proportionally in nearly all the primary contests. This gives candidates the incentive to stay in the race in the hope that they could be the progressive that would overtake Biden and win the nomination.
As long as these factors remain in place and the Democratic candidate pool does not shrink significantly to the point where it ends up being Joe Biden against a specific representative of the progressive wing, then Biden benefits from a divided field and progressives could find it difficult if not impossible to overtake him.