Canadians Really, Really, Really Don't Like Donald Trump
Not surprisingly, Canadians aren't too thrilled with Donald Trump these days.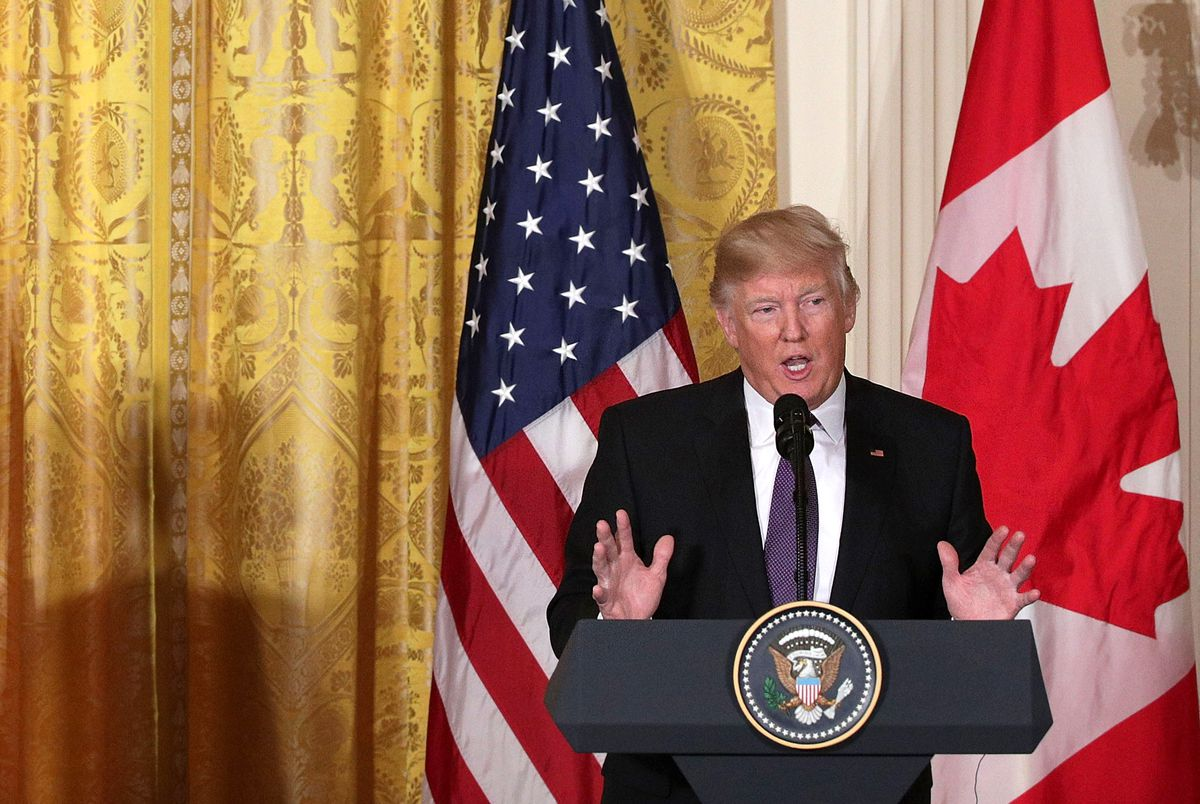 The Toronto Star reports that Canadian disdain for Donald Trump is at near-universal levels:
Four out of five Canadians disapprove of U.S. President Donald Trump in the wake of an escalating trade war with Canada, a new poll has found.

The Campaign Research survey also found 72 per cent believe Trump's protectionist policies have "harmed" the Canadian economy, while only three per cent said they have "helped."

Seventeen per cent said they have neither harmed nor helped, and eight per cent didn't know.

"The prime minister is definitely on the right side of public opinion on this issue, that's for sure," Campaign Research CEO Eli Yufest said of Justin Trudeau.

(…)

Some 81 per cent said they "disapproved" of the job Trump is doing, while 11 per cent approved and eight per cent didn't know
This poll is largely consistent with previous reporting showing that the Canadian reception to recent developments in their country's relationship with the United States was incredibly negative and that it is the behavior and comments of this President that are primarily responsible for that. Historically speaking, of course, the United States has enjoyed a good relationship with its neighbor to the North and the Canadian people have had a positive view of Americans and the United States. There have, of course, when that relationship has been strained such as during the Vietnam War era when Canada was seen by many Americans as a refuge from the draft and American action in the war itself became a subject of international controversy. Generally speaking, though, Americans and the American President have always been well-received in Canada. That is, of course, until Donald Trump came along and has engaged in actions and rhetoric toward Canada and its Prime Minister, unlike anything we've seen from an American President before.
These attacks on our closest ally have been coming for awhile, and can but traced back to the campaign when Trump talked openly about renegotiating or even pulling out of the North Atlantic Free Trade Agreement because of alleged "unfair" treatment. More recently, at the end of the last month, Trump revoked the exemption from the steel and aluminum tariffs that he had announced in March, an exemption that kept the tariffs from being applied against American allies in Europe as well as Canada and Mexico. When he did so, the President claimed that he was imposing the tariffs for reasons of "national security." This justification was laughably absurd, of course, because it is inconceivable that allies in nations like Canada, a fellow NATO ally and co-partner in the North American Aerospace Defense Command, were somehow threats to American national security. Needless to say, these actions were not well received by our allies. Canada's Foreign Minister called the new tariffs "absurd," for example, and European Union officials announced retaliatory tariffs against American goods. With respect to Canada specifically, the situation became even more absurd when Trump exchanged harsh words with Canadian Prime Minister Justin Trudeau prior to the G-7 Summit. Once he was at the summit, Trump essentially did everything he could to alienate America's closest allies, thereby seemingly achieving a goal that Russia and, before it, the Soviet Union had only dreamed of, driving a wedge between the United States and its allies. After the Singapore Photo Op Summit, Trump continued his tirade against Trudeau, while polling revealed that Canadian public opinion about the United States was suffering as a result of American actions and the President's rhetoric. Finally and most recently, Trump went off on a bizarre tirade last week in which he falsely claimed that Canadians were traveling across the border to smuggle American shoes. Given all of this, it's not surprising that the Canadian public's view of the President would be overwhelmingly negative.
The new poll does not ask broader questions that might provide a clue about the impact of Canadian public opinion about Trump on public opinion of the United States as a whole. One has to assume, though, that the overwhelmingly negative opinion that the Canadian public appears to have about the President is impacting how they feel about the United States as a whole. Given our long history together, that would be unfortunate albeit understandable. The best I can offer to our neighbors to the north is that we're going through a crazy period here in the United States. Stick with us and we'll get past it soon enough, As I said on the day that Donald Trump was inaugurated, America will survive.