Charlie Cook: "Hurricane GOP" Bearing Down On Democrats
The latest poll trends have pollster Charlie Cook thinking that the Democrats could be in for a very bad trouncing on Election Day.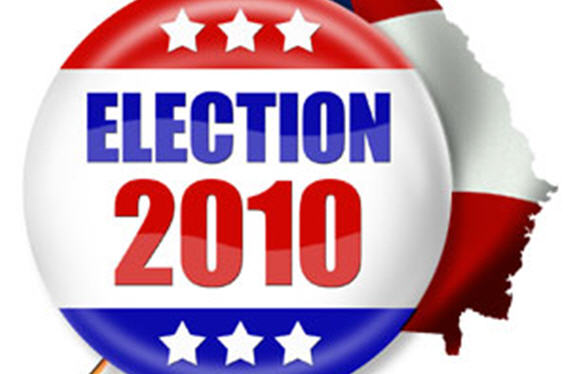 In his latest column, pollster Charlie Cook foresees a bad election cycle ahead for the Democrats:
Among all voters, there has been a significant swing since 2008 when Democrats took their new majority won in 2006 to an even higher level. But when you home in on those people in this survey who are most likely to vote, the numbers are devastating. The NBC/WSJ survey, when combined with a previously released NPR study of likely voters in 70 competitive House districts by Democratic pollster Stan Greenberg and Republican Glen Bolger, point to an outcome for Democrats that is as serious as a heart attack. Make no mistake about it: There is a wave out there, and for Democrats, the House is, at best, teetering on the edge.

To be sure, things could change in the four months between now and November 2. The GOP's failure to get Republicans to vote in the May 18 special election in Pennsylvania's 12th District underscores that the party can't just sit back and await spontaneous combustion in terms of turnout. Still, the potential is here for a result that is proportional to some of the bigger postwar midterm wave elections. These kinds of waves are often ragged; almost always some candidates who looked dead somehow survive and others who were deemed safe get sucked down in the undertow. That's the nature of these beasts. But the recent numbers confirm that trends first spotted late last summer have fully developed into at least a Category 3 or 4 hurricane.

Given how many House seats were newly won by Democrats in 2008 in GOP districts, and given that this election is leading into an all-important redistricting year, this reversal of fortune couldn't have happened at a worse time for Democrats.
This is especially true given that there doesn't seem to be very much good news out there right now for the incumbent party. The economy continues to teeter on the edge of a recovery that, even if it happens, looks to be incredibly anemic and unlikely to do much good for the millions of people out of work. The oil spill in the Gulf of Mexico continues to stand, rightly or wrongly, as a symbol of the failure of a President's leadership. The war in Afghanistan is not going well by any conceivable measure And, if that weren't bad enough, there's always the chance that one of the many brewing hot spots around the world could boil over in the next four months.
It's no wonder that the right track/wrong track poll is starting to resemble 2008 more and more every day: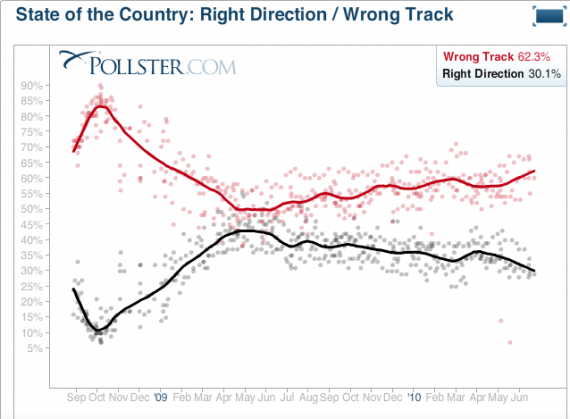 Typically, incumbent politicians become more vulnerable when the "wrong track" number goes higher. If this trend continues, then Cook is right, November 2nd could be a very bad day indeed for Democrats.