Chris Christie Begins Re-Election Bid With Sky High Approval Ratings
At this moment, Chris Christie is the most popular Governor in the country.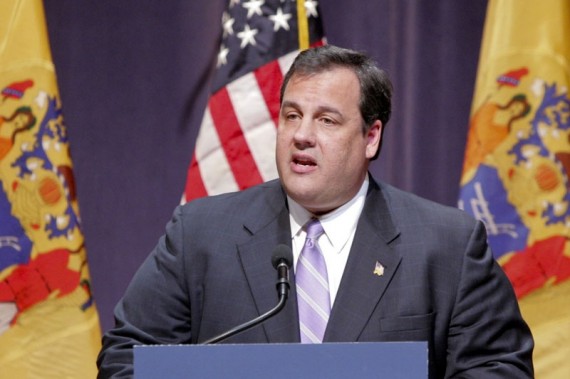 New Jersey Governor Chris Christie made his intentions official yesterday when he filed the paperwork necessary to begin his 2013 re-election campaign. While there has been some speculation over the past year or so that Christie made decline to run for re-election, this really isn't a surprise. In his public speaking events, he has made clear that he thinks there's still much to do in New Jersey and, with Hurricane Sandy's impact on the state only now being fully realized, he seems dedicated to playing a role in rebuilding the devastated areas of the state. If nothing else, you've got to admit that he's entering his re-election bid at the perfect time, as this new poll from Quinnipiac University demonstrates:
New Jersey Gov. Christopher Christie did an "excellent" or "good" job responding to Hurricane Sandy, 95 percent of Garden State voters say, as they give the governor a 72 – 21 percent approval rating, the highest score Quinnipiac University ever measured for a New Jersey governor, according to a poll released today.

Today's score tops Christie's previous high 59 – 36 percent job approval in an April 11 survey by the independent Quinnipiac (KWIN-uh-pe-ack) University.

Even Democrats approve of the Republican governor 52 – 39 percent.

Voters approve 84 – 12 percent, including 69 – 28 percent among Republicans, of Christie's praise for President Barack Obama's actions after Sandy.

"Gov. Christopher Christie never looked more like a 'Jersey Guy' than when he stood on the Seaside boardwalk after Sandy, and, just about unanimously, his New Jersey neighbors – Republicans, Democrats, Independents – applauded," said Maurice Carroll, director of the Quinnipiac University Polling Institute.

"The Gov gets sky-high marks from the cities, the Shore, from every corner of the state."

"'Nonsense,' say New Jerseyans, including two-thirds of Republicans, to the GOP fringe who object to Gov. Christie's post-storm embrace of President Barack Obama," Carroll added.

Despite the ravages of Sandy, a total of 65 percent of New Jersey voters are "very satisfied" or "somewhat satisfied" with life in the state, the highest satisfaction rate in 12 years.

By a 61 – 35 percent margin, voters are optimistic about the next four years with Barack Obama as president. Voters say 50 – 23 percent the economy will be better in four years.
A separate poll released today has Chris Christie leading all potential Democratic contenders, including the popular Mayor of Newark Cory Booker:
New Jersey Gov. Chris Christie would trounce Cory Booker and other potential Democratic challengers in the 2013 gubernatorial race, according to a new poll released Tuesday.

In a head-to-head contest with his possible toughest competitor, Booker, the mayor Newark, a Rutgers-Eagleton Institute of Politics poll finds the Republican governor wins handily, 53 percent to 34 percent. About 13 percent of respondents chose not to pick either candidate.

"With a long time until Election Day, Sandy will become somewhat less of a factor," said David Redlawsk, a Rutgers University professor. "The realities of governing – including the budget and a host of other contentious issues – are likely to cool the governor's red-hot numbers over time. But Christie's leadership has given him a great deal of political capital to use over the next year."
There's no doubt that these numbers aren't going to last for Christie, any more than the sky high numbers that both President Bush's received during their Presidencies, or that President Obama received in the immediate aftermath of the death of Osama bin Laden, were permanent. At the same time, though, he is heading into re-election with about the best hand a Republican in Never Jersey could ask for. Sandy doesn't guarantee that he'll win, but his leadership in the aftermath of the storm is likely to be something that voters will remember, and be reminded of, as November 2013 comes around.
On the Democratic side, there's no doubt that Booker is probably the strongest candidate they could forward if only because of his name recognition. However Mayor Booker has not yet announced his intentions regarding this race, and there is as much speculation that he could decide to run for Senate in 2014 as there is that he will run for Governor in 2013. If he decides not to run, then New Jersey Democrats may find themselves in a bind, because they really don't have any other prominent statewide candidates. The closest thing they have is Senate President Richard Codey, who served as Acting Governor from 2004 to 2006 when Jim McGreevey was forced to resign in the wake of a sex scandal. There really wasn't much of anything memorable about Codey's time in office, and I'm not sure that New Jersey voters are going to be all that enthused by him.
Christie's re-election isn't guaranteed by any means. New Jersey is still a deeply blue state after all. However, he managed to win election three years ago by appealing to New Jersey voters as a fellow lifelong resident (the fact that Jon Corzine was immensely unpopular at the time helped of course), and the public's opinion of his time in office so far is largely very positive. For the moment at least, he's in a very good position.