Citing Ukraine, Hagel Calls On NATO Allies To Contribute More To Defense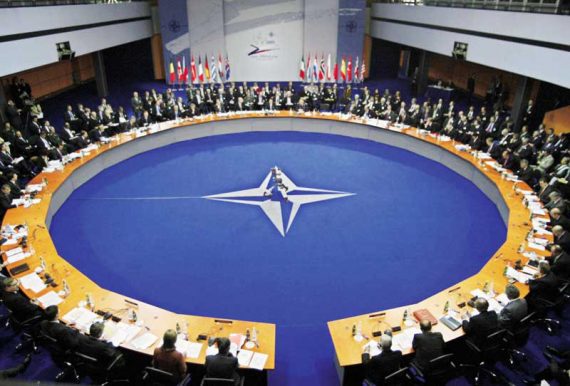 Speaking last week in Europe, Secretary of Defense Chuck Hagel is calling on other members of NATO to meet the promises they made when it comes to defense funding:
(Reuters) – Russia's actions in Ukraine have shattered the myth of European security in the post-Cold War era and underscored the danger NATO allies have created by failing to meet their defense spending pledges, U.S. Defense Secretary Chuck Hagel said on Friday.

The Pentagon chief, in a speech on the future of the 28-nation alliance, said Russia's seizure of the Crimean peninsula and other action in the region had "reminded NATO of its founding purpose" and "presented a clarifying moment for the transatlantic alliance."

He also raised a longstanding U.S. concern about NATO defense spending, noting that American outlays on security are three times that of the other 27 partners combined, even though the U.S. gross domestic product is smaller than their total GDP.

"This lopsided burden threatens NATO's integrity, cohesion and capability – and ultimately, both European and transatlantic security," Hagel said in remarks at the Woodrow Wilson International Center in Washington. "We must see renewed financial commitments from all NATO members."

Only four of the NATO partners met their agreed target of spending 2 percent of GDP on defense in 2013 – Estonia, Greece, Britain and the United States. France and Turkey fell just shy of the 2 percent goal.

Hagel said one of the biggest obstacles to investment in defense was the sense that the prospect of conflict among nations had dissipated with the end of the Cold War.

"Russia's actions in Ukraine shatter that myth and usher in bracing new realities," he said. Given Moscow's actions in Ukraine, NATO in the future "should expect Russia to test our alliance's purpose, stamina and commitment," he added.

"We cannot take for granted, even in Europe, that peace is underwritten by the credible deterrent of military power," the U.S. defense chief said, calling for greater coordination among the allies on defense investments as well as higher levels of spending.
Playing a large role in this, of course, is the fact that the United States has looked toward cutting its own defense spending as the war in Afghanistan winds down,  Given the United States's own domestic spending concerns, the fact that recent events in Eastern Europe suggest a more active role for NATO in the future necessarily means that we'd be looking to our allies to kick some money into the pot. Obviously, some nations are in a position to contribute far more than others, with Germany and the United Kingdom being at the top of the list. At the same time, I can't help but think that before NATO starts asking for more money for its members it probably ought to figure out what its mission going forward actually will be. Russia's actions in Ukraine certainly portend the possibility of a more confrontational Eastern Europe than we've seen since the fall of the Soviet Union, but it's unclear exactly how we ought to be responding to that. Spending more money without knowing what you're going to do with it doesn't seem to make much sense to me.