Clinton Foundation Discloses $26 Million In Contributions It 'Forgot' To Disclose Before
The Clinton Foundation has disclosed that there were $26 million in donations that it had failed to disclose while Hillary was Secretary of State.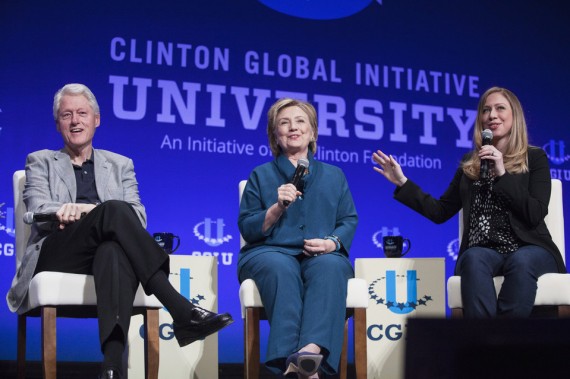 Yesterday, the Clinton Foundation revealed yet more previously undisclosed payments that it has received from corporations, foreign sources, and elsewhere, and once again it appears as if much of this material involve things that should have been disclosed long ago:
The Clinton Foundation reported Thursday that it has received as much as $26.4 million in previously undisclosed payments from major corporations, universities, foreign sources and other groups.

The disclosure came as the foundation faced questions over whether it fully complied with a 2008 ethics agreement to reveal its donors and whether any of its funding sources present conflicts of interest for Hillary Rodham Clinton as she begins her presidential campaign.

The money was paid as fees for speeches by Bill, Hillary and Chelsea Clinton. Foundation officials said the funds were tallied internally as "revenue" rather than donations, which is why they had not been included in the public listings of its contributors published as part of the 2008 agreement.

According to the new information, the Clintons have delivered 97 speeches to benefit the charity since 2002. Colleges and universities sponsored more than two dozen of these speeches, along with U.S. and overseas corporations and at least one foreign government, Thailand.

The payments were disclosed late Thursday on the organization's Web site, with speech payments listed in ranges rather than specific amounts. In total, the payments ranged between $12 million and $26.4 million.

The paid appearances included speeches by former president Bill Clinton to the Ni­ger­ian ThisDay newspaper group for at least $500,000 and to the Beijing Huaduo Enterprise Consulting Company Ltd., an investment holding company that specializes in the natural gas market, for at least $250,000. Citibank paid at least $250,000 for a speech by Hillary Rodham Clinton.

The disclosures underscore how much the Clintons have leveraged their star power to draw more money not just for their personal enrichment but also for the benefit of their philanthropic work.

The foundation, which has raised $2 billion since Bill Clinton left the White House, has emerged as a political headache for Hillary Clinton amid recent controversies over donations. The foundation, along with the Clintons' paid speaking careers, have provided additional avenues for foreign governments and other interests to gain entrée to one of America's most prominent political families. Some Republicans have charged that Hillary Clinton, during her tenure as secretary of state, was in a position to reward foundation donors.

Thursday's disclosure is one of a number of instances in recent weeks in which the foundation has acknowledged that it received funding from sources not disclosed on its Web site.

The ethics agreement was reached between the foundation and the Obama administration to provide additional transparency and avoid potential conflicts of interest with Hillary Clinton's appointment as secretary of state.

The agreement placed restrictions on foreign government donations, for instance, but the foundation revealed in February that it had violated the limits at one point by taking $500,000 from Algeria.

Thursday's release regarding speaking fees follows earlier disclosures showing how the lecture circuit has also made the Clintons personally wealthy.

Last week, Hillary Clinton disclosed that she and her husband made around $25 million since January 2014 from speeches; Bill Clinton also was paid more than $104 million from 2001 through 2012 by delivering speeches.

The Clintons reported that income on federally required personal financial disclosure forms filed by Hillary Clinton as a senator, secretary of state and now a declared presidential candidate.

But the new disclosure indicates that the former president has also spent considerable time speaking on the foundation's behalf — 73 times since 2002.

Hillary Clinton has delivered 15 such speeches, including one address to Goldman Sachs and another to JPMorgan Chase. Chelsea Clinton, who has taken on an increasingly active role at the foundation, has collected fees for the charity from nine organizations.

The foundation did not provide dates for the speaking engagements.

Vincent Salamone, a spokesman for the Office of Government Ethics, said this week that speeches delivered by public officials or their spouses acting as an "agent" of a charitable group in which the payment is made directly to the organization need not be disclosed in financial filings of public officials.
This latest news is just the latest in a series of rolling reports that have come out over the course of the past month regarding the Clinton Foundation starting with its failure to report donations from foreign sources while Clinton was Secretary of State, its relationship to a multinational deal involving a Russian uranium company, and other reports that tends to support the idea that neither Clinton nor the Foundation complied with either the letter or the spirit of its agreement with the Obama Administration regarding the disclosure of donations from foreign sources during the period from 2009 to 2013, The revelation also answers one of the questions that was raised after the disclosure earlier this week that the Clinton's had made some $30 million over the past sixteen months from giving speeches, namely the question of how much money was paid directly to the Foundation, and by whom, for speeches that they gave. As I said at that time, the issue that these revelations raise isn't so much how much money the Clinton's made, although it does once again put the lie to Hillary Clinton's assertions that she and her husband were "dead broke" when he left office in 2001. The real issue is the extent to which these payments, in more than one case some half a million dollars for a single speech, represented efforts by corporations and foreign sources to gain access to the Clinton's both before, during, and after the time that she was Secretary of State. Given the fact that we've already seen several examples of entities that gave donations to the Foundation benefiting from State Department decision, it is certainly a relevant question, even more so given the fact that Mrs. Clinton is running for President of the United States and may very well win the office notwithstanding all these ethical issues.
As I've said before, so far at least it doesn't seem as though this issue is having much of an impact in the polls, and indeed it may not ultimately change the outcome of the election. Notwithstanding that, though, it seems obvious that these are issues that deserve to be scrutinized, especially if Clinton is going to become President. The American people deserve to know this information. If they decide that it's unimportant, or that it's outweighed whatever good things they may see in Mrs. Clinton, that's there choice, but the assertion that I've seen in some quarters that this is all just another witch hunt against the Clinton's is utterly absurd. This is especially true given the fact that most of the news on this story has been broken by The New York Times and The Washington Post, which are hardly Fox News Channel. Indeed, the fact that the "mainstream" media is pursuing this story is likely one of the reasons that Clinton has been so parsimonious with her press appearances, and why most of her appearances before "regular voters" have ended up consisting of people that were pre-selected by the campaign or the local Democratic Party. If she's got nothing to hide, then let her answer the questions. Instead, much like her and her husband did in the 90s, she's circling the wagons and sending out surrogates to attack the messenger. Maybe that will work again, but if it does it really says as much about the American electorate as it does about the Clintons.