Clinton Wins Final 'Super Tuesday' Of 2016, Claims Victory In Nomination Fight
Hillary Clinton won the final Super Tuesday of the 2016 primary season, thus officially sending us into what promises to be among the most contentious General Election battles in recent memory.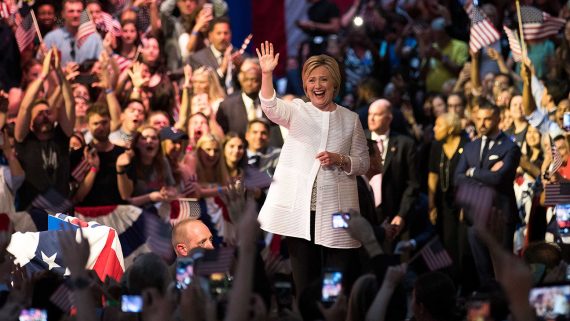 On what was effectively the final night of the 2016 primary season, Hillary Clinton pulled off wins in four of the six states being contested, including a victory in California that saves her campaign from some small embarrassment, Hillary Clinton claimed victory in a quest she began nearly a decade ago and pivoted toward a General Election campaign that promises to be among the most vitriolic and contentious in recent memory:
Hillary Clinton claimed the Democratic presidential nomination on Tuesday night after decisive victories in the California, New Jersey and New Mexico primaries, and she quickly appealed to supporters of Senator Bernie Sanders of Vermont to unite with her against Donald J. Trump.

The Associated Press reported early Wednesday that Mrs. Clinton had won California, but Mr. Sanders gave no indication that he would yield, insisting earlier that he would continue his campaign and barely acknowledging her achievement.

With the 14-month Democratic race nearing a close, Mrs. Clinton savored the biggest night of her extraordinary journey from lawyer, wife and first lady to senator, secretary of state and, now, the first woman to win a major party's nomination. At a rally in Brooklyn, she took the stage with her hands clasped over her heart in gratitude, then threw open her arms in joy and savored a long moment as a jubilant crowd waved American flags and chanted "Hillary."

Reaching for history, Mrs. Clinton pledged to build on the achievements of pioneers like the 19th-century leaders at Seneca Falls, N.Y., who began the fight for women's rights in America.

"Tonight caps an amazing journey — a long, long journey," she said, nearly a century after women won the right to vote nationwide. "We all owe so much to those who came before, and tonight belongs to all of you."

As six states voted on Tuesday, Mr. Sanders's political lifeline frayed with each loss. He was left hoping for a long-shot victory in the California primary, where Mrs. Clinton held a wide lead, to justify staying in the race and lobbying Democratic officials to support him in a contested convention next month.

In a speech in Santa Monica, Calif., late Tuesday night that felt much like a valedictory, Mr. Sanders told supporters he was determined to stop Mr. Trump, the presumptive Republican nominee, from winning the presidency. Yet he spoke of their cause as much larger than his candidacy. "You all know that it is more than Bernie — it is all of us together," he said.

He vowed to "fight hard to win" the final primary, in the District of Columbia next week, and to continue "our fight for social, economic, racial and environmental justice" at the Democratic convention in Philadelphia.

But he also recognized cold political reality. "I am pretty good in arithmetic, and I know that the fight in front of us is a very, very steep fight," he said. "But we will continue to fight for every vote and every delegate we can get."

While Mr. Sanders noticeably ignored Mrs. Clinton's triumph, only crediting "her victories tonight," she lavished praise on him earlier at her Brooklyn rally. She said their "vigorous debate" had been "very good for theDemocratic Party and America."

Mr. Sanders won the North Dakota caucuses and the Montana primary, while Mrs. Clinton won the South Dakota primary. Republicans also voted in several states.
More from The Washington Post:
NEW YORK — Hillary Clinton laid claim to the Democratic presidential nomination Tuesday night, making a full pivot to a nasty general-election fight against Donald Trump as she prevailed in a vigorously contested primary in California against Sen. Bernie Sanders.

Clinton, the first woman chosen as the standard-bearer of a major American political party, celebrated the occasion with a forward-looking address to supporters in Brooklyn, not far from her campaign headquarters and just a few miles from New Jersey — where she defeated Sanders in the first of six states voting Tuesday.

Although Clinton unofficially clinched the nomination the previous evening, she embraced the historic nature of her bid at her victory celebration Tuesday, debuting a video that placed her within the tradition of "women of the world who have blazed new paths."

Basking in a moment eight years in the making, Clinton took the stage with her hands clasped to her heart as supporters cheered and screamed. She took her time walking through the crowd to the lectern, shaking the hands of her exuberant supporters.

"Thanks to you, we've reached a milestone, the first time in our nation's history that a woman will be a major party's nominee," Clinton said. "Tonight's victory is not about one person — it belongs to generations of women and men who struggled and sacrificed and made this moment possible."

Clinton won easily in the New Jersey primary and held off a robust challenge from Sanders in California, the nation's most populous state, where voters also had their say Tuesday.

Clinton had sought to avert a loss there with nearly a week of intensive campaigning. As the country's most diverse state, and a wellspring of Democratic support and campaign cash, California was a symbolic but important final test of Clinton's strength as a communicator and candidate.

The contests in the six states came on a busy day following Clinton's abrupt clinching of the nomination Monday night because of a revised delegate count by the Associated Press.

n the wake of that milestone, party elders, including House Minority Leader Nancy Pelosi (Calif.), stepped up efforts to unify Democrats for the fall, and a spokesman for President Obama indicated that he was eager to help broker peace between Clinton and Sanders and start campaigning for the party's nominee. Obama called both candidates Tuesday night and will meet with Sanders on Thursday, the White House said late Tuesday.

"Bernie knows better than anyone what's on the line in the election and that we at some point have to unify as we go forward," Pelosi said in an interview with George Stephanopoulos on ABC's "Good Morning America." "He wants to influence the platform. I think that's fine."
In the end, the final night of the campaign went about as expected, with Clinton scoring decisive victories in New Jersey, New Mexico, and South Dakota while Vermont Senator Bernie Sanders picked up wins in North Dakota and Montana.  The biggest prize of the night, though, was the biggest state in the Union, California. For the past week or more Bernie Sanders was barnstorming the Golden State in the hope that he could pull off a come from behind victory that he could then use to bolster his at this point quixotic campaign, which by this week seemed to depend largely on the laughable proposition that he'd be able to persuade Superdelegates to abandon Hillary Clinton at the last minute and get behind him even though he was a distant second place by every conceivable measure. In the end, though, Sanders efforts proved to be for naught. While results are not complete, Clinton currently leads Sanders in California by thirteen points and, as of this morning, has been declared the winner by The New York Times, NBC News, CNN, and the Associated Press. That last win no doubt comes as a relief to the Clinton campaign. Even though there was no question that Clinton would secure enough delegates last night to put Clinton over the top, a loss in California would have proven somewhat of an embarrassment to headed into the General Election and likely would have emboldened a Bernie Sanders who has become more bitter and sullen as the primary campaign has gone on.
There isn't much to be said about Clinton's victory that I didn't say yesterday, but it is perhaps appropriate that her victory speech last night came exactly eight years after Clinton formally conceded the Democratic nomination for President to Barack Obama after a hard-fought, often contentious, and in the end quite close fight that came down to the final primaries. This time around, the race ended up being just as a hard fought and contentious, but the final result is far more decisive than Obama's victory over Clinton was back then. Eight years ago, for example, Obama ended up leading Clinton by just over 100 pledged delegates and just over 300 total delegates when Superdelegates are added in. By some measures, Clinton actually won more popular votes over the course of that primary contest than Obama did. (Source) This time around, Clinton dominated Sanders by every measure, including total and pledged delegates, the popular vote, and the number of states won. Indeed, had Democrats used the delegate allocation rules the GOP uses then Clinton would have wrapped this nomination up weeks ago. It was only because of the proportional allocation rules Democrats use that Sanders was able to maintain the illusion of a viable campaign while Clinton was made to appear to be a weaker candidate than she actually was.
As things stand now, Sanders seemingly largely stands alone and with very few options if he wants to remain relevant headed into the race. Even before the polls had closed in California, it was being reported that Sanders would be heading back to Vermont to reassess his campaign and that he was likely to lay off more than half of his campaign staff. It's also being reported that Sanders will meet with President Obama tomorrow, at Sanders request. As James Joyner put it this morning, it is most assuredly time for Sanders to concede, but it's unclear just how easy it will be to convince him of that. An article posted this morning at Politico, for example, paints a picture of a campaign where aides have known for months that the candidate cannot possibly win but where the candidate either refuses to recognize that reality or is simply ignoring it: 
Top Sanders aides admit that it's been weeks, if not months, since they themselves realized he wasn't going to be win, and they've been operating with a Trump's-got-no-real-shot safety net. They debate whether Sanders' role in the fall should be a full vote-for-Clinton campaign, or whether he should just campaign hard against Trump without signing up to do much for her directly.

They haven't been able to get Sanders focused on any of that, or on the real questions about what kind of long term organization to build out of his email list. They know they'll have their own rally in Philadelphia – outside the the convention hall—but that's about as far as they've gotten.

"He wants to be in the race until the end, until the roll call vote," Weaver said.

(…)

There's also the issue of payback. Campaign aides say that whatever else happens, Sanders wants former Congressman Barney Frank and Connecticut Gov. Dannel Malloy out of their spots as co-chairs of the convention rules committee. It's become a priority fight for him.

Sanders, the aides say, believes Frank has hated him for years, but the former Massachusetts congressman's calling him a "McCarthyite" pushed him over the edge. He never really registered who Malloy was, despite his being from a neighboring home state and his status as one of the most liberal governors in the country, but Sanders was enraged to hear the governor say he had blood on his hands for not supporting the gun manufacturer liability law.

Aides think Democrats should be grateful that he's increased voter turnout and registration. And it's why they assume Clinton's campaign will humbly request he be her college campus and millennial ambassador through the fall, to keep up the rallies and the voter registration that's given him the 45 percent of primary voters.

"When they say we're hurting the Democratic Party," Devine said, "we believe we're helping it."

That's because Sanders is a savvier politician than almost anyone's given him credit for. He likes that he's been in front of almost a million people since the campaign started. But he knows that as soon as the campaign's done, the crowds will start thinning, and he's not going to get on television anymore. He's certainly not running for president again.

Sanders knows the ride is about to stop—but he's going to push it as far as he can before it does.
The danger for Sanders is that he'll push things too far and lose whatever power his successes over the past year may have given him. The choice is really his at this point.