Comedian Garry Shandling Dead At 66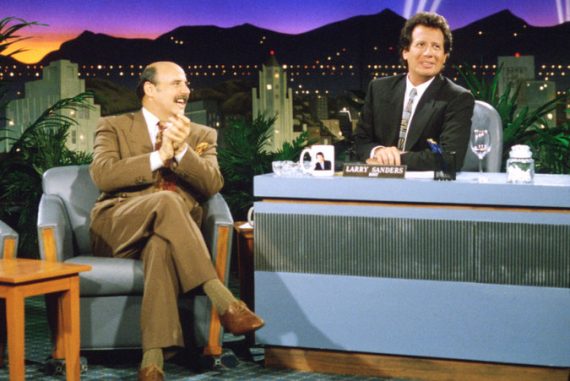 Garry Shandling, a comedian who starred in two ground-breaking comedy series, died suddenly yesterday at the age of 66:
Garry Shandling, a comedian who deftly walked a tightrope between comic fiction and show-business reality on two critically praised cable shows, died on Thursday in Los Angeles. He was 66.

A spokesman for the Los Angeles police confirmed the death but did not give a cause. TMZ, the celebrity news site, reported that Mr. Shandling had had a heart attack.

Mr. Shandling, who began his comedy career as a writer and went on to become one of the most successful stand-up comics of the 1980s, was best known for "The Larry Sanders Show," a dark look at life behind the scenes of a late-night talk show. It ran on HBO from 1992 to 1998.

Mr. Shandling's Larry Sanders was the host of a fictional show within the show, interviewing real celebrities playing themselves in segments that were virtually indistinguishable from real talk shows like "The Tonight Show." (Mr. Shandling had frequently substituted for Johnny Carson as the "Tonight Show" host.)

But the show was mostly concerned with what happened when the cameras were off, especially the interplay among Larry, his bumbling announcer and sidekick (Jeffrey Tambor) and his mercurial producer (Rip Torn).

"The Larry Sanders Show," often cited as a groundbreaking precursor of shows like "Curb Your Enthusiasm" and "30 Rock," was the second show by Mr. Shandling to take an unorthodox approach. The first, "It's Garry Shandling's Show," seen on Showtime from 1986 to 1990, freely admitted that it was a show, with Mr. Shandling often breaking the fourth wall by speaking directly to the audience.

Garry Emmanuel Shandling was born in Chicago on Nov. 29, 1949, and grew up in Tucson. His father, Irving, owned a print shop; his mother, Muriel, ran a pet store. An older brother, Barry, died of cystic fibrosis when Garry was 10.

He became interested in comedy at an early age, but put his show-business ambitions aside to study electrical engineering at the University of Arizona. In his junior year he wrote a monologue that he managed to get to George Carlin, who encouraged him to pursue a comedy career, but that was still a few years away.

After moving to Los Angeles in 1973, he worked in an advertising agency while writing and trying to sell sitcom scripts. He sold one to the producers of the hit Redd Foxx series "Sanford and Son" in 1975 and went on to write three more scripts for that show and one for "Welcome Back, Kotter" before trying his luck as a stand-up comic.

His rise was rapid, and in March 1981 he reached what at the time was considered a milestone in any comedian's career: an appearance on "The Tonight Show Starring Johnny Carson." "His name is Garry Shandling," Mr. Carson told the audience that night. "You'll hear a lot about him." Before long, Mr. Shandling had become a frequent guest host.

His comedy was dry, self-deprecating and sometimes a bit absurd. A frequent subject was his sexual prowess, or lack thereof:

"After making love I said to my girl, 'Was it good for you too?' And she said, 'I don't think this was good for anybody.'"

"I'm dating a woman now who, evidently, is unaware of it."

Offered his own series by Showtime, Mr. Shandling created "It's Garry Shandling's Show" with the former "Saturday Night Live" writer Alan Zweibel. As suggested by its title, and by a theme song that began, "This is the theme to Garry's show," the series simultaneously adhered to sitcom conventions and mocked them by admitting that the characters were just actors on a set reciting dialogue.

"It's Garry Shandling's Show" ran for four seasons on Showtime and was also briefly rerun on the Fox network. It was nominated for four Emmy Awards and won four CableACE awards. Not long after it went off the air, Mr. Shandling was back, this time on HBO, with a show that crossed the line between show business and the real world in a different way.

Playing a talk-show host who was, as Jacques Steinberg wrote in The New York Times, "a too-close-for-comfort amalgam of Johnny Carson, David Letterman, Jay Leno and Jack Paar," Mr. Shandling offered a jaundiced insider view of the television business.

Mr. Shandling's Larry was egotistical and anxiety-ridden. His producer, Artie, was ruthless and deceitful. His sidekick, Hank, was eager to please and almost completely clueless.

In its six seasons, "The Larry Sanders Show" won near-unanimous critical praise and numerous Emmy Award nominations. And the real world of Garry Shandling intersected with the fictional world of Larry Sanders more than once.

The actress Linda Doucett, who played Hank's loyal assistant, was in real life Mr. Shandling's fiancée. She was fired after they broke up and sued Mr. Shandling for sexual harassment and wrongful termination. That suit was eventually settled, as was Mr. Shandling's suit against Brad Grey, his former manager and an executive producer of the show.

When CBS lured David Letterman away from NBC in 1993, a year after "The Larry Sanders Show" had debuted, by giving him a show that would directly compete with "The Tonight Show," NBC offered Mr. Letterman's former time slot to Mr. Shandling. He turned down the job. It went to a virtually unknown writer named Conan O'Brien.

Mr. Shandling's profile was never again as high as it was during the "Larry Sanders" years, but the show's influence has been lasting. "30 Rock" borrowed its unblinking warts-and-all look at how television is made; "Curb Your Enthusiasm" embraced its use of real celebrities to play versions of themselves that were perhaps only slight exaggerations.

Its influence was also felt in less obvious ways. David Chase, the creator of "The Sopranos," once said that "The Larry Sanders Show" "inspired me to want to do something really good for television."

Mr. Shandling continued to appear on TV talk shows, notably Jay Leno's "Tonight Show" and Craig Ferguson's "Late Late Show," and occasionally acted in movies, including "Iron Man 2" (2012) and "Captain America: The Winter Soldier" (2014). In both he played a United States senator.

Mr. Shandling, who never married, leaves no immediate survivors.
I was a fan of both of Shandling's shows, and his passing at such a young age is sad news indeed.
Eerily enough, one of his last appearances was on an episode of Jerry Seinfeld's 'Comedians In Cars Getting Coffee' in an episode titled "It's Great That Garry Shandling Is Still Alive"