Comparative Approval Ratings
Is Trump really an outlier?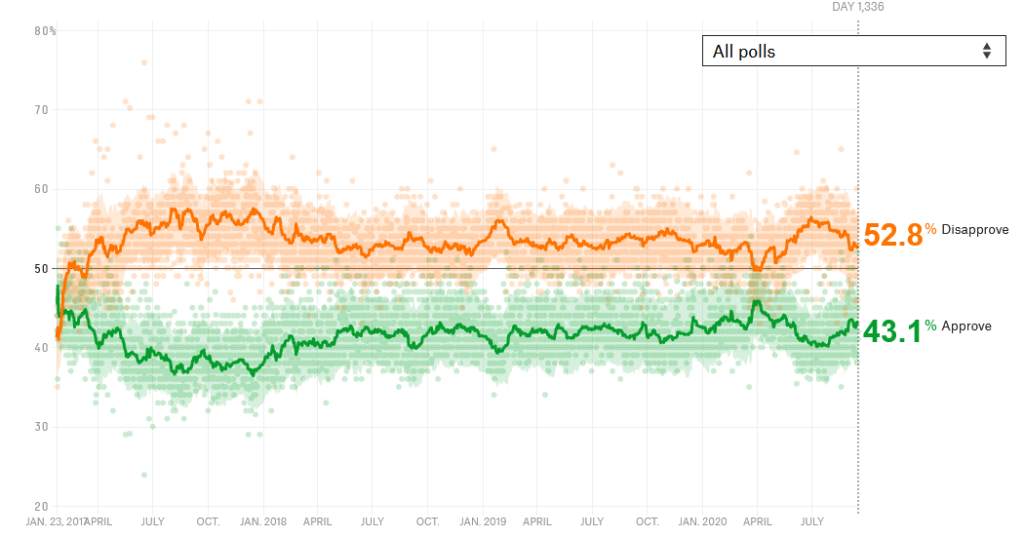 How should we understand Trump's approval numbers? This was a question that was on my mind this morning after listening to the 538 podcast this morning and then reinforced by James Joyner's post earlier today. A major question seems to be how to assess the general stability of Trump's (dis)approval. The assumption being that we should see more variation in approval in response to events.
I am not so sure that the stability is as odd as is presumed, at least in the current era of polarized parties.
Let's look at Obama's first term (via 538, and the green line is Trump's approval up to the time of this post)::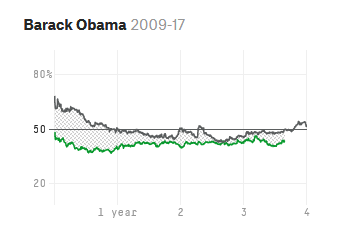 Obama comes into office with an obvious, somewhat traditional honeymoon period, and with a lot of goodwill early on. But as that fades he has approval in a pretty steady range, even during the Great Recession and heading into the mid-term elections that brought us the Tea Party.
(Note that Trump did not enter office with any goodwill and never tried to build any–plus Obama won a decisive popular vote and EC victory, while Trump won via a PV/EV inversion).
Even Obama's full 8-years doesn't show a ton of movement, which is interesting given that we did recover from the Great Recession during this period of time, had basic "peace and prosperity," and there were no major scandals.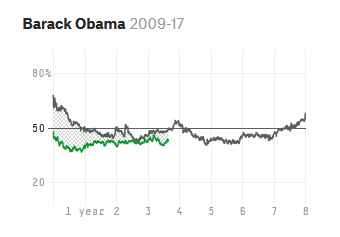 Indeed, he spent a lot of time underwater in approval in his second term (despite the fact that many readers likely look back on that period quite positively).
I recognize this is a cursory look at the topic, but I think that a lot of discussion of the relative stability of Trump's approval tends to think that volatility is to be expected, however I think the look at the Obama era is telling in this regard.
Indeed, the last almost 12 years suggests that relative stability in presidential approval may be a new norm, and that that is a reflection of the polarized period in which we live. Confirmation of that hypothesis would require further study, of course.
Bush's 8 years better fits the notion that presidential approval ought to be responsive to dramatic events: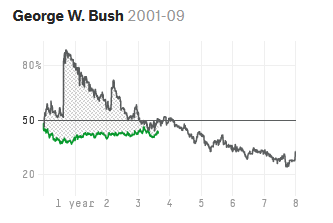 Of course, 9/11 was especially dramatic, making direct comparison difficult (and while I recognize the death toll of Covid-19 far outstrips that of 9/11, these are radically different events).
While I fully agree that we would like to think that the mismanagement of the pandemic, for example, would have a greater effect on Trump's approval rating, the reality remains that partisan dividing lines are what that are and at the moment Trump's approval is pretty much measuring the same thing as the national popular vote polling.
And in regards to the pandemic, I would further note that polls do show disapproval of his handling of that matter, it just doesn't move that main approval line. For example (via ABC): Deep skepticism for Trump's coronavirus response endures: POLL
Trump's approval for his handling of COVID-19 lands at 35% in the new survey, which was conducted by Ipsos in partnership with ABC News using Ipsos' Knowledge Panel, compared to 65% who disapprove. This marks the fourth straight poll with Trump's COVID response approval hovering in the low-to-mid 30s since early July.
So, it isn't that actions don't affect opinion of Trump. The real problem may be asking the approval rating to account for all of this. Really, the question "do you approve of the job the president is doing" translates very much into "will you vote R or D this November?" And, again, in an era of partisan polarization, it is difficult to see Trump getting lower than the lower 40s.
Keep in mind that even Mondale won 40.6% of the vote in 1984 (the EC outcome made it look worse than it was, popular-vote-wise). And that was at a less polarized period in our national history.
Even so, Trump's approval as of this afternoon is 43.1% and the 538 polling average has him at 43.4%. Those numbers are not radically different from Mondale's final 1984 figure.
Maybe things are not quite as extraordinary as some might make them out to be, in terms of mass behavior. Indeed, I think a lot of the (very understandable) anxiety makes it difficult to look at the numbers dispassionately, as does general alarm (again, quite understandable) as to what Trump says and does on a daily basis.
But, again, while there is clearly a subset of the 43.1% that approves of him that really approves of his nonsense and white nationalism, but there is also a large chunk that pays only passing attention (and filtered through the gauzy lens of FNC and like outlets) and/or who simply aren't going to vote Democratic for whatever reason and hence default to approval of their team.
Ultimately, if Biden beats Trump nationally by 6 or 7 points, that will actually demonstrate that public opinion did, in the aggregate, react negatively to Trump's bad behavior.
And really, isn't the main concern not that public opinion is against Trump, but that the Electoral College will thwart that opinion?
Regardless, there is evidence to suggest (looking back at Obama approval) that maybe we in an era wherein we should expect relative stability in presidential approval, suggesting that what it is really measuring is general partisanship. This strikes me as, at a minimum, a reasonable hypothesis.
UPDATE (James Joyner): This additional graphic from the 538 link is illustrative as well: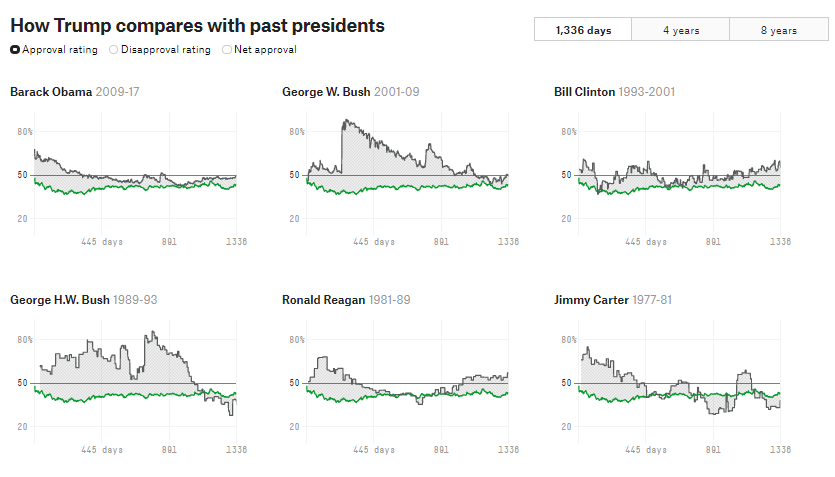 While we definitely saw more extreme shifts with other Presidents within my political memory, we see that attitudes were similarly hardened during Bill Clinton's tenure. Which does seem to indicate that Trump isn't quite as unusual as he seems. In terms of attitudinal stability, he's a "normal" hyper-polarizing President.