CPAC as a Leading Indicator
The annual gathering showed us what the Republican Party would become years ago.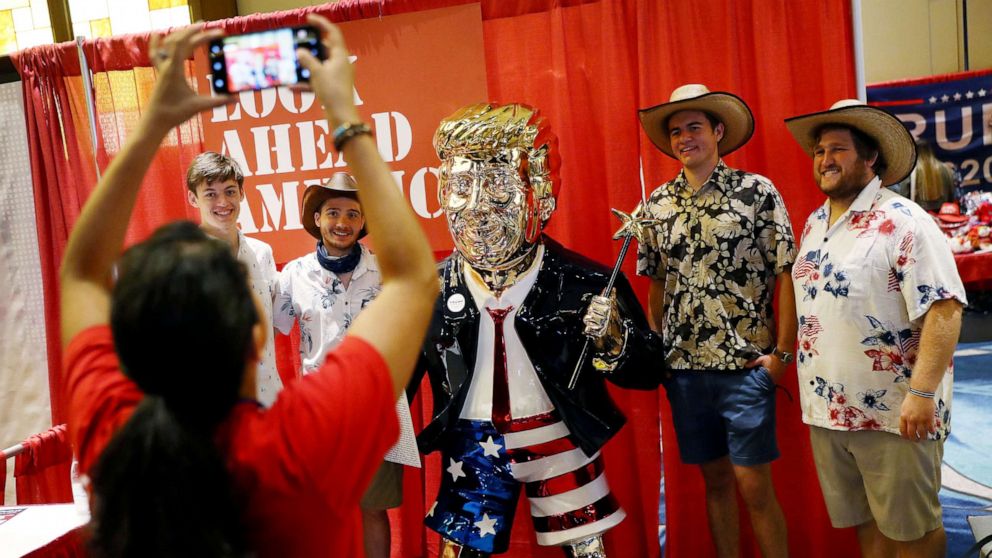 Former President Donald Trump's speech at the Conservative Political Action Committee's annual convention yesterday drew attention to how much of a cesspool that event has become. But it was by no means an overnight event.
The topic came up in the discussion of Steven Taylor's post "A Return to the (Lack of) Evidence of Significant Fraud." OTB veteran Doug Mataconis observed that he noted significant changes between the first two CPACs he attended "in the early 2010s" and Steven replied, "CPAC is, on one level, clearly a bit of a clown show. It feels like, from afar (I have never attended) a sort of Star Trek convention for a particular kind of conservative."
Yesterday afternoon, NYU journalism professor Jay Rosen tweeted, "A social scientist who compared news coverage of CPAC and Netroots Nation (a roughly similar gathering…) would have an entertaining tale to tell. The study would have to go back to 2007 and come forward to the present."
To which I responded, "I went to quite a few CPACs starting in 2004. It was already going off the rails by 2007-definitely a leading indicator." [It turns out my memory was off; 2005 was my first.]
Even the first couple I attended, all as an invited media member from the days when garnering coverage from the blogosphere was The Cool New Thing, were somewhat odd. I've never been to a comic book or Star Trek convention but imagine that there's some similarity. Basically, various DC area conservative and libertarian organizations show up to peddle their books and ideas to the paid attendees, which are disproportionately college students and recent graduates from outside looking to meet political and media celebrities or become part of the movement.
Granting that my politics and viewpoint changed over the years that I attended (I was in my 30s and single at my first one) they went from a bit silly national political convention-level red meat to pretty nasty. Largely, I think, it simply tracked the broader changes that were happening in the conservative (and political) media space, where so many voices were competing for attention that the volume had to be dialed up to 11 to get noticed.
In a piece for The Bulwark, though, Mickey Edwards argues that the trend was noticeable—if only in hindsight—much, much earlier.
If someone had told me 40 years ago that CPAC attendees would raucously cheer a United States senator bragging about his effort to overturn a presidential election or brazenly worship a literal golden idol in the shape of a failed presidential candidate, I never would've believed them.

But maybe I should have seen it coming.

[…]

I had been active in Ronald Reagan's 1980 presidential campaign, directing a number of wide-ranging policy task forces chaired by sitting members of the House and Senate. After he was elected, I invited Reagan to keynote CPAC in 1981, as I was not only a member of Congress but also the national chairman of the American Conservative Union and chairman of CPAC. The primary was a difficult one. I had called Reagan at his home to offer my help after he lost the Iowa caucuses to George H. W. Bush and was with him in his hotel room in New Hampshire when he defeated Bush in that state's primary. Now that the election was over and he was vice president, however, he was part of the team; I thought Bush, too, should speak at CPAC.

I was not expecting the resistance with which this suggestion was met. While the ACU is the lead organization in CPAC, other conservative organizations share in the governance and they absolutely refused to hear from Bush. In order to bring him to the event, I had to invite him as my personal guest and arrange my own breakfast meeting where he could speak the morning after Reagan's keynote—an event to which Bush had not been invited.

[…]

About the same time, direct mail entrepreneur Richard Viguerie convened a meeting of leading conservatives at his home in D.C.'s Virginia suburbs. Included in the meeting were representatives of religious groups and the meeting focused on how to get regular churchgoers, thought to be generally conservative, at least in the Protestant denominations, to stop voting for Democrats. The attendees were from a variety of backgrounds: Protestant, Catholic, Jewish, Greek Orthodox. Out of that meeting arose the Moral Majority. But before long the ecumenicism was gone and the Moral Majority was largely displaced by the Christian Coalition. Again, new and narrower forces were coming to the fore. I still didn't see the larger displacement of traditional conservatism that was gaining steam.

As chairman of the American Conservative Union, I signed, and signed off on, ACU's fundraising materials. During my tenure as chairman I found myself forced to rewrite every letter drafted by our outside public relations consultants. The ACU, and conservatives generally, had long been focused on a few things—keeping taxes low, keeping regulation in bounds, adequately funding national defense, and, more generally (this was how conservatism was defined in political terms), prudence and skepticism in the face of proposals for sweeping overhauls.

However, what I found in the fundraising letters I was being sent to sign were harangues centered on social issues. Waging the culture war was a more effective way of raising money. I edited those parts out but failed to see, as I do now, that these rants were early signs that the ideals of conservatism were being abandoned by those who claimed to be its greatest champions. But I couldn't see that at the time; I simply deleted the social/cultural warfare lines, rewrote each piece in more traditional conservative terms, and moved on. These fights began to creep into Congress as well, the usual partisan squabbles over tax policy, defense spending, foreign policy, assistance programs, and budget levels joined by bitter and continuous partisan fights over social issues: abortion, gay rights, women's empowerment, etc.

After five years as ACU's, and CPAC's, chairman, I resigned. I resigned as ACU's chairman, I resigned as a board member, and I resigned as a member. As the push for this new brand of conservatism—a populist and retrograde pseudo-conservatism—grew stronger, I wanted no part of it. But it still had not transformed the Republican Party, or even conservatism generally, into the ugly and malignant force it has become.
There's a whole lot more there but you get the idea.
Some will take issue with the last sentence of the excerpt. Certainly, the forces that were transforming CPAC were indeed transforming the GOP. But it happened slowly, indeed.
Yes, many conservatives thought George H.W. Bush was not one of them. But he emerged from a crowded field of conservative candidates, including Jack Kemp and Pat Robertson, as the 1988 Republican nominee and of course went on to win the election. Going back on his "no new taxes" pledge hurt him significantly and he had to fight off a primary challenge from Pat Buchanan in 1992 but, again, he emerged easily as the nominee in 1992.
Even as the party was slowly being taken over at the local and House level by the Christian Coalition types, more moderate candidates continued to win the Presidential nomination.
Bob Dole easily fended off Buchanan, Steve Forbes, Alan Keyes, Bob Dornan, and other conservative challengers in 1996.
George W. Bush held off not only John McCain but also Buchanan, Keyes, Gary Baeur, and Herman Cain in 2000 and ran essentially unopposed as the incumbent Presidnet in 2004.
McCain won in 2008 over Mitt Romney and a bevy of conservative opponents: Mike Huckabee, Fred Thompson, Rudy Giuliani, Ron Paul, Duncan Hunter, and Keyes.
Romney beat Rick Santorum, Newt Gingrich, and others in 2012.
But, of course, the chickens came home to roost in 2016 with Donald Trump, who still has the party firmly in his grasp today. By this point, something other than conservative ideology or even "family values" had clearly come to the forefront. CPAC and the GOP had merged.