David Petraeus Out As Commander In Afghanistan By End Of The Year?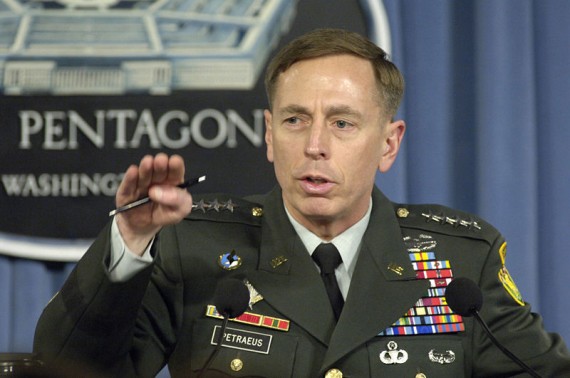 The Times of London has the story:(most story content behind paywall)
General David Petraeus, the most celebrated American soldier of his generation, is to leave his post as commander of US and Nato forces in Afghanistan. The Times can reveal that the Pentagon aims to replace General Petraeus, who was appointed less than eight months ago, by the end of the year. Sources have confirmed that the search for a new commander in Kabul is under way. It forms part of a sweeping reorganisation of top American officials in Afghanistan, which the Obama Administration hopes to present as proof that its strategy does not depend on the towering reputation of one man.
If this is true, it's definitely somewhat of a surprise.
via Twitter
UPDATE (James Joyner): Naturally, such thin reporting with such few details is generating rampant speculation.  Among the most interesting:
Petraeus is going to run for president. He has repeatedly denied this.
Petraeus is going to replace the retiring Bob Gates as Secretary of Defense. This would require him to retire, although RT thinks a "waiver" would do the trick.
Petraeus is going to replace Mike Mullen as Chairman of the Joint Chiefs of Staff.  Reuters is among those reporting that speculation. It has the virtue of being plausible.
Petraeus is going to retire from the Army and do something that pays a hell of a lot more. That's my speculation but much more likely than the first two.
UPDATE (James Joyner): The Pentagon is denying this report:
"Despite some sensational speculation by one of the London papers, I can assure you General Petraeus is not quitting as ISAF commander, but nor does he plan to stay in Afghanistan forever," Pentagon spokesman Geoff Morrell said in a statement. "Obviously he will rotate out at some point, but that point has not yet been determined and it will not occur anytime soon. Until then, he will continue to ably lead our coalition forces in Afghanistan."

Earlier in the day, the Washington Post reported that Petraeus, who took command last July, will rotate out of Afghanistan before the end of the year.

Rep. Buck McKeon (R-CA), who chairs the House Armed Services Committee, said he had not heard anything about Petraeus leaving and would be "totally floored" if it were true. "I was just there [in Afghanistan] a couple of weeks ago," McKeon said in a brief interview with TPM. "He's doing a fantastic job there."