Democrats Continue To Lead In Generic Congressional Ballot
New polling shows that the ground looks fertile for Democrats in the fall.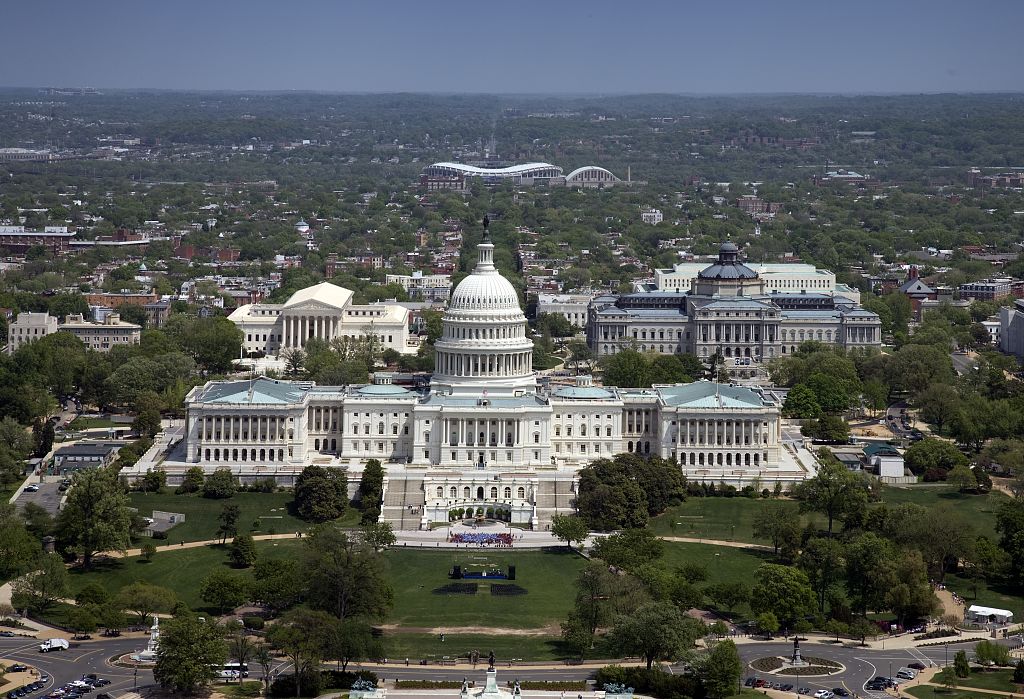 With just over three months to go before the 2018 midterm elections, the polling continues to indicate favorable conditions for Democrats, although there isn't evidence as of yet for a wave election that would lead to huge partisan shifts in either the House of Representatives or the Senate. This can most clearly be seen in three new polls that have been released over the past several days.
First up, the new NBC News/Wall Street Journal gives Democrats a six-point lead in the Generic Congressional Ballot: poll
The NBC/WSJ poll shows 49 percent of voters preferring a Democratic-controlled Congress as the outcome for November's midterm elections, versus 43 percent who want Republicans to stay in charge.

That 6-point lead in congressional preference for Democrats is down from last month's 10-point margin, 50 percent to 40 percent, though the difference is well within the survey's margin of error.

Independent voters prefer a Democratic-controlled Congress by more than 20 points, 48 percent to 26 percent.

And Democrats continue to enjoy an enthusiasm advantage heading into the midterms: 65 percent of Democratic voters have a high level of interest in the upcoming elections — registering either a "9" or "10" on a 10-point scale — compared with 49 percent of GOP voters.

Finally, asked to name the top one or two issues that will decide their vote in November, a combined 36 percent said the economy and jobs; 33 percent said health care; 27 percent said immigration; and 20 percent said guns.

A month ago, the top combined responses were health care (38 percent), the economy and jobs (37 percent), guns (25 percent) and taxes and spending (24 percent).
A second poll released by National Public Radio, PBS's Newshour, and Marist College, meanwhile, give the Democrats a seven-point advantage:
Democrats hold a 7 point lead over Republicans on the generic House ballot, according to a new Marist/NPR/PBS NewsHour poll released Wednesday.

Forty-seven percent of registered voters in the poll said they would vote for the Democrat in their district if an election was held today, compared to the 40 percent who said they would support the Republican candidate.

Seven percent said they would vote for neither party and another 7 percent were undecided.

Voters polled who have a household income of less than $50,000 were also more likely to say they would vote for the Democratic candidate, with a 14 point gap, as were college graduates, by 17 percentage points.

Those living in rural areas or small towns were more likely to support Republicans over Democrats. The GOP also held a 14-point lead among white voters without a college degree.

University of Virginia political analyst Larry Sabato said Tuesday that Democrats are the favorites to win back the House in this year's midterm election for the first time, as he shifted 17 House races in favor of Democrats.

Democrats need to win 23 seats in the upcoming midterms in order to gain control of the House.
Finally, in what may be something of an outlier, the new Quinnipiac Poll shows Democrats with an eleven-point lead in the generic ballot, which is the largest any poll has shown in some time:
Democrats hold a 12-point lead over Republicans on a generic House ballot a little more than three months before the November midterm elections, according to a new poll.

Democratic candidates were favored over Republican candidates 51 percent to 39 percent in the Quinnipiac University poll released Wednesday.

The poll found that while Republicans and Democrats largely backed their own parties, 50 percent of independent voters would vote for Democrats, while 33 percent of independents backed GOP candidates.

"Although the Mid-term elections are more than three months away, Democrats, who are hoping to retake control of the U.S. House of Representatives, will be cheered by their double- digit lead on the so-called generic ballot," assistant director of the Quinnipiac University Poll Peter Brown said in a release.

Another poll released Wednesday from Marist, NPR and PBS NewsHour found that Democrats held a 10-point lead over Republicans on the generic ballot.

The two polls were released one day after University of Virginia political analyst Larry Sabato said Democrats are now the favorite to win control of the House in the midterm elections. He also shifted 17 House races in favor of Democrats.
In addition to these polls, other recent polling has shown Democrats continuing to have an advantage in the generic ballot, albeit not as big as the one the Quinnipiac poll shows. A recent Economist/YouGov poll, for example, gives Democrats a six-point advantage in the poll, which is roughly in the middle of where that poll has been over the past several months. The new Reuters/Ipsos poll, meanwhile, gives Democrats a five-point advantage, which is actually somewhat below where that poll has been over the past several months. Finally, the newest Rasmussen poll gives Democrats a seven-point advantage, a number that is roughly consistent with where that poll has landed over the past several months. All in all this suggests that, while Democrats remain ahead in the ballot, there hasn't been significant movement in either direction for several months now.
Looking at the polling averages, the numbers are roughly consistent with where the recent polling has been. RealClearPolitics, for examples, has Republicans getting 39.9% of the vote nationally while Democrats are at 47.1%, giving Democrats a +7.2 point advantage. The Pollster average, meanwhile, gives Republicans 36.5% of the vote and Democrats 44.3%, meaning that Democrats have a +7.8 point advantage in that average. Finally, FiveThirtyEight gives Republicans 39.9% of the vote while Democrats receive 48.1%, giving Democrats a +8.2 point advantage. As the poll from RealClearPolitics shows, the trend has largely been stable for most of the summer, with Democrats maintaining a lead although no indication as of yet of the "blue wave" that many are hoping for: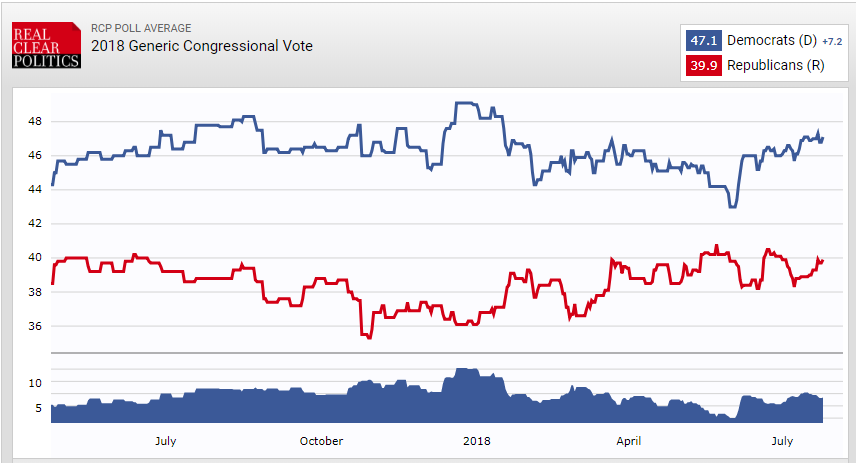 Even though we're now less than three months away from Election Day, I'd submit that it's still a bit too early to start making projections based on these numbers. Most Americans, after all, aren't really paying much attention to the elections and won't begin to until we hit the end of summer at Labor Day and the campaign, as well as early voting in many states, begins to heat up. Notwithstanding that caveat, though, it seems true that things continue to look good for the Democrats, and that there seems to be at least somewhat of a consensus growing that they will not only gain seats in the House of Representatives, which would be in line with the historic norm, but that it is increasingly likely that they'll gain something north of the 23 seats they need to win in order take back control of the House. The only question appears to be how far north they'll end up and how big their majority will be. Things could change in the next 104 days, of course, but as things stand the odds are looking fairly good for Democrats in the House.