Democrats Looking Good As Midterm Elections Get Closer
With just 72 days to go until Election Day, the chances that the Democrats will take control of at least one chamber of Congress are looking quite good.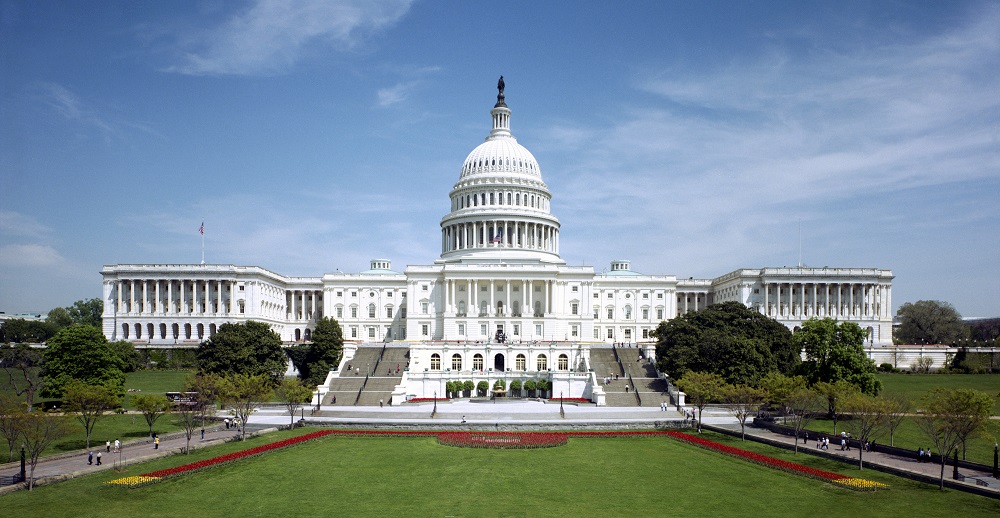 A new series of Generic Congressional Ballot polls continues to provide good news for Democrats as we head into Labor Day weekend and the unofficial start of the General Election campaign season.
The newest poll comes from NBC News and The Wall Street Journal, which gives Democrats an eight-point lead over Republicans with just over two months to go before Election Day:
The earlier NBC/WSJ poll — conducted Aug. 18 through Aug. 22 — showed Democrats with an 8-point lead in congressional preference, with 50 percent of voters preferring a Democratic-controlled Congress and with 42 percent wanting Republicans in charge.

Last month, Democrats were ahead by 6 points on this question, 49 percent to 43 percent.

Voters were split on what concerns them more — Republicans not providing a check and balance on Trump if they control Congress (46 percent who say this), or Democrats going too far in obstructing the president if they're in charge (45 percent).

They also were divided on what bothers them more — a Democratic candidate who supports House Minority Leader Nancy Pelosi's policies (47 percent), or a Republican candidate who supports Trump's policies (45 percent).

And asked their opinions of Democrats winning control of the U.S. House of Representatives and U.S. Senate, 41 percent of voters said that would be a good thing, while 38 percent say it would be a bad thing.

Still, Democrats continue to enjoy an edge in enthusiasm: 63 percent of Democratic voters express a high level of interest in the upcoming elections — registering either a "9" or "10" on a 10-point scale — compared with 52 percent of GOP voters who do the same.

What's more, 56 percent of Democratic voters believe November's elections are more important to them than past congressional elections, versus just 38 percent of Republicans who think that.

"Democrats are going to win [House] seats in 2018," says Democratic pollster Fred Yang of Hart Research Associates. "The question is: How many will that be?"

"The reason why the Democrats still have the upper hand is the enthusiasm issue," Yang adds.

The NBC/WSJ survey conducted mostly before the Cohen-Manafort news also finds Republicans with a 14-point advantage in which party better deals with the economy — their biggest lead on this question in the poll's history.

Forty-three percent of voters say the GOP better handles the economy, while 29 percent pick the Democrats.

Republicans also hold the edge on trade (R+8), taxes (R+5), guns (R+5) and changing how Washington works (R+4).

Democrats, meanwhile, have the advantages on the environment (D+38), health care (D+18), ethics in government (D+14), looking out for the middle class (D+12) and immigration (D+4).
On the heels of the NBC/WSJ poll is a poll from Harris and Harvard University that also gives Democrats an eight-point lead:
Democrats lead Republicans 45-37 percent on the generic congressional ballot ahead of the midterm elections in November, according to the latest Harvard CAPS/Harris poll released exclusively to The Hill.

The numbers were in line with July's survey, when Democrats were ahead of Republicans by 43-36 percent in terms of which party they would prefer in November.

The findings also showed Democrats had a 47-31 percent advantage among female voters in the generic ballot question.

"Democrats continue to have an edge in the midterms driven by a widening gender gap as the Democrats have gained considerably with women voters," said Harvard CAPS/Harris Poll co-director Mark Penn.

The survey also showed the number of undecided voters as November approaches had ticked down to 13 percent in August from 18 percent in February.

The 2018 midterms are shaping up to be a pivotal election as Democrats aim to flip the 23 seats they need to retake the House, though they face tougher odds in taking over the Senate.

The Harvard CAPS/Harris poll showed 59 percent of respondents were "absolutely certain" they would vote in the midterm elections, while 18 percent were "very certain." Another 14 percent said it was possible that they would cast their ballot in November.
These numbers are largely consistent with other polls that have been conducted over the same period of time, suggesting that we're seeing voters coalesce around the idea that they are ready to hand control of at least one chamber of Congress over to Democrats after two years of one-party control of both the Executive and Legislative Branches of government. The newest Economist/YouGov poll, for example, shows Democrats at 44% and Republicans at 38%, giving Democrats a six-point advantage. The Fox News poll, meanwhile, has 49% of respondents saying they would vote for a Democrats and 38% saying they would vote for a Republican, giving Democrats an eleven-point advantage. The Reuters/Ipsos poll puts Democrats at 41% and Republicans at 37%, giving Democrats a four-point advantage. Finally, the Monmouth poll shows Democrats getting 48% to 43% for Republicans, giving Democrats a five-point advantage.
Looking at the polling averages, all of this means that trends appear to be moving in the Democrat's direction. The RealClearPolitics poll average, for example, puts the Democrats at 47.6% and Republicans at 40.6%, giving Democrats a 6.8 point advantage. The Pollster average for the Generic Ballot, meanwhile, puts Democrats at 45.1% and Republicans at 38.9%, giving Democrats a 6.2 point advantage. FiveThirtyEight's average, meanwhile, which is somewhat weighted to account for poll reliability, puts Democrats at 48.1% and Democrats at 39.8%, giving Democrats an 8.3 point advantage. Additionally, introducing a new statistic we'll be tracking from now until Election Day, the FiveThirtyEight forecast gives Democrats a 73.2% of winning control of the House while Republicans are given a 26.8% chance of retaining control. All of this suggests that the news for Democrats is continuing to trend in a positive direction, as can be seen in the RealClearPolitics poll chart: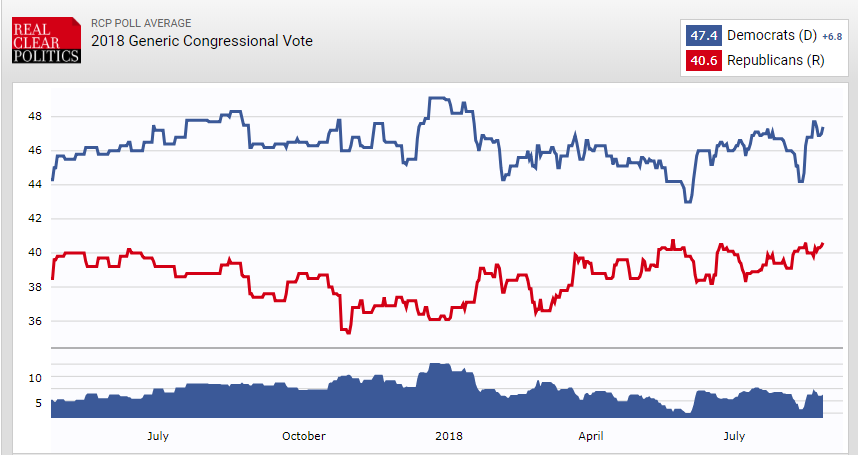 As things stand, Democrats are down by 23 seats in the House of Representatives, meaning they need to pick up at least 24 seats in order to win control of the House. While this seems like a steep number given the fact that gerrymandering and the lack of true battleground districts in recent years has seemed to cement Republicans into control after winning it in the 2010 elections, these numbers are not insurmountable especially given the fact that the latest forecast from the Cook Political Report suggests Democrats could pick up between 25 and 35 seats. If that happens, of course, then Democrats will have a slim majority in the House and Republicans will have a significant political headache since this would seem to guarantee that, at the very least, Democrats would use their majority to launch investigations into the Trump Administration not unlike those that Republicans launched during the Obama years. It seems to me, though, that the more likely outcome is that if the Democrats are going to pick up seats in the House it is likely that it's going to be something well above the forecast 25-35 seats, perhaps a significantly higher number.
While I've cautioned against reading too much into the polls for the better part of the year, we're now at the point where this is arguably no longer the case. As I noted above, we're now just 72 days until Election Day, schools across the country are starting to open, and early voting will be starting in many states as early as mid to late September. While it's still possible that things could change, and that factors in individual races could have an impact beyond individual districts, we're getting to the point where dismissing the poll numbers is unwise for those of us who are trying to figure out which direction the nation will head after November. It's always been likely that Democrats are likely to pick up seats in the House of Representatives, of course, but at this point, I would argue that there is, at least, a better than 50% chance that they will gain control of that chamber of Congress at least. The only question is how big that majority might end up being.
It's always possible, of course, that this polling could end up being wrong. We saw in 2016 that while the national polls ended up being fairly accurate, the same was not true of many state-level polls, especially those in the upper Midwest where President Trump was able to pull off narrow wins that gave him his narrow Electoral College victory. The same could end up being true of the Generic Ballot poll, which doesn't necessarily reflect what is happening at the individual district level. Additionally, this poll has historically not been very helpful in predicting how the Senate vote will turn out, and it's still the case that the Republicans still have a numerical advantage that could permit them to maintain control of that chamber. That, however, is something we won't know until we get closer to Election Day. Based on the numbers we have, though, it is looking like a very good November for Democrats.