Do Conservatives Get a Pass?
How would a Democrat-equivalent of Rick Perry be received?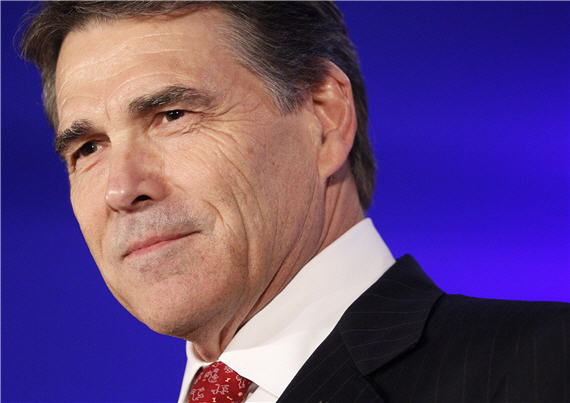 Kevin Drum wants to know, "Why Do Conservatives Get a Pass?"
Rick Perry would like to repeal the 16th and 17th amendments, hates the New Deal, thinks Social Security is a Ponzi scheme and global warming is a gigantic hoax, and would pretty much like to roll back America's entire social welfare edifice "from housing to public television, from the environment to art, from education to medical care, from public transportation to food, and beyond."
He points to a Ruth Marcus column looking at Perry's 2010 book Fed Up! and sees several proposals that she believes, "are not mainstream Republican views — at least, not any Republican mainstream post-Goldwater and pre-Tea Party." And I'd for the most part concur.
But in what sense is Perry–much less conservatives generally–getting a pass? Drum again:
Perry's views are getting denounced by all the usual lefty suspects, but not much of anywhere else. And the reason for this is something very odd: in modern America, conservatives are largely given a pass for saying crazy things. They're just not taken seriously, in a boys-will-be-boys kind of way. It's almost like everyone accepts this kind of stuff as a kind of religious liturgy, repeated regularly with no real meaning behind it. They're just the words you use to prove to the base that you're really one of them.
Off the top of my head, I'd offer three answers:
1. First, the journalistic cult of savviness pretty much dismisses boilerplate sops to the base as same-old-same-old.
2. Because most political reporters are left-of-center, they're not very good at differentiating mainstream conservative thinking from more extreme variants of the same thing. Which, again, renders a lot of what Perry's saying as same-old-same-old to untrained ears.
3. It's increasingly difficult to tell what's mainstream and what isn't. As the discussion spawned by my recent post on religious extremism in America demonstrates, large numbers of people hold views that are just shockingly out of kilter with bicoastal conventional wisdom. A lot of mainstream Republicans are highly skeptical of global warming; Perry's "hoax" stuff sounds crazy to some but rings true to a surprising number of people.
Because of that last factor, I think Drum's comparison here goes too far:
I'm not quite sure what the left-wing equivalent of this would be, but it would be something along the lines of Hillary Clinton writing a book that proposed repealing the 2nd Amendment and adding one that banned hate speech; limiting defense spending to 2% of GDP; raising the top marginal tax rate back to 90% on millionaires; instituting British-style national healthcare; and spending half a trillion dollars on new programs for universal preschool, two-year paid leaves for new parents, and an increase in the minimum wage to $15 per hour. But in real life, Dennis Kucinich wouldn't support a platform like this, let alone a frontrunner for the presidential nomination. And if one did, they'd be instantly tarred as an insane nutball and would never see the business end of a TV camera again.
While I think Perry is too far outside the mainstream, I'd argue that he's much closer to it than Dennis Kucinch, much less this hypothetical Democrat. Since Gallup began tracking the question in 1992, somewhere between 36 and 41 percent of Americans have self-identified as conservatives, compared to somewhere between 16 and 21 percent as liberals. In recent years, more people actually identify as conservative than moderate: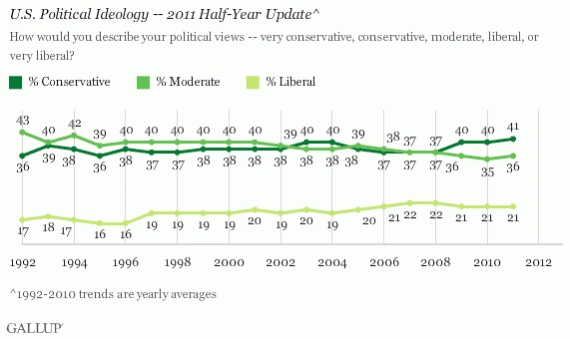 From Kevin's standpoint–and, frankly, even mine–Perry is well to the right of center. But he may well be much closer to mainstream thinking than either of us fully appreciate.
That said, though, I'm not sure that Perry will ultimately get a pass at all. Not only are reporters already challenging some of his more outlandish statements, so will his opponents. As Doug noted yesterday, Mitt Romney's plan of attack against Perry is precisely to highlight some of his more extreme views and point out the consequences that would flow from implementing his policies.
Yes, many Republicans are frustrated with Social Security and Medicare. But, no, Democratic scaremongering to the contrary, they don't want to get rid of either program. Aside from the much-lampooned Tea Party rallying cry of "get your government hands off my Medicare," the fact of the matter is that older voters skew Republican.