Romney's Plan Of Attack On Perry
The Romney campaign may be finally starting to pay attention to Rick Perry.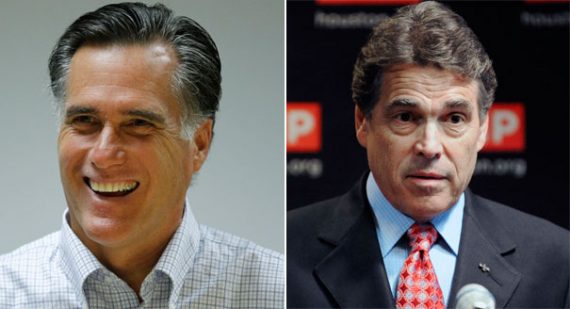 As the national, and state-level, polls have shown Rick Perry rushing to the top of the field, I've noted that Mitt Romney's strategy of staying above the race, largely ignoring his opponents, and concentrating mostly on running against the President isn't going to work for much longer, and that at some point he'd have to take on Perry. In today's Washington Post Marc Thiessen unveils part of that strategy, as revealed by aides to the Romney campaign:
If Perry fails to implode and continues to surge in the polls, Romney eventually will have to go on the attack — an assault his advisers say will commence "at a time of our choosing." Romney strategists are quick to note that in his book, "Fed Up!," Perry writes that "By any measure, Social Security is a failure" and calls the program "something we have been forced to accept for more than 70 years now" that was created "at the expense of respect for the Constitution and limited government."

Look at what happened to Paul Ryan when he proposed a plan to save Medicare, they say. Romney's campaign will argue that Perry is against the very idea of Social Security and Medicare, and that he will use Perry's book to scare seniors in early-primary states with large retiree populations, such as Florida and South Carolina.

The Romney campaign also plans to use immigration to drive a wedge between Perry and his conservative base, by highlighting Perry's opposition to a border fence and legislation he signed in 2001 allowing the children of illegal immigrants to attend Texas colleges and universities at in-state tuition. Without mentioning Perry by name, Romney pointed out at a town hall here in Dover that he vetoed similar legislation as governor of Massachusetts, declaring, "If you say, guess what, if you come here illegally, your kids will get [in-state tuition], that draws more people here illegally." Romney strategists believe the immigration issue will be devastating for Perry with Tea Party Republicans across the country — and especially in important primary states like Arizona.

Team Romney intends to undermine Perry's appeal on the right by painting him as the anti-government candidate who has spent most of his life in government — first as a state legislator, then as agriculture secretary, lieutenant governor and governor. They will tar Perry as an old-style Texas, pay-to-play, career politician whose state is worse off now than when he first took office. They will contrast Perry's quarter-century in government with Romney's 25 years creating jobs in the private sector. Romney hinted at this line of attack at a town hall meeting in Keene last week, declaring, "I won't just have been somebody who watched jobs be created, I actually created jobs.. . . I spent four years in government. I joke that I didn't inhale."

Perry will have answers for these and other charges, and attacks of his own planned for Romney. But Romney'si team believes that Republicans want, above all, a nominee who can beat President Obama — and points to a recent Mason-Dixon poll in Florida that shows Romney defeating Obama handily if the election were held today, while Perry is in a statistical dead-heat with Obama. (Other polls show Perry well ahead of Obama in Florida.)

The Romney campaign will argue that Perry repels independents and can't win in key swing states such as Florida, Ohio, Wisconsin, Pennsylvania and Michigan — while Romney can
It's kind of an odd strategy when you look at it. In some ways, they'd be attacking Perry from the right by pointing to his record and comments on immigration, which is far closer to George W. Bush's than Arizona Governor Jan Brewer's. and his willingness to consider things such as amnesty for illegal immigrants. The attacks on Perry's long service in government and the crony capitalism that has characterized his ten years as Governor of Texas also come from the Tea Party/conservative point of view. At the same time they're attacking Perry on those grounds, though, they'd also be pointing out that he's too conservative when it comes to Social Security and Medicare. Electorally, it makes complete sense in states like Florida, not to mention Northeastern and Mid-Western states like New York, New Jersey, Pennsylvania, and Ohio. As Allahpundit notes, however, it also has the potential to have a serious impact on the General Election regardless of who the nominee is:
If Romney goes this route, he'll be well positioned for the general election if he's the nominee — but if Perry's the nominee, this could weaken him significantly. The Democrats will play Mediscare games against either of them regardless, but if Romney beats them to the punch by using that accusation against Perry, it immunizes him from the charge to some extent once he faces Obama. The first time Debbie Wasserman-Schultz screams that Mitt wants to eliminate Social Security, he's got a ready answer — not only doesn't he want to do that, but he won his party's nomination against a guy who (allegedly) did by calling him out on it. If Perry beats Romney for the nomination, though, then the DNC has a golden attack line handed to them: "Rick Perry is so radical on Medicare that he even scares other Republicans," punctuated by a shot of Romney attacking Perry on those grounds at one of the debates. It would be devastating. Even if Perry tries to explain it away, the fact that he'd be on the defensive on this issue of all issues would be trouble.
It's nearly inevitable that Democrats will make entitlements an issue in 2012. The mostly negative public reaction to the Ryan Plan, which seemed to be replicated in the few Special Elections that took place in the spring, along with polling during the debt ceiling debate that showed the public strongly opposed to cuts in Medicare and Social Security.In 2010, Republicans won control of the House based, at least in some part, due to the fact that they garnered a majority of the Over 65 and 45-64 demographic groups, both of whom are natural constituencies for a political strategy based on Medicare and SSI. If Perry is the nominee, Democrats are inevitably going to attack him for his past statements, but if Romney has already softened him up on this issue it's going to make the job much easier for them. More broadly, though, I've got to wonder how effective going after Perry over Social Security and Medicare in the GOP primary would be for Romney. Surely, there are independent voters in Florida and the Mid-West who might be sympathetic to the argument, but I don't see it playing well with the GOP base.
In the end, Romney's best argument against Perry would seem to be electability. Contrary to what some Republicans seem to think, it is by no means certain that Barack Obama will lose in 2012, even if the state of the economy is as perilous as some predict. Putting the right candidate, who can appeal not just to the GOP base and the Tea Party but also to independents, on the ballot will be crucial for the GOP, and there are real questions about a Perry's ability to beat Obama in a head-to-head race. In the head-to-head polls that have been conducted so far, Romney consistently performs better against the President than Perry does. While part of that may be due to name recognition and voter unfamiliarity with Perry himself, it's no doubt something the Romney camp will point to as a reason why their candidate is better.
The question is whether that's a message the GOP wants to hear this cycle. In a lot of ways, this election more than any other in recent memory seems like one where Republican voters aren't likely to settle for the guy who can win rather than the guy they want to win. Whether that will work out for them in November 2012 is another question.