Do Vice-Presidential Picks Really Matter That Much?
There's little evidence that Vice-Presidential picks have as big an impact on elections as pundits seem to think.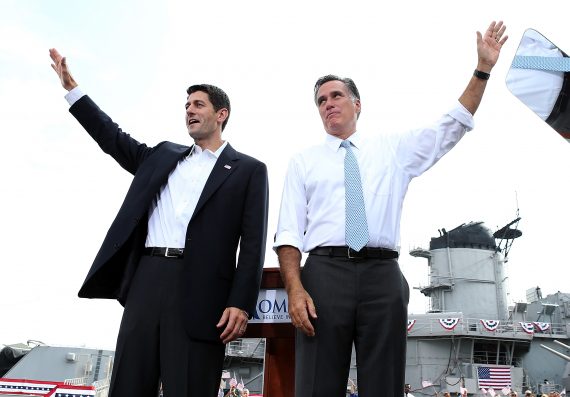 Working off the same polls that James Joyner writes about in his earlier post, which seem to show at best a lukewarm initial reception for the selection of Paul Ryan as Mitt Romney's running mate, Ezra Klein argues that Ryan's selection may not end up having much of an impact on the race after all:
The conventional wisdom inside the Beltway is that Paul Ryan's presence on the Republican ticket is either going to work big for Mitt Romney or backfire completely. But there's another possibility that is perhaps even likelier: that it doesn't much matter at all. That's usually what happens with vice presidential picks. And it could be what happens with Ryan.

(…)

Given those numbers, it's difficult to imagine that the post-Ryan bump will be radically different from what Romney would have received from any credible VP pick, and it might even be weaker.

The question, then, is what happens next  to break this race wide open in one direction or the other. And the answer might be…nothing. The Romney campaign isn't positioning Ryan as a Medicare-slashing radical. They're distancing themselves from the specifics of his budget, attacking President Obama's Medicare cuts and generally relying on Ryan's skills as a politician rather than on his ideas. That's an incremental strategy rather than a disruptive one, and we should expect it to register as such at the polls.

The Obama campaign is attacking Ryan as a Medicare-slashing radical. But they were going to attack Romney as that, as well. It's not clear that Ryan's presence on the ticket will make that attack radically more effective among the sort of low-information voters who aren't yet convinced by either side and don't really know who Ryan is.
Indeed, there's an argument to be made that Ryan being on the ticket makes it more difficult to convince voters that the Ryan Plan would eliminate Medicare, or that Romney supports doing so. Why? Because there's nobody who knows the Ryan Plan better than Paul Ryan and he now has a vested interested in defending the plan from the exaggerated attacks against it likely to come from groups such as Priorities USA. Indeed, Klein goes on to point out that many of his fellow progressives may be mistaking their inside the beltway disdain for Ryan for a phenomenon that exists nationwide:
The base case with any vice presidential pick is that, if they do a good job, they don't do any harm. Ryan is so controversial in D.C. that many expect he'll have a significantly larger impact on the race. But he's not actually that controversial outside D.C., and his presence isn't leading either campaign to radically alter their strategy. So while I wouldn't go so far as to say that he won't have a significant impact on the campaign — there's a reason the Obama camp has spent the last year trying to run against the Ryan budget — there's a good chance that Ryan's impact proves much more muted than many political insiders are expecting. My hunch is the analysis right now is overly colored by the role Ryan plays in Washington, which is different than the role he's going to play in this race.
Klein makes a good point, but I think there's a much more important point here that all of the attention on the Veepstakes for the past months, and now on the horse race impact of the selection of Paul Ryan has obscured. The simply fact is that there's very little evidence, historical or otherwise, that Vice-Presidential selections have a significant impact on the electoral prospects of a Presidential candidate. With the possible exception of Lyndon Johnson in 1960, has there really been a Vice-Presidential candidate who can be said to have positively influenced the electoral chances of the ticket they were on? I honestly can't think of a single one. Even on the other side of the equation, while it goes without saying that Dan Quayle and Sarah Palin were bad candidates, I'm not sure you can say that either one of them had a negative influence on the outcome of the election. The Bush/Quayle ticket won what was arguably the last real landslide in recent American history, and it seems pretty clear now that John McCain was destined to lose in 2008 regardless of who his running mate was. Perhaps the only "bad pick" that did have an impact was George McGovern's selection of Thomas Eagleton, which only lasted 18 days before Eagleton stepped aside, but even in that case McGovern never really had a realistic chance of beating Nixon in 1972 anyway.
More broadly, though, I have never understood why someone would base their decision on who to vote for in a Presidential race based on who the nominee chooses as his running mate. If you were someone who had a problem with Mitt Romney prior to Saturday that was serious enough for you to conclude you weren't going to vote for him, why would his selection of Paul Ryan change that opinion? After all, Mitt Romney is the one who's going to be President, not Paul Ryan, and he's still the same guy you didn't like on Friday. I've asked this question of Republicans who claimed that they were on the fence about McCain in 2008 until he selected Sarah Palin, and I've never gotten a satisfactory response. I can see how a Vice-Presidential pick might make a McCain or Romney support more enthusiastic about the campaign, and there's evidence that this is exactly what Ryan's selection is doing among Republicans, but that's different from saying that the selection itself was reason for you to change your mind on who you would vote for. I realize that voters often make decisions for seemingly irrational or trivial reasons, but this one seems especially irrational to me.
As I've said before, I think there's really only one thing that a Vice-Presidential pick is about, and it has little to do with the electoral benefit or harm that the individual picked does to the electoral prospects of the ticket. When a Presidential candidate picks a running mate, they are saying that this is the person who would be ready from day one to take over the Presidency if something unfortunate happened. It's the first "Presidential" decision that a candidate makes, and it says much about the judgment that they would exercise if elected. John McCain failed that test in 2008, and then he demonstrated just three weeks later how bad his judgment was in his bizarre response to the financial crisis and the efforts to get TARP through Congress. In this case, I tend to agree with those who have said that, regardless of what one things of the merits of Ryan's ideas, there's no doubt that he passes the "qualified" test in a way that Palin did not. Beyond that, though, I just don't think that Ryan himself is going to be the deciding factor in this election. Mitt Romney may yet end up losing this election, but it's not going to be because of Paul Ryan.