Paul Ryan Polling Worse Than Sarah Palin?
If a new Gallup poll is any indication, Paul Ryan was not a great pick.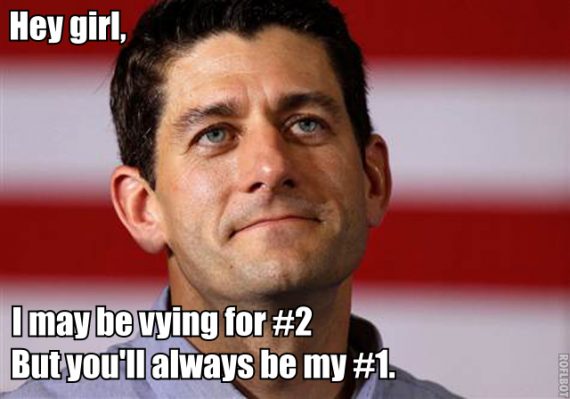 If a new Gallup poll is any indication, Paul Ryan was not a great pick.
USAT/Gallup Poll: Paul Ryan gets low marks for VP

Americans don't believe GOP presidential contender Mitt Romney hit a home run with his choice of Paul Ryan as a running mate, a USA TODAY/Gallup Poll finds, with more of the public giving him lower marks than high ones.

Ryan, a Wisconsin congressman, is seen as only a "fair" or "poor" choice by 42% of Americans vs. 39% who think he is an "excellent" or "pretty good" vice presidential choice.

Romney pollster Neil Newhouse said in a statement that the findings reflect the fact that Ryan, a House member since 1999, isn't widely known.

USA TODAY/Gallup polls of registered voters after the announcements of running mates since Dick Cheney in 2000 all showed more positive reactions. Only Dan Quayle in a 1988 Harris Poll of likely voters was viewed less positively than Ryan, with 52% rating Quayle as a "fair" or "poor" vice presidential choice. The Ryan poll includes all adults, not just registered voters.

[…]

"All these numbers indicate is the simple fact that Congressman Paul Ryan was not a nationally known figure prior to being named as Gov. Romney's vice-presidential pick," Newhouse said. "Congressman Ryan's selection reinforces the seriousness of the issues that will be debated in this election and President Obama's failure to get Americans back to work and his inability to strengthen the middle class."
Dave Weigel takes a look back:
The first few days of a veep candidate roll-out are often the apogee of his/her public image. We remember Sarah Palin's 2008 debut as rough and nasty and personality-focused, which it largely was. But the first polls of Palin's favorability, at the end of August 2008, had her favorables at a net +15 or so; the Washington Post/ABC and USA Today/Gallup polls taken right after her convention speech gave her, respectively, 58 percent and 53 percent favorable ratings. (Republicans liked to point out that this was higher than Barack Obama's own favorability rating, which was momentarily sort of true.)
But there's no shock or surprise or tabloid family story with Ryan. He is being introduced, basically, as a smart young guy who spent 14 years in Congress. He got there at age 28, Joe Biden got there at age 30. Both men, initially, were picks that barely moved the needle.
Kevin Drum doesn't buy the "unknown" explanation:
 Among non-political junkies (i.e., normal people) Jack Kemp wasn't very well known. Cheney wasn't well known. Biden wasn't very well known. And Palin wasn't well known. But initially, they all polled better than Ryan.
My guess is that we're saying two things here. First, while both Palin and Ryan were largely unknown at the time of their announcement as running mate, Ryan has been taken seriously enough by the Democrats that they've already spent months working to bring down his public standing. Second, we're getting more polarized by the minute. I don't know that there's anyone Romney could have picked that 42 percent of the public wouldn't disapprove of at this point.
To the extent a vice presidential choice matters, I'm skeptical that Ryan was going to be helpful in bringing undecided voters to the Republican side. But there's simply no question that he's far, far better prepared to be president and to be on a presidential ticket than Palin was four years ago.
UPDATE: Moments after hitting Publish on the above, I see Jim Geraghty's link to Jon Cohen's posting at WaPo ("Positive views of Ryan jump higher after pick") showing Ryan's inevitable post-announcement bump:
Little known nationally before Saturday's announcement, favorable impressions of Ryan jumped 15 percentage points among the overall electorate with positive views soaring from 49 to 70 percent among conservative Republicans.

In Wednesday through Friday interviews, fully 45 percent of Americans expressed no opinion of Ryan, dropping to 30 percent on Saturday and Sunday. The increasing familiarity all went to the positive side of the ledger, giving Ryan an initial advantage in the sprint to define his candidacy.

Overall, in interviews after his selection, 38 percent of all Americans express favorable views of Ryan, 33 percent negative ones. (Before the the announcement, Ryan was somewhat underwater, scoring 23 percent favorable, 32 unfavorable.)
It's worth noting, too, that the overall numbers are less important than the demographics. Most of Ryan's "surge" is with people likely to vote for Romney anyway: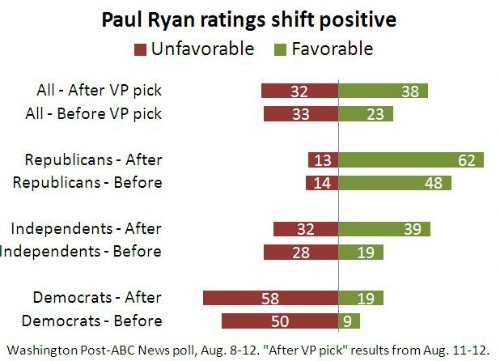 One of the largest movements on Ryan's favorability numbers was the 21-point jump among conservative Republicans, but the initial movement was positive among independents as well, doubling from 19 to 39 percent. The shift among Democrats was similar in both a positive (up 10 percentage points on favorability) and negative direction (up eight on unfavorability).

Before the announcement, senior citizens split 28 percent apiece positively and negatively on Ryan, but afterward his favorable number shot to 46 percent with no change on the other side of the equation. Seniors are likely to get even more outsized attention in the coming months due to Ryan's controversial proposal to change the Medicare entitlement. A Post-Kaiser poll released over the weekend shows broad, cross-party opposition to such a change.
As with Palin, it's not the first weekend's impressions that will matter (again, to the extent the Veep matters at all) but how it plays out after the long haul. It's quite possible that American swing voters will find Ryan's policies too extreme. But my gut instinct is that they'll find the man himself likable and credible.
Image: Hey Girl, It's Paul Ryan