Does Anything Change After the Manafort and Cohen Convictions?
It's not obvious that two more felons in the Trump inner circle will have any immediate impact.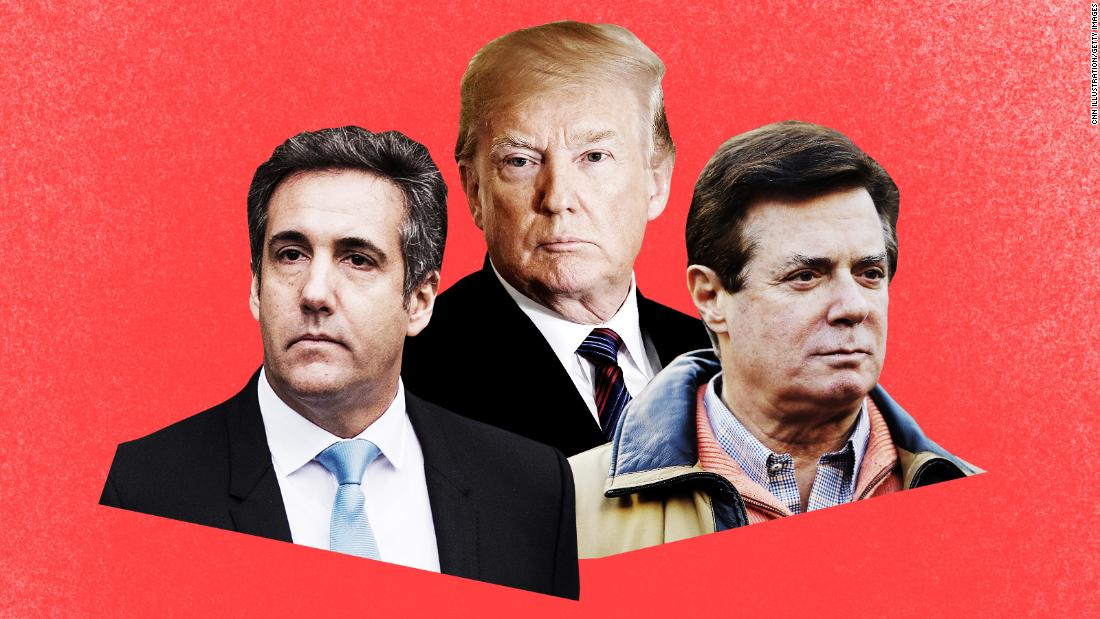 Mikhaila R. Fogel, Susan Hennessey, Quinta Jurecic, and Benjamin Wittes examine the Paul Manafort conviction and Michael Cohen guilty plea for Lawfare. They begin:
In the history of the American republic, there has never before been a single hour in which, in two separate courts, in cases prosecuted by two separate offices, a president's former campaign manager and his former lawyer simultaneously joined his former national security adviser as felons—and one of them implicated the president in criminal activity.

Normally, the sort of felonies that Paul Manafort was convicted of Tuesday and to which Michael Cohen pleaded guilty are beyond the scope of what Lawfare covers. Bank fraud and tax evasion are not exactly national security legal issues, and certainly payments to adult film actresses and models in violation of campaign finance law are not the sort of "hard national security choices" that are our bread and butter.

Yet the convictions obtained Tuesday create a remarkable moment, one that interacts inevitably and deeply with major national security investigations—and that places stress on a presidency, and presidential personality, in a fashion that inevitably poses national security concerns.
They then ask and answer several questions. Among them:
Do these convictions have implications for L'Affaire Russe?

They may, and in both cases, there is reason to suspect they do, but we don't know yet know for certain.

[…]

On MSNBC on Tuesday evening, Cohen's lawyer Lanny Davis made his client's feelings plain: "Mr. Cohen has knowledge on certain subjects that should be of interest to the special counsel and is more than happy to tell the special counsel all that he knows."

But keep in mind that there were high hopes that Trump campaign foreign policy adviser George Papadopoulos would be in a position to offer Mueller substantial cooperation after his plea agreement. That turned out not to be the case.

How big a deal is the Manafort verdict?

Pretty big.

[…]

Tuesday's verdict is also not the end of the story for Manafort—not even close. He is scheduled to go on trial in Washington, D.C., in September for alleged violations of the Foreign Agents Registration Act and other charges. While the charges in the Virginia trial were not central to the core questions of the Mueller probe—the foreign conspiracy to interfere in the 2016 election—this trial did demonstrate that Manafort was under overwhelming financial stress and deeply indebted to foreign interests at precisely the time he agreed to join the Trump presidential campaign without pay.

What's more, it is clear that the special counsel's office believes the Manafort case is important to its mission. The evidence of this is the simple fact that Mueller chose to keep the Manafort prosecution within the office, not to refer it elsewhere. For some reason, Mueller's team views the tax- and bank-fraud charges against Manafort as connected to the central inquiry, in a way the Michael Cohen case—which it referred to the U.S. Attorney's Office for the Southern District of New York—is for some reason not. That may be because Mueller's team wants information it believes Manafort has. And that, in turn, makes his conviction, and the pressure on him that it generates, a significant event.

How big a deal is the Cohen plea agreement?

Very big.

The president's former lawyer has not only confessed to criminal campaign finance violations, but he has also said under oath that he was doing so at the direction of the president himself. It's hard to say yet what precisely this means. But it is not a small thing. Setting aside the question of whether Cohen will cooperate with Mueller, it remains to be seen whether prosecutors will pursue additional criminal charges against individuals mentioned but not charged in the criminal information.

[…]

How close is this to the president?

"It doesn't involve me," the president said Tuesday afternoon when asked about the Manafort verdict. Setting aside the implications of the Manafort case for the Mueller investigation as a whole, Trump is certainly correct that the specific charges on which Manafort was convicted, and those on which the jury could not reach a verdict, do not involve the president's conduct. The closest connection is that Manafort's alleged bank-fraud scheme was ongoing during the time he managed Trump's presidential campaign.

As we noted above, the story is quite different in the Cohen case. Among the counts to which the president's former lawyer pleaded guilty are two violations of federal election law: "causing an unlawful corporate contribution," regarding Cohen's role in silencing Karen McDougal's story of an affair with Trump by persuading her to sell the rights to a tabloid that then quashed the story; and "excessive campaign contribution," regarding Cohen's payment to Stormy Daniels as part of a hush agreement, for which he was then reimbursed by the Trump Organization.

The criminal information made public Tuesday states that Cohen "caused and made the payments … in order to influence the 2016 presidential election"—that is, to prevent damaging information about the affairs from surfacing during the campaign. It is the political motive behind the payments that transforms the matter into a question of federal campaign finance law. As former White House counsel Bob Bauer wrote of the Cohen case Tuesday evening, legal constraints on such expenditures are implicated when "motivation[s] materially if not wholly shaped by political objectives" come into play.
There's quite a bit more but those are the issues that most interest me.
The Trump campaign engaged in serial criminal activity and Trump himself not only knew about but directed some of it. It's not obvious to me that it'll matter in the short term, however. In the current environment, Trump supporters are unlikely to be phased by any of this. Hell, depending on how Fox News and Breitbart cover the story, they may not even know.
While it's debatable whether paying off mistresses in violation of campaign finance laws is worse than committing perjury to conceal an affair with a White House intern, they're certainly comparable. House Republicans considered the latter an impeachable offense when Bill Clinton did it. I vehemently agreed at the time and still do. Senate Democrats—and a majority of the American public—did not and Clinton survived the scandal.
I have no interest in re-litigating the Lewinski scandal two decades after the fact. My point in bringing it up is simply that, even in a more normal political environment, this particular set of revelations likely wouldn't be enough to turn a President's party against him.
While yesterday certainly provides more evidence that this administration has all manner of shady connections and is corrupt to its core, that seems to be baked into the public consciousness at this point. Hell, we casually note that Trump has a "fixer," a job title I can't recall previously being associated with a President of the United States.
Manafort and Cohen are likely to matter, then, only to the extent they lead to something bigger. I agree with the assessment of the Lawfare gang that Cohen may well help Mueller get there. But we're not there yet.