Donald Trump, Ben Carson Lead The GOP Field Heading Into Second Debate
Donald Trump and Ben Carson remain at the top of the Republican Presidential field heading into the second debate on Wednesday.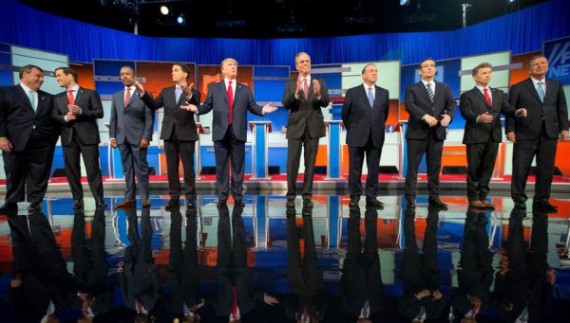 As we head into the next Republican debate, the race looks about the same as it has for the better part of two months now, and it's unclear just when or how that's going to to change.
On the state level, a new set of polls of the early primary states shows Donald Trump and Ben Carson leading and most of the rest of the field lagging behind. In the new round of polls, conducted by CBS News and YouGov, Donald Trump leads the Republican field in Iowa with 29%, with Ben Carson continuing to gain in the Hawkeye State and now behind him by only four points at 25%. Ted Cruz is in third place at 10%, which is better than he's done in other polling in the state recently, with the rest of the field down below double digits. In New Hampshire, Trump's lead is at an astounding 40%, with Carson far behind in second place at 12%, John Kasich at 9%, and Carly Fiorina at 9%. Jeb Bush and Scott Walker, who had previously been in the top two in the Granite State, were far behind at 6% and 3% respectively. In South Carolina, Trump leads the field at 36%, with Carson at 12% and Ted Cruz leading the rest of the back at 6%. As I've noted before, YouGov's online polling isn't always necessarily trustworthy, and it's often led to results that tend to exaggerate Trump's lead compared to other polling. Nonetheless, it is consistent with the trends that we've seen in the race so far. In Iowa, for example, Trump now has a 6.4 point lead in the RealClearPolitics average, while candidates like Scott Walker and Jeb Bush continue to drop in the polls. In New Hampshire, Trump is lead is now an average 23.6 points, which is closet opponent John Kasich more than 20 points behind him. Finally, in South Carolina Trump is averaging a 16.7 point lead in the polls, and even South Carolina's 'favorite son' Lindsey Graham isn't having much of an impact on the race. Even accepting the idea that these latest YouGov polls are exaggerating Trump's position slightly, it's clear that he's the undisputed frontrunner in the race.
The situation is much the same in the national race:
Two–thirds of the Republicans who say they are looking for non-political experience currently support either Trump or Carson — the foundation of the wide division between the two outsiders and the rest of a field made up almost exclusively of traditional politicians. Several of these current or former elected officials registered new lows in the survey.

Their next big chance to reverse their fortunes comes at a debate Wednesday evening at the Ronald Reagan Library in Simi Valley, Calif., that will feature the top 11 candidates. The debate, hosted by CNN, will begin at 8 p.m. Eastern time. There will be an earlier forum, beginning at 6  p.m., for the candidates who did not qualify for the main debate.

The new poll found Trump to be the favorite of 33 percent of registered Republicans and ­Republican-leaning independents. That is a jump of nine percentage points since mid-July and a 29-point increase since late May, just before Trump announced his candidacy. He does well with most groups of GOP voters, but his strongest support comes from those who do not have a college degree and those with incomes below $50,000.

Carson runs second at 20 percent, 14 points higher than in July. His surge is consistent with several other national polls that show him moving up the ranks since the first Republican debate in Cleveland last month. Carson's base is more strongly rooted in the conservative wing of the party.

After Trump and Carson, there is a significant falloff in support for the other candidates. Former Florida governor Jeb Bush, who began the year as the nominal GOP front-runner, stands at 8 percent, his lowest ever in Post-ABC surveys of the 2016 field. Next, at 7 percent each, are Sens. Ted Cruz of Texas and Marco Rubio of Florida. No one else registered above 5 percent.

Sen. Rand Paul of Kentucky, former Arkansas governor Mike Huckabee, Wisconsin Gov. Scott Walker and New Jersey Gov. Chris Christie either tied or registered their lowest levels of support in Post-ABC polls of the 2016 race dating to the beginning of 2014.

Walker suffered the steepest decline since the July survey, falling from 13 percent to 2 percent. Recent polls in Iowa, where Walker had been leading, also have shown a loss of support.
These numbers are largely consistent with the national poll that was released by CNN last week, although in that case Scott Walker's position was slightly better in that he registered 5% rather than merely 2%, although either number is fairly bad and a good indication that his campaign is in trouble. More broadly, the national poll average shows Trump and Carson comfortably at the top of the pack, with Bush, Cruz, and Rubio in the second tier, Fiorina, Walker, and Huckabee, making up the third tier, and Paul, Kasich, and Christie bringing up the rear among the candidates that will be on the prime time debate stage. The remaining candidates, all of whom will be featured in the early debate that will air at 6pm Eastern, are either a or near 1% in the polls and basically non-entities.
Heading into the debate, these poll numbers give us a good idea of what we ought to expect from the candidates. With Trump at the top of the field, it's obvious that he'll be getting most of the attention both from the moderators and from the other candidates. Already, we've seen candidates such as Jeb Bush, Rand Paul, and, although he won't be on the same stage as Trump, Bobby Jindal, level increasingly strong attacks against the frontrunner, typically aimed at attacking his claims to be a conservative while simultaneously having a record of positions that seems more at home in the Democratic Party. Some of these attacks have also started to become more personal, although it's unclear is anyone will actually have the nerve to engage in those kinds of attacks when the cameras are rolling. It reminds one somewhat of the situation in 2011 when former Minnesota Governor Tim Pawlenty had spent the better part of the month leading up to a debate in August 2011 attacking Mitt Romney and then, when given the opportunity to do so in person, only to back down in a move that most observers interpreted as a sign of weakness. If that happens with the candidates who have spent the better part of the past month taking on Trump, then it's likely to damage them further in the polls.
The coming debate will also likely be a test for two candidates who have largely gone unnoticed until they started rising in the polls in the past few weeks. Ben Carson has quietly risen in the polls over the past several weeks thanks largely to his outsider status, but his new prominence is also likely to lead to the kind of attention that a more serious a candidate is exposed to, and it's not clear that the retired neurosurgeon can stand up under that pressure. In the past, Carson has come across as soft spoken, not very aggressive, and not exactly up to speed on policy issues. While Carson has been able to ride his outsider status and his appeal to religious conservatives to second place in the polls so far, it's not clear how long that can last once he's exposed to the realities of the campaign trail. Similarly former Hewlett-Packard CEO Carly Fiorina largely made her way onto the main stage this week thanks to the fact that she appeared to be a giant among midgets at the "Kids Table" debate in August. So far, that has only manged to give her a slight bump in the polls that has been sufficient to get her on to the main stage, but clearly wouldn't be enough for her to be considered a serious contender going forward. The question for Fiorina will be whether she can do as well on a stage with ten other people as she did on one with just seven, most of whom were largely ineffectual. And, of course, hovering about all of this will be the media presence that is Donald Trump. Last time around, Trump garnered more television time than any of the other debate participants, and that's likely to happen this time around. Given that, it's unclear if anyone will be able to breakthrough.