Donald Trump, Hillary Clinton Poised To Leave Opponents In The Dust On Super Tuesday
It's Super Tuesday, and both Donald Trump and Hillary Clinton are likely to go a long way toward securing the nominations of their respective parties.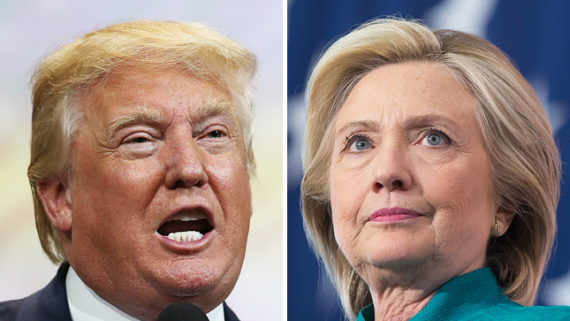 After nearly a year of campaigning, and a wild ride on both sides that has defied expectation, the 2016 campaign for President has officially entered a month that is likely to go a long way toward deciding the outcome of the nomination fights in both parties. On the Republican side, a race that has seen candidates that would have been considered top tier in a tradition election year, such as Scott Walker, Rick Perry, Jeb Bush, and Chris Christie, has come down to a contest between a New York real estate magnate whose political loyalties have shifted like the wind in Chicago on a cold night, and whose support seems to only become more loyal and vehement as he says more and more outrageous things, and two freshman Senators of limited accomplishment who have spent most of the race arguing between each other which one would be harsher on illegal immigration. On the Democratic side, the seemingly inevitable campaign of a woman who came close to winning the nomination eight years ago has seen itself have to struggle against an unexpectedly strong insurgency from a septuagenarian socialist from Vermont who managed to catch fire among his party's progressive wing and attract younger voters by concentrating on issues of economic inequality, but who now seems to be near the end of his fifteen minutes of fame thanks to his inability to attract almost any interest at all from African-American voters. Now that we're entering March, though, the race in both parties looks as though it may come to an abrupt end in both parties, and it all starts today on Super Tuesday.
On the Republican side, Donald Trump seems poised to sweep nearly all of the eleven states holding contests today, which could cause him to end the night with enough delegates to credibly claim that he is essentially the inevitable nominee:
Donald Trump is poised for sweeping nationwide wins on Super Tuesday, solidifying his position as the Republican front-runner and intensifying the pressure on his struggling primary rivals to find a way forward.

Top Republicans — including governors who convened an emergency conference call on Monday on which Trump was Topic A — expect the real estate mogul to carry as many as 10 states on Tuesday night, an outcome that would deal a body blow to Texas Sen. Ted Cruz, who has staked his campaign heavily on the Southern states holding nominating contests, and to Florida Sen. Marco Rubio, who has yet to win a primary and isn't expected to do so on Tuesday.

"If Trump wins 8 or more states on Tuesday, it would take a massive collapse on his and/or his campaign's part for him not to be the nominee," said Tony Fabrizio, a longtime GOP pollster and strategist who advised Rand Paul.

Trump's march to the nomination has set off a wave of anxiety across the Republican Party establishment as top officials weigh whether to endorse him — or denounce him as anathema to the party's values. Reflecting that angst, on Monday morning, New Mexico Gov. Susana Martinez and Wisconsin Gov. Scott Walker, the heads of the Republican Governors Association, convened fellow governors for an unusual conference call to discuss how the primary was unfolding — and Trump was a central topic of conversation.

(…)

No matter what happens on Tuesday, Cruz and Rubio's allies point out, Trump will be nowhere close to securing the 1,237 delegates needed to secure the GOP nomination. The 595 delegates up for grabs will be distributed proportionately, meaning that Cruz and Rubio are expected to rack up a substantial number even if they do not succeed in winning many states. Going into Super Tuesday, Trump has won 82 of the 133 delegates that have been awarded so far.

That means the primary race could well go on for weeks or months longer without any candidate meeting the threshold for securing the nomination.

"Donald Trump is the clear front-runner, and he's in a very strong position," said Steve Munisteri, a former Texas Republican chairman who has closely studied the delegate allocation process. "But it's not over."

Yet there's little question that the structural dynamics of the primary favor Trump. Assuming he wins most of the states voting on Super Tuesday and his rivals choose to stay in the contest, Trump will be the beneficiary of two major advantages: a lead in the delegate count, and a splintered Republican field.

With Rubio likely to be blown out on Tuesday, his allies are latching on to the notion that he could still keep Trump from amassing a majority of delegates and then win over party insiders at the convention in Cleveland, securing the nomination at the 11th hour.

"There is a very narrow way forward," conceded Mel Martinez, a former Republican National Committee chairman and past Florida senator who endorsed Rubio on Monday.

But, Martinez said, there was hope. A majority of the party, he argued, found Trump "increasingly unpalatable," and they would resist him.

"How that manifests itself I don't know, but I believe there is a sense by many, myself included, that he just cannot be the nominee," he said. "So a convention scenario could begin to develop."

Speaking to reporters on Monday, Cruz ridiculed the idea. "All these crazy voters go one way, we'll step in with all of our money and anoint our white knight to ride in and save the day … That's not going to happen."

The growing ranks of forces looking for ways to stop Trump insist they haven't lost hope. Our Principles PAC, an anti-Trump super PAC being overseen by former Mitt Romney aide Katie Packer, has launched an aggressive fundraising campaign and is eyeing the possibility of launching ad campaigns against him in four delegate-rich states voting in March: Michigan, Missouri, Illinois, and Florida.

The group, which has tapped veteran Republican strategist Ed Goeas to conduct polling, has secured donations by a number of prominent Republican Party contributors, including Marlene Ricketts, part of the family that owns the Chicago Cubs, and Stan Hubbard, a broadcasting executive.

"I don't think the opposition to Trump is going quietly into the night anytime soon," said Josh Holmes, a former chief of staff to Senate Majority Leader Mitch McConnell. "The vast majority of Republicans are horribly dissatisfied with the current state of affairs and there is no sign whatsoever that fundraising or energy is dissipating for an alternative."
If Trump does as well as he's expected to today, this "Stop Trump" effort is clearly going to be too little, late. Of the eleven contests on the board, the only when where Trump seems most likely to come in anything other than first place is Texas where Ted Cruz is making what the media is already calling the Senator's last stand, and a state he must win for his campaign to remain viable. The polling out of the Lone Star State seem to indicate that Cruz will indeed win the popular vote, but that may only be half of the issue. Because of the way that Texas allocates delegates, Trump could end up coming in second place and still walk away with a sizable amount of the delegates that are up for grabs in the state. If Cruz manages to lose the popular vote in Texas to Trump, though, there will be much talk in the coming days about whether or not he can maintain a viable campaign and a lot of pressure on him to drop out. Outside of Texas, though, Trump has strong leads in pretty much every other Super Tuesday State, including Alabama, Virginia, Georgia, Massachusetts, Oklahoma, Tennessee, and Vermont. The outcome in the remaining states, which includes Arkansas, Minnesota, and Alaska, are unclear largely because there has not been much recent polling there. With respect to Minnesota, though, there's at least some speculation that Marco Rubio could pull off a win in the caucuses there, which would constitute his first win in any contest this year, but Rubio will stay in the race until Florida regardless of what happens tonight, just as John Kasich will stay in the race until the Ohio and Michigan primaries later this month.
For those of you interested in the hard numbers of the various races, and the projected delegate totals from each state, FiveThirtyEight has compiled a guide to the Republican side of Super Tuesday that does a very good job of explaining everything. As far as projections go, rather than trying to predict the outcome in each state, I'll simply state the following:
Ted Cruz will win the popular vote in Texas, roughly within the margin predicted in the polling, but Donald Trump will come in a strong enough second to share in delegate allocation with Cruz;
Trump will win Alabama, Virginia, Georgia, Massachusetts, Oklahoma, Tennessee, and Vermont probably by roughly the margins shown in the polling in those states;
Trump will also win Arkansas, but at least ten points;
As stated, Marco Rubio has a chance of winning Minnesota, but will not win any other state; and,
Let's just call Alaska a toss-up. It's a caucus, which means whichever campaign is well-organized up there could win outright, but none of the candidates have spent any time campaigning there so your guess is as a good as mine.
By the end of the night, I'd expect we'll see Republicans wake up to the realization that Donald Trump has just taken another major step down the road toward becoming their nominee, that Ted Cruz has barely done what he needs to do to maintain a credible campaign, and that Marco Rubio may still be searching for his first victory unless he manages to notch one in Minnesota, a state that has been largely ignored by the other candidates. John Kasich, meanwhile, will continue to insist that he's staying in until March 15th, while everyone wonders what Ben Carson is really up to.
On the Democratic side, Hillary Clinton stands to do leave Bernie Sanders in the dust in the twelve contests that Democrats are holding today, and one of the main reason for that is the fact that the majority of today's contests are located in states with large African-American populations. Polling shows Clinton with massive leads in Virginia, Massachusetts, Texas, Tennessee, Arkansas, Georgia, and Alabama, as well as a narrower lead in Oklahoma. Bernie Sanders, meanwhile, unsurprisingly has a massive lead in his home state of Vermont, which he will obviously win easily and which Clinton has not really seriously contested. To the extent there are toss-ups today on the Democratic side, they can be found in Minnesota, Colorado, and the territory of American Samoa. Of those three, Clinton was leading in the last polling taken in Minnesota and Colorado in January, but that may not accurately reflect the Sanders campaign's ability to pull off a win in the caucuses there. Even if he does, though, Clinton seems destined to walk away with the vast majority of the delegates at stake in the Democrats today, which will put her one step closer to putting the final nail in the coffin of whatever kind of challenge Sanders represented, which in all honesty wasn't much of one.
As with the Republicans, FiveThirtyEight has a Super Tuesday Guide for the Democrats that explains what's at stake in each contest and what to look for. By way of projections, I'd expect Clinton to easily win  Virginia, Massachusetts, Texas, Tennessee, Arkansas, Georgia, and Alabama, and that she'll pull off a narrow win in Oklahoma in the end. Of the remaining contests, I'll go ahead and predict she'll also win in Minnesota and Colorado as well as American Samoa. In other words, Bernie Sanders will walk away from the night with a single win and, perhaps, the realization that the fat lady is beginning to tune up.
Polls begin to close starting at 7pm tonight — see the schedule here — so we should have a good idea of how the night is going to go in both parties fairly early.