Donald Trump Leads In Latest Pre-Debate Poll, Perry Seems Likely To Miss The Debate
Donald Trump leads in the first of the final polls to be released before Thursday's debate.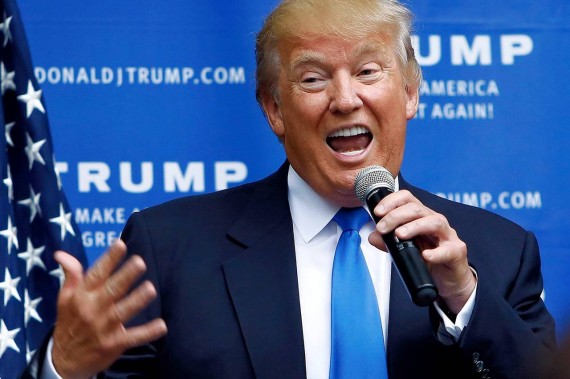 With just a few days left until the deadline for invitations to Thursday's debate, a new NBC News/Wall Street Journal puts Donald Trump at the top and seems likely to winnow several otherwise qualified candidates off of the main debate stage:
Days before the first Republican debate, Donald Trump has surged into the national lead in the GOP primary race, with Wisconsin Gov. Scott Walker and former Florida Gov. Jeb Bush following, a new NBC News/ Wall Street Journal poll shows.

Trump is the first choice of 19 percent of GOP primary voters, while 15 percent back Walker and 14 percent back Bush. Ten percent support retired neurosurgeon Ben Carson.

All other Republican candidates earn single digit backing. Texas Sen. Ted Cruz is favored by nine percent of primary voters; former Arkansas Gov. Mike Huckabee and Kentucky Sen. Rand Paul are tied with six percent support; Florida Sen. Marco Rubio clocks in at five percent; and New Jersey Gov. Chris Christie, former Texas Gov. Rick Perry and Ohio Gov. John Kasich are tied with three percent apiece. Louisiana Gov. Bobby Jindal and former Pennsylvania Sen. Rick Santorum each have one percent support, and four candidates – former HP head Carly Fiorina, South Carolina Sen. Lindsey Graham, former New York Gov. George Pataki and former Virginia Gov. Jim Gilmore – register less than one percent support.

(…)

Only the top 10 candidates — calculated by an average of the last five major national polls — will be eligible to participate in Thursday's FOX News debate in primetime, according to the network's rules. Incorporating the new NBC/WSJ numbers, NBC estimates that the top ten candidates at this time are:

Trump – 19.8 percent
Walker – 13.2 percent
Bush – 13 percent
Paul – 6.4 percent
Carson – 6.4 percent
Rubio – 6.2 percent
Huckabee – 5.8 percent
Cruz – 5.8 percent
Christie – 3.2 percent
Kasich – 3.2 percent

Those missing the cut are:

Perry – 2.6 percent
Santorum – 1.4 percent
Jindal – 1.4 percent
Fiorina – 0.6 percent
Pataki – 0.6 percent
Graham- 0.4 percent
Gilmore – 0 percent
Politico's estimate of the debate standings are about the same:
Chris Christie, John Kasich and Rick Perry are fighting for the last two spots on the debate stage — and after a new NBC News/Wall Street Journal poll Sunday morning, Perry is still most in danger of failing to qualify.

The three candidates are all at 3 percent in the new poll. But according to a Campaign Pro analysis of the five most recent live-caller surveys, Christie and Kasich are tied for ninth place, at 3.2 percent. Perry is outside of the top 10, in 11th place, at 2.6 percent.

The new poll continues to show Donald Trump leading the field. Trump is at 19 percent, followed by Scott Walker at 15 percent. Jeb Bush (14 percent) and Ben Carson (10 percent) are the other two candidates who earn double-digit support.

Walker has nudged in front of Bush in the average of the five most recent polls, putting him in second place behind Trump. In fourth place, both in the new poll and the average, is Ben Carson.

The NBC News/Wall Street Journal poll was conducted July 26-30 by Democratic polling firm Hart Research Associates and Republican polling firm Public Opinion Strategies. The poll included interviews with 252 Republican primary voters and carries a margin of error of plus or minus 6.2 percentage points.
This won't be the last poll we get before Tuesday's 5pm deadline. Monmouth University is releasing a poll tomorrow and Fox News is expected to have their own poll out before the deadline as well as that it can be included in the calculations. Additionally, it's been some time since we've seen a poll from CBS News and The New York Times, so it's possible that we'll get one from them as well either tomorrow or Tuesday. Notwithstanding the fact that there are more polls to come, though, it seems pretty clear who will be in the main debate and who will be left out. Specifically, the most high profile candidate who seems likely to be relegated to the earlier debate is former Texas Governor Rick Perrry. At this point, he is so far behind John Kaisch and Chris Christie that it seems unlikely that he would get the boost from additional polls that he would need to move up in the average. As for the other candidates that are out of the top ten, there's virtually no chance that any of them would be able to poll high enough in the two or three polls yet to be released to get into the main debate. And, of course, it is even more unlikely that Donald Trump will drop enough in the poll average to be denied the coveted center stage position on Thursday night.
As for the debate itself, Fox News has released the format for the debate, and it promises to be as uninformative as all of the multi-candidate debates we saw during the 2012 cycle:
With the Fox News debates only one week away, candidates likely to make it to the main stage are beginning to hear some details.

According to two people familiar with the network's plans, candidates will get one minute to answer each question addressed to them by moderators Megyn Kelly, Chris Wallace and Bret Baier during the program, which begins at 9 p.m. Eastern time on August 6.

Candidates who are called upon will be given only 30 seconds for rebuttals. If a candidate's name is invoked during someone else's answer to a question, that candidate will get a chance to respond for a length of time at the moderator's discretion.

The campaign of one leading candidate believes after communications with Fox executives that there will not be a rigorous attempt to make sure all ten candidates get equal time to speak. Fox strongly contested that assertion in a statement issued Friday.

"As we have communicated to the all the campaigns, we will work to give candidates equal time during the 5PM/ET and 9PM/ET debates, just as we have done in the past," FOX Executive Vice President Michael Clemente said. "Any indication otherwise is flat wrong."
One minute for an answer and thirty seconds for rebuttal is, of course, not a sufficient amount of time for any of these candidates to provide anything other than a sound bite answer to any question that they are asked or any attack on them by another. In reality, of course, it will be the case that many candidates will go over their time and it will be difficult for the moderators to really control the debate or discipline candidates who go over their allotted time. Additionally, because of the nature of the forum it's likely that most of the time will end up going to the candidates near the top of the field such as Trump, Walker, Bush, Rubio, and the others. While John Kaisch and Chris Christie may make it into the debate, they probably won't end up getting as much air time as the leading candidates. In the end, the "winner" or "loser" of the debate will be determined by who got off the best one-liners rather than any objective evaluation of the answers they actually gave. It will, in other words, be largely a waste of time except for the entertainment value, which is likely to be enhanced by the presence of a candidate who has a long history of speaking without a filter. Personally, I recommend watching the entire fiasco with your favorite adult beverage.