Donald Trump Set To Sweep To Victory In South Carolina
Donald Trump is on the verge of another big victory.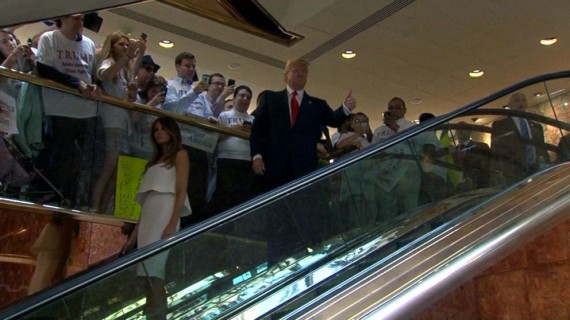 With less than seventy-two hours to go before South Carolina voters get in line to vote, Donald Trump continues to maintain a massive lead over his closest rivals in the polls:
Buoyed by strong voter dissatisfaction with the Republican status quo, Donald Trump holds a commanding double-digit lead over all his rivals in South Carolina, according to the latest Monmouth University survey of likely primary voters released Wednesday afternoon.

Trump earned 35 percent, followed by 19 percent for Texas Sen. Ted Cruz, 17 percent for Florida Sen. Marco Rubio, 9 percent for Ohio Gov. John Kasich, 8 percent for former Florida Gov. Jeb Bush and 7 percent for retired neurosurgeon Ben Carson. Just 5 percent of voters say they remain undecided in the survey of 400 South Carolina voters.

Overall, 42 percent said they are completely decided ahead of Saturday's primary, with 31 percent indicating that they have a strong preference. Just 11 percent indicated a slight preference, and 17 percent said they are undecided on their candidate.

Nearly two in three of those surveyed said they are dissatisfied with Republican congressional leadership, and 30 percent responded that they are somewhat dissatisfied and 33 percent indicated that they are very dissatisfied.

Republican candidates have traditionally courted South Carolina with an eye to its heavy military presence, though just 17 percent of voters said veterans' issues are the most important factor in choosing a candidate, while 55 percent identifying veterans issues among several important considerations ahead of their vote.

Trump's advantage extends to nearly every demographic group surveyed, including among men (36 percent), women (34 percent), voters younger than 50 (34 percent), voters older than 50 (35 percent), voters in military veteran households (38 percent) and nonveterans (32 percent). Among evangelical Christians, Trump led with 33 percent support. He also leads among non-evangelicals with 37 percent. Cruz barely leads Trump among voters who described themselves as very conservative (31 percent to 27 percent), and among self-described somewhat conservative and moderate voters, Trump is draws about 40 percent.
To the extent there is a negative for Trump in this poll, it is that it continues to show, as other polling has, that Trump is not seen as likable by a wide swath of voters. Notwithstanding that fact, though, even respondents who say they aren't supporting Trump at this time seem to accept they idea that he could, and indeed is likely to, become the nominee of their party by the time this process is over and done with. This suggests that when the GOP field begins its inevitable final winnowing, which is likely to happen quite quickly in the wake of the results in South Carolina and Nevada, and most certainly by the time we get beyond the March 1st an March 15th primaries, that Trump will pick up at least some of the support from these candidates going forward.
As for South Carolina itself, the picture is looking very good for the Trump campaign. According to RealClearPolitics, Trump has a 17.2 point lead in the RealClearPolitics average, with an average poll standing of 35.0 points. Texas Senator Ted Cruz is in second place in the poll average at 17.8%, followed by Marco Rubio at 16.0%. The remaining candidates, meanwhile, all stand in single digits with Jeb Bush at 9.8%, John Kasich at 9.0%, and Ben Carson at 6.0%. All of this comes during a heavy day of campaigning in the Palmetto State with Trump, Cruz, and Rubio all hitting back at each other over allegations of lying and misrepresentation while Jeb Bush seeks to revive his campaign by hearkening back to his father and brother, both of whom won their South Carolina in their respective nomination fights. Rubio also standards to receive a potential boost to his campaign with the news that he will receive the endorsement of popular Governor Nikki Haley later today. While this endorsement seems unlikely to make Rubio competitive with Trump, it could push the Florida Senator into second place and revive a campaign that suffered a real setback with the disappointing third place in New Hampshire last week.
As for Trump, a win in South Carolina, which now seems all but certain, would be significant:
If Trump pulls it off — remember, the polling was right in New Hampshire, but off in Iowa — it would be his biggest victory yet.

For starters, South Carolina isn't New Hampshire: 65% of Republican voters in the Palmetto State are evangelical Christians, per the 2012 exit polls, versus the 25% we saw in New Hampshire. Also, while only 55% of GOP voters in the Granite State considered themselves to be Republicans (due to the state's heavy presence of independent voters), it was 71% in South Carolina four years ago.

Yet beyond demographics, South Carolina has been Bush Country in past cycles — George HW Bush won it in 1988 and 1992, George W. Bush won it in 2000, and John McCain won it in 2008. Yes, New Gingrich was your 2012 victor, breaking the state's streak in its winner going on to be the GOP's presidential nominee. But if Trump wins South Carolina on Saturday, it not only would give him a clear path to the nomination; it also would be another sign how much the Republican Party has changed since 2008.
This would be especially true when combined with Trump's win last week in New Hampshire and the fact that he appears to have a solid lead in the Nevada caucuses which will be held on Tuesday. If he wins on Saturday and then again on Tuesday, then he will have won three of the first four contests of the 2016 race and placed a respectable second in the fourth. That won't make his campaign unstoppable, of course, but it will put him in a very strong position heading into a very important two week period in March when, in many ways, this race could be decided for good.