Donald Trump To Put His Narcissism On Display In The White House
Soon visitors to the White House will be able to see Donald Trump's "yuge" election win on display for all to see.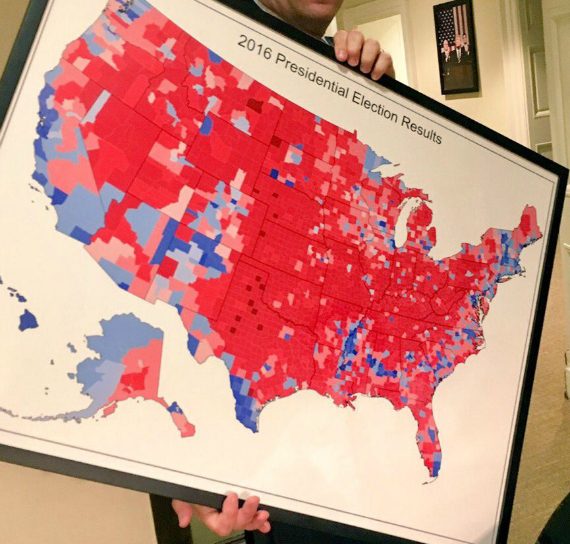 It's been more than six months since Election Day, but President Trump still can't help but brag about what he thinks is a "big" election win. It started even before he took office, and I suppose it was understandable that Trump, who had never run for political office in his life before 2016, would be impressed with his win no matter how big it is, but it has continued long thereafter. Very quickly, Trump began to make the obviously false claim that his win last year was the biggest since Ronald Reagan's win in 1984. In reality, of course, that wasn't true, and it wasn't even true if you limited the criteria to just Republican Presidents since Reagan. In reality, Trump's win was closer to George W. Bush's narrow win over John Kerry in 2004 than it was to Reagan in 1980 or George H.W. Bush in 1984, and compared to the victories of Bill Clinton and Barack Obama, it was pretty far down the list. Indeed, as I've noted several times, but for less than 80,000 in three states, Donald Trump would not be President today and, of course, Trump lost the popular vote, although he claims that was only because "millions " of people voted illegally, a claim for which he has never provided even the slightest bit of proof.
Now, Trump plans on putting up a permanent reminder of his win in the White House for everyone to see:
President Trump is planning on hanging a map displaying his 2016 Electoral College victory in the White House, according to a report. One America News Network White House reporter spotted the framed map being carried through the White House by a Trump staffer.

One America News Network White House reporter spotted the framed map being carried through the White House by a Trump staffer."Spotted: A map to be hung somewhere in the West Wing," the reporter

"Spotted: A map to be hung somewhere in the West Wing," the reporter tweeted.Trump has often brought up his election victory over in the

Trump has often brought up his election victory over in the months since he took oøice. In April, the Washington Post's White House bureau chief reported that Trump had asked the Post to run the election map on the front page of their newspaper.

Days before, Trump interrupted another interview with a Reuters reporter to pass out copies of the map showing his victory.
The photo comes from One America News Network reporter Trey Yingst:
Spotted: A map to be hung somewhere in the West Wing pic.twitter.com/TpPPDyNFtE

— Trey Yingst (@TreyYingst) May 11, 2017
It's interesting to note what map Trump chooses to hang for his guests to see. What we're looking at, of course, is a map of counties across the United States and how they voted in the Presidential election that appears to be based on the Election Maps created by University of Michigan Professor Mark Newman, although his version of the map doesn't include Alaska and Hawaii. Looking at it, you'd assume that Trump won a massive victory in November, but that would be a reality. In reality, Trump's win was rather narrow both in terms of the Electoral College and in terms of the popular vote, which he of course lost by a larger margin than any President who has ever won the Electoral College while at the same time losing the popular vote. The only reason it looks larger on this county level map is because there are vast parts of the Mountain West and elsewhere in the country where there is a lot of land and very few people. In the end, a map like the one that Trump is touting here is kind of meaningless because it doesn't really accurately reflect the population as it voted last November. To do that, it would be more helpful to look at a map of the United States that combines the election results with a cartogram that reflects the population of the respective states: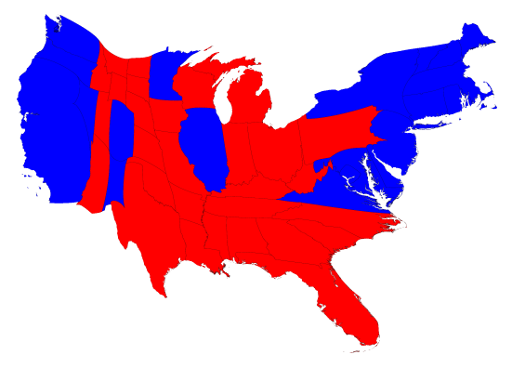 Or this one that shows county-by-county results but uses red, blue, and purple to more accurately show the percentage of the vote:
In any case, leaving aside the accuracy of the map Trump will be displaying in the White House, what's truly remarkable here is the extent that it continues to show the extent to which Trump is obsessed with bragging about himself. Anyone who has been familiar with his schtick going way back before he ever ran for President is well-familiar with that Donald Trump, of course. It's the brash, over the top, gold-plated, inflated ego persona that we've seen from him ever since he became a media celebrity in the 1980s. Since that time, the one thing that has been the biggest concern of Donald Trump is the promotion of Donald Trump and the "Trump" brand, and we've seen it in everything from his media appearances over the years to the manner in which he makes sure to brand everything he touches with the "Trump" name. It got to the point where, by the time he was running for President two years ago, the biggest source of his income and self-valuation appeared to come from licensing fees he was paid for the use of his name on consumer products and on real estate developments that he had no actual role in. Given that it's long been a part of his character, I suppose it's no surprise that he'd continue it as President. Not only has he remained obsessed about his supposedly "yuge" election victory, but he also made claims about the size of the crowd that came to Washington for Trump's Inauguration on January 20th, including in a speech before the Memorial Wall at the C.I.A. the day after his Inauguration. In other words, this is all normal behavior for Donald Trump.
The fact that it's normal, though, doesn't make it any less concerning behavior for a President of the United States. On some level, of course, you have to think pretty highly of yourself to enter politics to begin with and even more highly to even put your name forward for President of the United States. This is especially true in the case of someone whose resume lacks the kind of experience we'd normally expect for someone in that position or someone, like, Trump, who had never even run for or held political office in the past. Never before in history, though, have we seen this level of narcissism and self-aggrandizement in a politician or President. It raises real concerns about Trump's state of mind and his judgment, but then that's true about pretty much everything that has happened over the course of the past 114 days.