Elizabeth Warren Endorses Clinton, Attacks Trump, As Democrats Unite Behind Clinton
Senator Elizabeth Warren is the latest Democrat to unite behind the party's presumptive nominee. A marked contrast to the chaos that reigns on the Republican side of the aisle.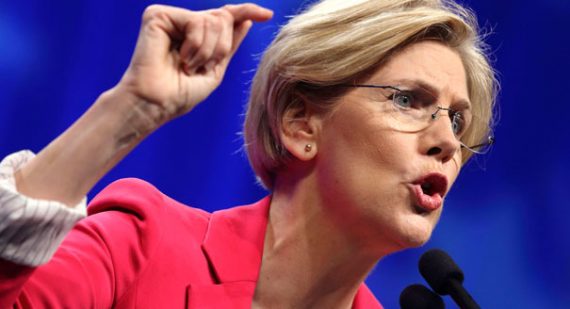 After spending the entire race for the Democratic nomination for President on the sidelines, and incurring speculation that she was secretly aiding and rooting for Vermont Senator Bernie Sanders, Massachusetts Senator Elizabeth Warren joined President Obama yesterday in endorsing Hillary Clinton while simultaneously opening up a barrage on Donald Trump that is likely a preview of the role she'll play in the campaign going forward:
WASHINGTON — Now that Senator Bernie Sanders is all but out of the race, Democrats can unite to take aim at Donald J. Trump. Their new sledgehammer is Senator Elizabeth Warren.

In her day job, Ms. Warren cuts an imperious swath through the Capitol, striding down hallways, her jewel-toned jacket swaying behind her, refusing to speak to or even make eye contact with reporters. Small talk with elevator operators and other staff? Not her style. And the Democrat from Massachusetts is rarely front and center pushing major legislation.

But beyond Mr. Sanders, no one captivates the aggrieved, angry left the way Ms. Warren does.

"What she is doing right now, focusing on the outrageousness of Donald Trump is really important," said Senator Tammy Baldwin, Democrat of Wisconsin. "In the universal sense I am always saying, 'Go, Elizabeth, go!'"

Ms. Warren officially endorsed Hillary Clinton on Thursday. "I'm ready to jump in this fight and make sure that Hillary Clinton is the next president of the United States and be sure that Donald Trump gets nowhere near the White House," Ms. Warren told The Boston Globe.

Never short on confidence, when asked on Thursday by Rachel Maddow, the MSNBC television host, if she believes that she herself could be commander in chief, Ms. Warren said, "Yes, I do."

(…)

But her attacks on Mr. Trump were hatched in her own brain, and carried out with a combination of vehemence and apparent pleasure.

Through speeches, carefully chosen television appearances and tweet storms designed to skewer the businessman's remarks, policies and dynamism, Ms. Warren has gone taunt-for-taunt with Mr. Trump, calling him a "loser," a "small, insecure money grubber" and "weak." And she is only warming up.

"Donald Trump says they ought to look into Judge Curiel because what Judge Curiel is doing is a total disgrace," Ms. Warren said Thursday night in a speech to the American Constitution Society, addressing Mr. Trump's attack on a federal judge, Gonzalo P. Curiel, based on his Hispanic heritage. "No, Donald, what you are doing is a total disgrace. Race-baiting a judge who spent years defending America from the terror of murderers and drug traffickers simply because long ago his family came to America from somewhere else. You, Donald Trump, are a total disgrace."
Inevitably, the 'attack dog' mode that Warren has settled into so quickly has led to speculation about whether or not the Massachusetts Senator could end up being Clinton's running mate in the fall given the fact that she seems to be taking on a role traditionally taken on by a running mate rather than a mere campaign surrogate. Clinton's campaign is being mum on Vice-Presidential speculation, as is Senator Warren's camp, but that's not stopping others from working behind the scenes to bring the two women together. Outgoing Senate Democratic Leader Harry Reid, for example, has been pushing for a Clinton-Warren ticket for weeks now, notwithstanding the fact that such an even would risk at least temporarily handing her Senate seat to the GOP since a vacancy would likely mean that her replacement would named by Republican Massachusetts Governor Charlie Baker and that this replacement would hold office until a Special Election could be held. Additionally, as Democrats learned in 2010, a Special Election could lead to the seat being held by a Republican until at least the 2018 General Election. More recently, Reid has been joined by other Senate Democrats who see a Clinton-Warren ticket as an excellent way for Clinton to unify the party after a long nomination fight and reach out to the progressive wing of the party by selecting the one person other than Bernie Sanders that they respect the most. For her part, Warren has been variously reported as being unsure about the idea of two women on the Democratic ticket and it's unclear if Warren would even want the job compared to staying in the Senate and pursuing her agenda from that vantage point. Clinton, on the other hand, has said that Warren is assuredly qualified to be Vice-President, but has not commented further. Additionally, it's unclear if Clinton would want Warren, who is only three years younger than her and thus would be unlikely to be an heir apparent at the end of a hypothetical two-term Clinton Presidency. In any case, Clinton and Warren are apparently scheduled to meet this morning, and it's obvious that Warren will have a prominent role on the campaign trail even if she isn't the Vice-Presidential running mate.
On a related note, one of the more interesting things about the past forty-eight hours or so since Hillary Clinton officially clinched the Democratic nomination has been the extent to which the party is unifying behind Clinton and shifting into campaign mode, a marked contrast to the chaos that remains on the Republican side. Most notable, of course, is the fact that Vermont Senator Bernie Sanders has largely abandoned his talk of trying to hijack the nomination via Superdelegates on the floor of the Democratic National Convention. Yes, Sanders is continuing his campaign, but it seems clear that he is going this largely because he feels he owes it to supporters to keep up the fight until the end, which officially happens next Tuesday with the Democratic Primary in the District of Columbia. At the same time, though, Sanders is talking in a way that recognizes that the fight is over and preparing his supporters for his inevitable endorsement of Hillary Clinton. In short order, we've seen endorsements from President Obama, Vice-President Biden, and, now Senator Warren. No doubt, the rest of the Democratic Party will fall in line quickly.
The contrast with the Republican Party at the moment couldn't be any more apparent.
A large segment of the party seems perfectly comfortable with not allying with the presumptive nominee purely out of principle. The nominee himself continues to be as out of control as he was during the primary campaign and to spend more time talking about his personal vendettas than the issues or the opposition. As several commentators have noted, for example, Trump largely ignored a dismal jobs report and spent the majority of a campaign speech engaging in an undeniably racist, bigoted attack on the Judge presiding over a lawsuit alleging that he had been part of a fraudulent "University" that scammed thousands of people out of tens of thousands of dollars they couldn't afford to lose. That attack led many Republicans who had already endorsed him to distance themselves from him in a preview of what could turn into a GOP civil war, while some on the right revived the idea that they could somehow still deny him the nomination. The advantages that a unified party give to Clinton should be rather obvious, and are likely to become even more apparent as we head into the hears of the General Election, especially if Republicans continue fighting among themselves.