Erick Erickson Is Putting Party Before Country
How much of an American can you be if you are willing to wreck the economy for political gain.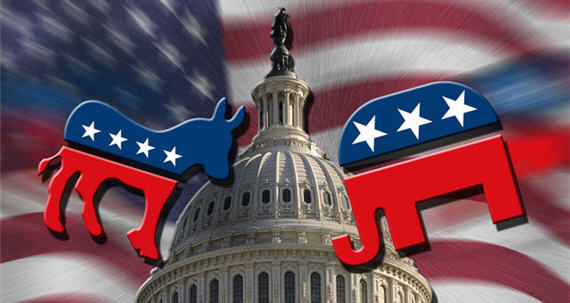 Red State's Erick Erickson makes what I can only characterize as some rather bizarre comments about the ongoing debt ceiling debate in the form of an open letter to House Republicans:
Now is a time for choosing. Now is your time for choosing.As I pointed out to John Boehner yesterday, despite what the pundits in Washington are telling you, it is you and not Obama who hold most of the cards. Obama has a legacy to worry about. Should the United States lose its bond rating, it will be called the "Obama Depression". Congress does not get pinned with this stuff.
Now, Erickson goes on to reject that idea that failing to raise the debt ceiling will have any serious economic consequences, something which both Steven Taylor and myself have written about here extensively. Let's leave that aside for a second, though, because in this quote above Erickson is clearly saying that he'd be okay with sending the economy into the tank by failing to raise the debt ceiling because he thinks it would benefit the Republican Party. (a point I'll be addressing in a later post).
This is the same sort of debt kamikaze argument that Steven Taylor wrote about earlier today, and which John Avalon talks about at The Daily Beast:
The costs of courting conservative populists should be clearer than ever to reality-based fiscal conservatives inside the Republican Party. Their "all-or-nothing" meets "what, me worry?" negotiating stance is not only the newest symbol of D.C.'s dysfunction—it is beginning to have an impact on the entire U.S. economy.

After all, S&P is now warning of a possible downgrade to America's credit rating because of concerns about our political ability to raise the debt ceiling by August 2. Moody's similarly announced it is considering a downgrade of the U.S. bond rating. Bush-appointed Fed Chairman Ben Bernanke calls the looming prospect of a default on our debt "catastrophic."

But Michele Bachmann believes it's all a hoax. Tim Pawlenty told an Iowa crowd, "I hope and pray and believe they should not raise the debt ceiling." Ron Paul based his first presidential ad on a call to not raise the debt ceiling, proclaiming "No Deals." And Rick Santorum has said that raising the debt ceiling should be avoided until a Balanced Budget Amendment to the Constitution is passed.

This position is a long way from saying the vote to raise the debt ceiling should be contingent on a deal to reduce the deficit and the debt. It is not looking for leverage or savvy negotiation on the way to a settlement. Instead, it is prideful ignorance—an eagerness to go off the fiscal cliff to show the world that gravity does not exist.

The fact that defaulting on our debt would raise interest rates—deepening the fiscal hole we're in by compounding the size of our deficit and debt overnight—is not addressed. Instead we are greeted with nihilistic bubble talk—at its best, economic incompetence and at its worst evidence of tactical Leninism—the belief that "the worse things get, the better they are for me politically."
Avalon goes on to call the argument that people like Erickson make fools, and quotes two former economic advisers to two Republican Presidents, both of whom say quite emphatically that failing to raise the debt ceiling would have serious economic consequences. Of course, people like this are denounced as RINO's or "inside the Beltway elites" by the supporters of Bachmann and her ilk. They simply don't believe what economic reality and common sense clearly say is likely to happen.
Erickson, though, is making a different argument from Bachmann and Gohmert.  He's saying Bring It On. He's perfectly fine with economic collapse because he thinks the President of the United States and the Democratic Party will take the blame, and the Republican Party will benefit. The economic pain that will be suffered by his fellow Americans is secondary, it seems, to the political gains he thinks can be made from throwing the nations economy over the brink. How is that different from someone else hoping that, say, the Iraq War had gone horribly wrong immediately before the 2004 elections because it would hurt the Bush Administration and the GOP?
The answer, of course, is that it isn't. Willfully hoping that the country is harmed because it might potentially benefit your political party is perhaps the most cravenly partisan thing that anyone would ever wish. You are saying to your fellow citizens that you don't care that something bad is about to happen because, in the end, it will mean that more Republicans will be elected. Frankly, I find it disgusting.
On the policy level, I likely agree with Erickson. I want to see Federal spending cut. I want the size and scope of the Federal government reduced. I'm just not willing to advocate something I know will harm the country in order to score political points.