Federal Judge Voids Changes In Ohio Early Voting Law In A Troubling Decision
A Federal Judge in Ohio has issued a very troubling ruling on that state's early voting law.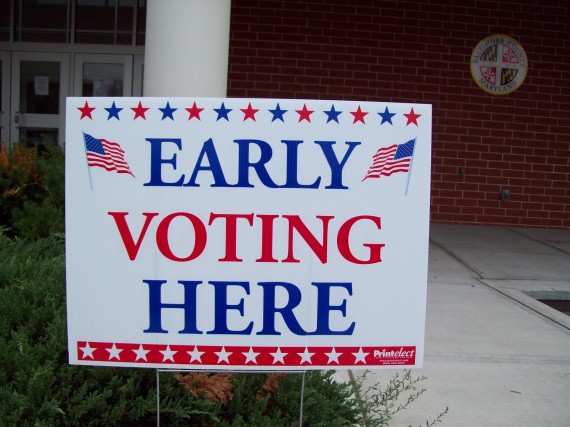 Late last week, a Federal Judge blocked efforts by Ohio's Republican Governor and State Legislature to decrease the number of days of early voting available in the Buckeye State, continuing a battle that began in the months before the 2012 Presidential election:
A federal judge on Thursday blocked Ohio's cuts to early voting and ordered the state to establish additional polling days before November's elections, saying the reductions would disproportionately harm the poor and members of minority groups.

The preliminary injunction issued by Judge Peter C. Economus was a setback for Gov. John R. Kasich, a Republican and vocal proponent of the measures, and could affect the upcoming elections in Ohio, a closely contested swing state.

Judge Economus's ruling directed Ohio to restore early voting during evenings and on at least two Sundays, and to reinstate Golden Week, the first week of early voting in which many African-American churches organize congregants to register and vote on the same day. Mr. Kasich and his supporters have said the measures were needed to reduce fraud, save money and create uniformity of practice across the state, and that the four-week early voting period allowed sufficient time for people to cast ballots.

A spokesman for the state attorney general, Mike DeWine, said the state would review the ruling before deciding whether to appeal.

The United States Justice Department filed a statement of interest in the case and has challenged similar measures elsewhere, including in North Carolina.

The ruling was in response to a lawsuit filed by the American Civil Liberties Union on behalf of the Ohio Conference of the N.A.A.C.P., several African-American churches and the League of Women Voters of Ohio.

"This ruling means that thousands of voters who have needed these particular early voting opportunities will continue to have that right," said Dale Ho, director of the A.C.L.U.'s Voting Rights Project.

Ohio introduced early voting in 2008 after encountering significant problems during the 2004 election, including people waiting in lines at polling sites for as long as six hours. In 2012, of the 5.6 million votes cast, 1.9 million were cast early, including about 600,000 that were cast early in person, according to the Ohio secretary of state's office.

But in February, Democrats and civil rights groups objected after Mr. Kasich signed a bill eliminating Golden Week, reducing to 28 days from 35 days the time given in which early voting could take place. And Jon A. Husted, Ohio's secretary of state, issued a directive limiting evening and weekend hours. Like Mr. Kasich, Mr. Husted and Mr. DeWine are Republican. The poor and minorities tend to vote Democratic. Mr. Husted said Thursday that he believed the state should appeal the decision.

The "ruling kicks the door open to having different rules for voting in each of Ohio's 88 counties, which is not fair and uniform," he said in a statement.

Judge Economus wrote that the state's measures violated both the Equal Protection Clause of the 14th Amendment and the Voting Rights Act by creating unlawful barriers to the polls for minorities and the poor. The state's arguments about reducing fraud, according to the judge, "did not withstand logical scrutiny."

There has been virtually no in-person voter fraud documented in the country.

The ruling cited a study of early voting in Cuyahoga County — the greater Cleveland area — in 2008 that found that African-American voters were more than 26 times more likely to have cast ballots during the early voting period than white voters.

"Despite accounting for a mere 28.6 percent of the estimated overall vote, African-American voters cast an estimated 77.9 percent of all" early votes in the county that year, the ruling said.

A second study cited by Judge Economus found that early voters who were white, African-American or Latino had lower incomes than those who cast ballots on Election Day or by mail.

The ruling said that restricting Sunday voting would have a similar effect because many of those early voters were African-Americans who voted after attending church services as part of a "Souls to the Polls" initiative.
This isn't the first time that Ohio's early voting laws have found their way into Federal Court. Prior to the 2012 election, the Ohio legislature passed into law a different bill which ended early voting for most voters on the Friday before Election Day, but allowed members of the military to continue to vote early through the Monday before the election as Ohio voters had done in the 2008 election. The Obama campaign and several other organizations filed a lawsuit against the law, arguing that the state was impermissably giving a preference to a certain class of voters. That lawsuit ended up before Judge Economus as well and, in a pre-Labor Day 2012 decision, he ruled that the state could not limit the last three days of early voting to just a certain class of voters and ordered Ohio to reopen those days to all voters. That decision was upheld by the Sixth Circuit Court of Appeals and the Supreme Court declined to intervene in the matter.
The case before the court now involves  new law that changes the schedule of early voting from what had been enacted in the wake of the 2004, primarily by restricting early voting days on the weekends and at other times. The state argues that one of the primary reasons for this decision is the fact that many election clerks in Ohio's counties had stated that participation in early voting on these days has been historically light and that the extra expenditure of resources involved in keeping offices open even if nobody is coming in to vote was a strain on their budget. Opponents of the law argued that the law primarily impacted minority voters, and obviously Judge Economus accepted their argument. Even if you are proponent of early voting, though, there is something about this decision that is troubling.
Rick Hasen finds the Courts ruling, which is going to be appealed, to be potentially huge in its impact if its allowed to stand:
4. The judge found as a matter of fact (crediting expert reports of the plaintiffs' especially that of U. Florida's Dan Smith) that the cutbacks in early voting would disproportionately fall on African-Americans. The judge found that early voters, especially in the larger population areas of the state, included a large portion of the state's share of African-American voters. The judge also found that African-American voters were distrustful of absentee balloting as an alternative to in person voting, and that absentee balloting was more burdensome (filling out the materials, postage, mailing, etc.)

5. The judge concluded that the cutbacks in early voting constituted an equal protection violation under the Sixth Circuit's cases describing equal protection standards in elections and a violation of section 2 of the Voting Rights Act. Both of these holdings are legally controversial. It is possible that the Sixth Circuit (depending on the panel) could agree with these rulings, but that is not certain. if the Supreme Court considered these issues, I would expect a reversal, but it is not clear that the Supreme Court will choose to get involved in this case if Ohio tries to take it this far.

6. The main problem with the equal protection theory and the VRA section 2 theory is the same: Ohio's law is not all that burdensome, and in fact it provides many opportunities for voting (such as a still very long early voting period of 28 days and no excuse absentee balloting for a long period) which are not available in other states. If 28 days is unconstitutional and a voting rights violation, what does this say about places like New York, which offer no early voting?  Although the judge says he is not applying a "non-retrogression" standard such as that which used to exist under section 5 of the VRA, that appears to be what he is doing to at least some extent. The judge says the cutbacks are relevant in a totality of the circumstances approach to section 2 VRA applicability.
Jonathan Adler, meanwhile, points out a troubling aspect of the decision:
A particularly troubling aspect of the ruling is the implicit suggestion that once voting times have been expanded or voting has been made easier, such changes may not be undone.  This is particularly so because, as Hasen notes, the changes here are relatively minor.  I find it hard to believe a majority of the Supreme Court would conclude that either the Constitution or the VRA creates this sort of one-way ratchet in election law.

A particular difficulty in evaluating these sorts of claims, however, is that all such analysis occurs with clear knowledge of who wins and who loses from any change, and we can expect partisans of each party to press their advantage.  That is, neither party has a principled position on what ideal voting rules would look like.  Is early voting a good idea? The answer you get is likely to depend on what assumptions are made about who is more likely to turn out.

Each party seeks rules that make it more likely that its own voters are more likely to go to the polls, and (unlike in prior times) they now have the data to hone their approach. Particularly where, as here, the relevant changes are relatively small, I have a hard time crediting the argument that there are larger principles at stake, and an even harder time accepting that (absent evidence of impermissible motivation, such as racial animus) that these sorts of changes are unconstitutional.
Adler has a very good point here. The Constitution gives states broad authority under which to set the time, place, and manner of elections. To the extent that they are limited by Federal law, it is when the Voting Rights Act comes into play and changes are enacted solely for the purpose of making it harder for certain ethnic groups to vote. There is no legal or constitutional requirement that states offer early voting, for example, and yet in this decision Judge Economus has seemingly come dangerously close t the point of creating just that kind of right, and thus upending the clear language of the Constitution when it comes to which level of government has the authority to regulate how elections are conducted. If it was impermissible for Ohio to enact a relatively de minimis change in its early voting laws, for example, then what does that say about states that don't allow in person early voting at all? If a legislative minority in one of these states loses a battle to enact an early voting law and tries to take the matter to court, then how hard would it be for a judge who is willing to do so to apply the logic of this decision and rule that the state must enact early voting? While advocates for early voting, which has never been shown to actually increase turnout notwithstanding the arguments of its proponents, may find such an outcome to be a victory it is hardly a good thing when Federal Courts are given the authority to rewrite the Constitution in this manner and take away from the states the authority that the Constitution gives them to regulate the time, place, and manner of elections.
Even if one believes early voting to be a good thing, and even if it were true that it did increase turnout, whether or not to implement it, and how to implement, is something that the Constitution, properly, leaves to the states. To take Judge Economus's decision at face value, one must accept without question the idea that there is some kind of compelling Federal Government interest in 35 days of early voting in Ohio rather than just 28 days. Well, if there's a compelling interest for 35 days, then why not 42, or 49? Who gets to decide how long the early voting period gets to be, or where the early voting locations are located? The Constitution gives that power to the states in Article I, Section 4, and while the Federal Government does have some concurrent jurisdiction on the issue in Federal Elections, such as the grant to Congress to determine the time when Presidential electors are chosen in Article II as well as 15th, 19th, 24th, and 26th Amendments, it has generally been held that the states have the predominant power in determining how their elections are conducted.  Judge Economus turns that entire notion on its head and, inappropriately in my opinion, places Federal Judges in the role of determining the proper length of early voting. If judges can do that, then why couldn't they order states that don't allow early voting to provide it? Under the logic of the opinion, I'm not sure there's really a difference, and that's a problem.
Here's the opinion:
Ohio State Conference of the NAACP Et Al v. Hulsted by Doug Mataconis