Fifty-Six Days Out, A Tidal Wave Approaches
As the mid-term elections enter their final eight weeks, there's more bad news for Democrats.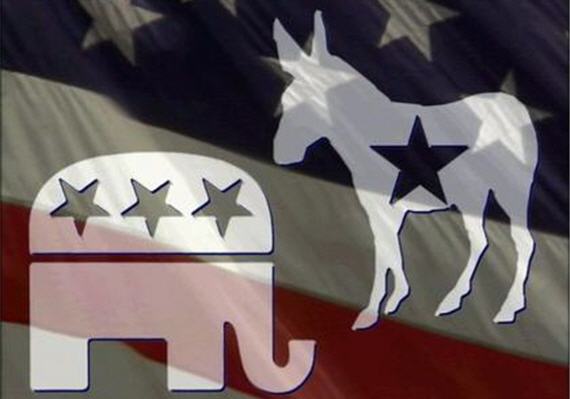 Three new polls out this morning seem to confirm the perception that's developed over the past few weeks that Democrats are headed for a pretty bad night when November 2nd rolls around.
First, from ABC News and The Washington Post:
Republicans are heading into the final weeks of the midterm campaign with the political climate highly in their favor, according to a new Washington Post-ABC News poll. Americans are increasingly frustrated by a lack of economic progress, deeply dissatisfied with the federal government and critical of President Obama's leadership.

For the first time in more than four years, Republicans run about evenly with Democrats on the basic question of which party they trust to handle the nation's biggest problems. Among registered voters, 40 percent say they have more confidence in Democrats and 38 percent say they have more trust in Republicans. Three months ago, Democrats had a 12-point advantage.

On the economy, 43 percent of voters side with Republicans when it comes to dealing with financial problems, while 39 percent favor Democrats. (Fifteen percent say they trust neither party more.) Although not a significant lead for Republicans, this marks the first time they have had any numerical edge on the economy dating to 2002. In recent years, Democrats have typically held double-digit advantages on the issue.

The principal obstacles to GOP electoral hopes continue to be doubts that Republicans have a clear plan for the country should they win control of the House or Senate in November. But overall, the poll shows that the party has made big gains in the public's estimation since earlier this year.

Among all voters, 47 percent say they would back the Republican in their congressional district if the election were held now, while 45 percent would vote for the Democrat. Any GOP advantage on this question has been rare in past years – and among those most likely to vote this fall, the Republican advantage swells to 53 percent to the Democrats' 40 percent.
The results are largely the same in a new MSNBC/Washington Post Wall Street Journal poll:
A combination of sky-high GOP enthusiasm, a deep sense of pessimism about the country's direction and dissatisfaction with President Barack Obama's stewardship of the economy has given Republicans a clear advantage heading into the November midterm elections, according to the latest NBC News/Wall Street Journal poll.

With the Labor Day holiday marking the traditional starting point of the campaign season, Republicans have a nine-point edge among those considered likely voters, plus a near 20-point lead among those expressing the highest amount of interest in the midterms.

In addition, six in 10 believe the country is on the wrong track; nearly two-thirds think the nation is in a state of decline; and a similar number aren't confident that their children's generation will enjoy a better life.

Perhaps more ominous for Democrats, the number of Americans who approve of Obama's handling of the economy — the top issue in the country — has declined below 40 percent for the first time.

"We all know that there is a hurricane coming for the Democrats," says Democratic pollster Peter D. Hart, who conducted this survey with Republican pollster Bill McInturff. "We just don't know if it will be a Category 4 or a Category 5."

The survey shows that among likely voters — based on their interest and past voting history — 49 percent prefer a Republican-controlled Congress while 40 percent want one run by Democrats. Among those expressing a high interest in voting, that GOP lead increases 18 points, 53 percent to 35 percent.
And the news isn't much better in this morning's CNN/Opinion Research poll which shows Republicans leading in the Generic Ballot 52% to 45% among registered voters.
Strangely, the Obama Administration seems to be responding to all of this by rolling out a wave of minor economic proposals that are unlikely to get passed before Election Day, and none of which will have any appreciable economic impact for months if they did become law, and by lashing out at their critics:
Obama offered an aside that spoke to his diminished state and captured the mood of a president and party under assault.

"They talk about me like a dog," Obama said with a chuckle of his political opponents. "That's not in my prepared remarks but it's true."
Lashing out like this is somewhat understandable, of course.  There isn't really any good way to spin this story if you're a Democrat, or a member of the Obama Administration. Much as they were in 2008, the public is incredibly pessimistic about the state of the country and they're holding the party in power responsible for it. Also as was the case in 2008, there is a class of voters who are discouraged and disinterested and unlikely to show up at the polls; unfortunately for Democrats, those are exactly the voters that they need if they're going to hold off what looks more and more like a Republican tidal wave.