Georgia Subpoenas Conservative Group Over Ballot Harvesting Allegations
Why would a group that claims it has evidence of ballot harvesting refuse to turn it over?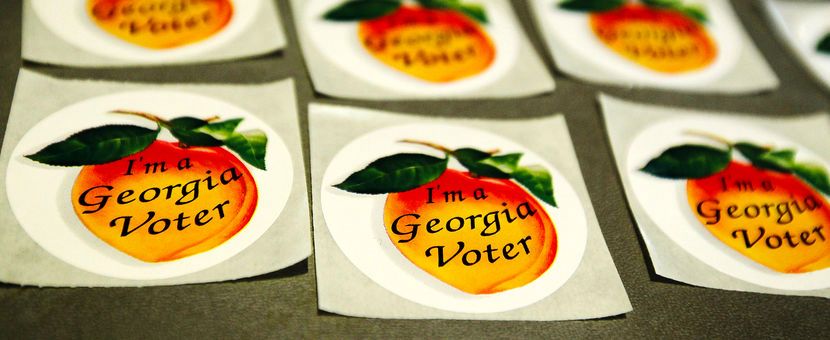 In early January of this year, I posted about how Georgia Secretary of State Brad Raffensperger opened a new investigation into accusations of "ballot harvesting" in the 2020 Presidential election. Ballot harvesting is a term that's used to refer to a wide range of behavior ranging from ballot box stuffing to having a third party collect and return completed absentee ballots. The allegation was brought forward by a Texas-based conservative activist group True the Vote. True the Vote has raised similar allegations in Wisconsin. There's only one issue, to date they have yet to share detailed evidence of their claims in either state.
Yesterday, the Atlanta Journal-Constitution reported that the Georgia State Elections Board has taken action to rectify that situation.
The State Election Board has issued subpoenas to find out whether there's substance behind accusations of a ballot collection scheme in the 2020 election in Georgia.

The subpoenas, sent Thursday, seek evidence of allegations that unnamed organizations paid unnamed individuals $10 per absentee ballot delivered to drop boxes across metro Atlanta. …

The subpoenas followed a Nov. 30 complaint by True the Vote, a conservative election organization, which didn't provide details supporting its allegations. The State Election Board voted last month to issue the subpoenas.

"They need to provide us the names of those people that they say harvested the ballots. We're going to find out who they are and where they live, were they paid, and how much were they paid," Secretary of State Brad Raffensperger said Saturday during a debate in Ellijay.

The subpoenas compel True the Vote to turn over documents, recordings and names allegedly connected to ballot harvesting. The subpoenas also require depositions of True the Vote founder Catherine Englebrecht and her colleague Gregg Phillips.

https://www.ajc.com/politics/subpoenas-seek-evidence-of-georgia-ballot-collection/CODHKLIXPFGGRMVWCVKHHZTKQA/
Other reporting on the topic, done by WSB-TV 2 in Atlanta, provides a bit more information about True The Vote's evidence and their plans to comply with the subpoenas.
[Channel 2 investigative reporter Mark Winne] also obtained a copy of a letter from GBI Director Vic Reynolds dated September 2021 in which he indicated that they had identified "279 cellphones which had made multiple trips to within 100 feet of a voter drop box. Other spreadsheets and documents provided tie these cell phones through geolocation to various organizations."

The letter goes on to say that there is a "source" that can validate ballot harvesting. "Despite repeated requests that source has not been provided to either the GBI or to the FBI," the letter continued. …

Catherine Englebrecht said she does not anticipate revealing their source, but that everything the state needs is in data and video her group is prepared to provide.

https://www.wsbtv.com/news/local/atlanta/ga-elections-officials-subpoenaing-texas-group-claiming-they-have-evidence-ballot-harvesting/QNFBWOYS7VB6JCHLTYH3JNYYKI/
The fact that True The Vote's founder doesn't want to reveal the source of their information is, as the kids today say, "sus" to say the least. Especially given the severity of the charge and the fact that it appears that most of their evidence, based on cell phone triangulation, is circumstantial at best and needs to be corroborated by actual witnesses to the ballot harvesting who can prove the $10 a ballot claim.
More importantly, security experts have called into question the reliability of cellphone evidence that True the Vote is basing their Georgia and Michigan accusations on. Georgia Public Broadcasting details why:
Cellphone location can be used to approximate behavior, such as in an investigation that GPB News and the Center for Public Integrity conducted earlier this year that estimated wait times at early voting sites. But that data was anonymized, controls were put in place to remove incomplete or outlying data, and findings were corroborated by multiple sources and other details.

There are also multiple reasons cellphones could be found near multiple drop boxes during a several-month period. Many drop boxes were in public places like libraries and government buildings. Other people such as monitors from advocacy groups, reporters covering early voting, delivery drivers and more could have valid reasons for stopping near multiple drop boxes. Plus, election workers collecting the ballots daily out of the drop boxes also visit multiple locations.

The vague allegations from True the Vote do not explain the group's methodology further.

https://www.gpb.org/news/2021/10/22/gbi-says-gops-cellphone-data-lacks-enough-evidence-prove-ballot-harvesting
Similar objections to the data have been raised in Wisconsin as well.
Time will reveal if True the Vote complies with the subpoenas. Despite the ongoing drumbeat of allegations by Republicans, the facts still remain that there has yet to be any proven widespread voter fraud in the 2020 elections. And, even if ballot harvesting is proven in Georgia, it doesn't invalidate the votes as Secretary of State Raffensperger has repeatedly stated that while harvesting is illegal all of the absentee ballots were, themselves, valid votes and were checked for tampering (the issue was in the transportation).