Get Ready For The Post-Election Truthers
Will conservatives freak out if Romney loses? That's pretty much guaranteed.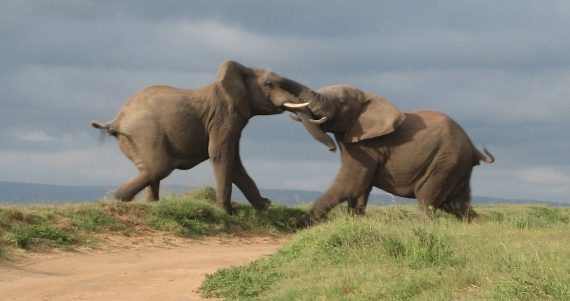 Over at Slate Rick Hasen takes a look at the two week phenomenon we've witnessed of people on the right claiming that the polls which were showing President Obama pulling ahead of Mitt Romney prior to last week's debate were purposely biased against Republicans (something you're not hearing now that the polls are moving in Romney's favor, by the way) and claiming that Friday's jobs report was somehow manipulated for political purposes, and concludes that we're likely to see something similar if Romney loses and the election is close:
All of these conspiracy theories—like the earlier birther controversies—indicate that if we are unlucky enough to have a very close election in November in which President Obama ekes out a victory, we can expect Republicans to question the election results, too. We'll have the Fraudulent Fraud Squad telling us that Democrats used voter fraud to steal the election. Hucksters like John Fund will point to "bizarre" anomalies in vote totals from Democratic areas and tout new conspiracy theories. Social media will likely fan the flames.
Unfortunately, as I argue in The Voting Wars, we run our elections so badly that there will be plenty of things for Republicans to complain about: partisan election officials, broken voting machines, unclear rules and controversial court decisions, inconsistencies between voter registration totals, exit polls, and the final voting tally.

Now the cause of many election problems almost certainly will be incompetence and not malfeasance, but that's a hard argument to sell to people on the wrong end of a close election. Since 2000, public opinion on the fairness of elections is volatile. In 1996, before the 2000 Florida meltdown ending with the Supreme Court's decision in Bush v. Gore, about 10 percent of people believed the way the election was run was somewhat or very unfair, with almost no difference in Republican views and Democratic views. By 2004, when George W. Bush won re-election over John Kerry, roughly 22 percent of Democrats thought the way the election was run was unfair compared with about 3 percent of Republicans. Yet in the contested Washington state election in 2004, when the courts handed the governorship to a Democrat after a Republican was first declared the winner, 68 percent of Republicans compared with only 27 percent of Democrats thought the way the election was run was unfair.
The lesson from these statistics is simple. If my guy won, the election was fair and square. If your guy won, there must have been some kind of chicanery.

(…)

[A]t this point I'm more concerned about Republicans not buying the final outcome than Democrats. If Obama wins a second term, polarization and partisanship will only get worse if Republicans do not believe Obama legitimately won re-election. It is reminiscent of pre-9/11 Democrats' views of the legitimacy of George Bush's presidency.
If you think politics is ugly now and that the truth has been a casualty in the campaign, just wait for November. If it is another squeaker, the election truthers will be front and center.
Ed Kilgore tends to agree and makes this observation:
[I]t sometimes seems these conspiracy theories are aimed less at the world outside the closed information feedback loop of the Right, and more at conservatives themselves: to fortify their belief that Obama and company are slowly extinguishing democracy and freedom, and must be resisted. It's as though they are talking themselves into a revolutionary posture. The kindling is obviously already there in the form of the "constitutional conservative" conviction that there is a sole "American" governing ideology that no election should be allowed to modify, along with the "47% theory" that Democratic voters are either vicious parasites or helpless dupes of Godless Big Government.
There's always some degree of charges by the losing side in an election that something was "fixed" or improper, especially given that fixing elections was once so commonplace in the cities that were home to the most powerful political machines. Back in 2004 after Ohio was narrowly decided for George W. Bush, thus giving him the Electoral Votes he needed to win re-election, there were some on the left who alleged that voting machines were somehow involved in giving the election to Bush. That election's aftermath also saw many Obama supporters involved in the rather silly spectacle of "apologizing to the world" for Bush's re-election by posting pictures of themselves online holding up handwritten apologies. In 2008, Obama's election was dismissed by many on the right for a wide variety of reasons ranging from ridiculous theories about the President's place of birth to the assertion that he won re-election because he was a good speaker, not because of his ideas. I wouldn't be surprised at all to see something similar from whatever side ends up losing twenty seven days from now.
Hasen and Kilgore are talking about something different, though. They're looking for the logic, such as it is, of the "unskewed poll" and "cooked jobs report" people to be applied post-election, whether its to the results in a particularly close state or something else. Given the unhinged nature of many of the most persuasive voice on the right, it's certainly strikes me as a possibility that we'd see conservatives react to an election loss by simply refusing to accept the legitimacy of Obama's victory. How that would manifest itself is something I'm not certain about. Most certainly, you're likely to see considerable pressure on Republicans in Congress to not cooperate with President Obama in his second term any more than they did in his first term. In that regard, we may see a conflict develop between the Republican base and legislators, especially in House Leadership and the Senate, who likely would recognize the need to at least cooperate to some extent in order to deal with issues like the "fiscal cliff." Beyond that, you're likely to see the vitriol against the President become even worse than it has been in the past. The result of all of this, of course, will be to further polarize our political system at the precise time we need people to sit down and work out the problems that face us before it's too late.
Hasan and Kilgore seem to suggest that they fear that there would be actual violence in the wake of an Obama victory. While I'm not going to dismiss the possibility of anything happening in the world we now live in, I find that rather improbable. Politically-motivated violence has been a rarity in the United States, which is why events like the Oklahoma City bombing stand out in such stark contrast. Also, while there has been a disturbing increase in threats of violence against people based on politics, there's a large gap between the people who make threats based on politics and people who actually carry out politically motivated attacks. The second group almost never makes a threat, they just carry out the attack.
Nonetheless, I must admit I do share some of the same concerns that Hasan has regarding a post-election world where Obama wins re-election. If nothing else, it's going to be a world where the political rhetoric is even more poisonous than it has been for the past four years, and that's not good for any of us.