GOP Unlikely To Grab Senate This Year, But They'll Have Another Shot In Two Years
The GOP's hopes of taking over the Senate in 2012 have all but slipped away, but there is another option.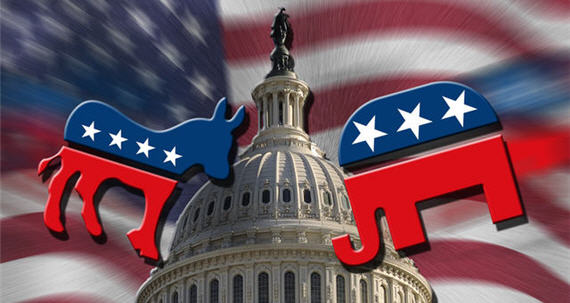 Two years ago, the GOP lost out on a chance to take control of the Senate thanks largely to the fact that, thanks to the Tea Party, they ended up nominating a handful of candidates that essentially handed the election to their Democratic opponents. In Delaware, it meant rejecting an almost assured victory by nominating former Governor and Congressman Mike Castle in favor of a woman who can best be described as flaky. In Colorado, it meant nominating Ken Buck, who ended up running one of the worst Senate campaigns of the entire cycle. Further west in Nevada, the Tea Party pushed Sharron Angle, the one candidate that Harry Reid's campaign knew it could beat, into the lead for the GOP nomination. And, finally, up north in Alaska, the Tea Party made the mistake of taking on Lisa Murkowski.
This time around, it appears that a combination of bad candidate selection and just plain old bad luck is going to keep the GOP from grabbing the Senate yet again:
The Democrats have incumbents running in traditionally GOP-friendly territories Missouri and Montana, as well as incumbents and challengers for open seats competing in swing states Ohio, Pennsylvania, Virginia and Wisconsin. And because of retirements by Democratic lawmakers, the Democrats have also had to compete in states like Nebraska and North Dakota, which had been held by a Democratic senator despite being red-leaning states.

In contrast, the only GOP incumbent in a blue state seeking re-election was Sen. Scott Brown in Massachusetts, while Sen. Dean Heller is seeking his first full term in the swing state of Nevada.

But then Sen. Olympia Snowe of Maine said she was retiring, putting her blue-leaning state in play, while candidates for open seats in Indiana and Arizona haven't run as strongly as some had anticipated.

Real Clear Politics, the political-aggregation website, said that according to its polls of polls, Democrats are leading in all of these races except for Arizona, Nebraska, and Nevada, while the race in Montana between incumbent Democratic Sen. Jon Tester and challenger Rep. Dennis Rehberg is a virtual tie.

If Republicans fail to regain the majority, blame could fall on candidates backed by the tea-party movement. Similarly, tea-party victories in GOP primaries two years ago were widely seen to have cost the party winnable Senate races in Colorado, Delaware and Nevada.

This year, veteran Sen. Richard Lugar of Indiana was defeated by Richard Mourdock, the state treasurer, in the GOP primary. But a solid campaign by Rep. Joe Donnelly and remarks by Mr. Mourdock about rape victims and abortion, have resulted in Mr. Donnelly leading in most polls.
Then, of course, their's Todd Akin, whose idiotic comments about rape turned what should have been a relatively easy pickup for the GOP into a chance for Claire McCaskill to return from the political dead despite the fact that she had spent the better part of her term doing everything possible to completely alienate the voters of Missouri.
Other candidates that appear to have fallen short include Josh Mandel in Ohio, who has come close to Sherrod Brown in some polls but never been able to get over the hump and now appears unlikely to win unless we get the unlikely event of a huge Romney victory in the Buckeye State that creates a "Coattail" effect for Mandel. In Wisconsin, former Governor Tommy Thompson was seemingly the best choice to take on Tammy Baldwin for the Senate there given his long history in the state, but Baldwin has managed to run a good campaign and heads into Election Day with a narrow, within the margin of error, lead. In Virginia, the epic battle between two popular former Governors seems to be leaning in Tim Kaine's favor, although George Allen would likely still eke out a win today if Mitt Romney manages to win the state. Other states where GOP hopes are likely to fall short include Florida, where Connie Mack IV's effort to unseat Bill Nelson never really seems to have had a chance in retrospect.
As noted in our Congressional Election Predictions post, I've forecast a 53-47 Senate, with three pick-ups by the Democrats (Maine, Massachusetts, and Indiana) and three pickups by Republicans (Montana, North Dakota, and Nebraska). By the end of tonight, though, it could easily turn out to be 52-48 or 54-46 depending on how Virginia and Montana turn out, and it's possible that I'm wrong about either Missouri or Indiana (or both), but the odds of a GOP Senate takeover seem slim.
Even if the GOP only makes minor progress this year, though, there's still another shot for them two years from now. In 2014, there will be 20 Democrats up for re-election as opposed to only 13 Republicans. Of those 20 Democrats, seven of them are in states that will be going Republican this year and another four of them  will be in swing states. By contrast, only one Republican, Susan Collins of Maine, is in a state that will go for President Obama this year and none of them are in what could be fairly described as swing states. Among this list of 33 Senators, there are likely to be several Senators who end of retiring. So, assuming the GOP keeps it close by the end of tonight, they have a better than decent chance of grabbing that elusive majority in the 2014 mid-terms.