Hamid Karzai Says Afghanistan Doesn't Need U.S. Troops To Stay After 2014
Afghanistan's outgoing President says that his nation doesn't need American troops to stay after the end of the year.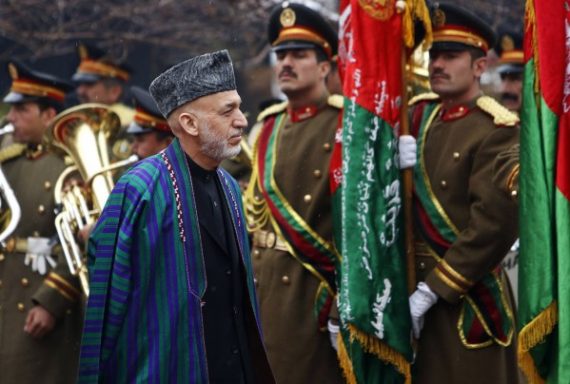 As I've noted in the past, negotiations over whether there will be a U.S. troop presence in Afghanistan after the end of 2014 have been at a standstill for the better part of a year now. Last year, the U.S. seemed to have reached a deal with the Afghan government that would have resulted in the nations signing a Status of Forces Agreement that would result in a garrison force numbering something less than 10,000 troops staying behind after the end of the year. The primary mission of this force would have been to continue training the Afghan military and police so that they could effectively defend the nation from the Taliban on their own. That agreement was ultimately approved by the Afghan Parliament but, in a move that has baffled observers both inside and outside the U.S. Government, Afghan President Hamid Karzai has refused to sign off on the agreement that he helped negotiate for reasons that he has never really made public. Just last month, the Obama Administration warned Karzai that the United States would indeed remove all its forces by the end of the year unless there was a decision on the agreement in the relatively near future. Now, President Karzai has apparently responded to that warning by saying that his nation doesn't need the United States to stay:
KABUL — In his final address to Afghanistan's parliament Saturday, President Hamid Karzai said U.S. soldiers can leave at the end of the year because his military already protects 93 percent of the country and was ready to take over entirely.

He reiterated his stance that he will not sign a pact with the United States that would provide for a residual force of U.S. troops to remain behind.

(…)

Karzai in recent years has espoused a combative nationalism, with his hour-long speech Saturday no exception.

"I want to say to all those foreign countries who maybe out of habit or because they want to interfere, that they should not interfere," he said.

Karzai said the war in Afghanistan was "imposed" on his nation. He said the United States could bring peace to Afghanistan if it went after terrorist sanctuaries and countries that supported terrorism, a reference to Pakistan, where Afghan insurgents have some times found refuge.

No one has taken responsibility for the attack.
As with everything Karzai-related, it's hard to tell what his game is here. He could be angling for additional concessions from the United States before he agrees to the continuing presence of American troops. He could be trying to enhance his position as an Afghan nationalist as part of the ongoing negotiations dance with the Taliban. He could be angling for a bribe from someone as has been the case in the past. Or, he could be just plain nuts, which has also been suggested in the past. Whatever the case may be, though, it seems unlikely that there will be any kind of ratified agreement before Karzai leaves office, which may not occur until July or August depending upon how long the Presidential election process that starts on April 5th lasts. At that point, the U.S. military will be well into the withdrawal process and it will be next to impossible to reverse course to allow for the post-2014 presences that the agreement negotiated in 2013 contemplated.
Some observers are suggesting that the United States should wait until after the Presidential elections to make a final decision about any residual force in Afghanistan, suggesting that most if not all of the candidates to succeed Karzai would endorse the deal that was negotiated last year. Karzai's announcement, though, and his declaration that Afghanistan doesn't need the U.S. to stay behind provides us with an opportunity to examine the logic behind that initial decision to agree to any kind of a residual force. What American interests would be served by such a decision, for example? What guarantees are there that such a force wouldn't just end up being a sitting duck for attacks by Taliban and other militants in the post-Karzai, post-war era? We managed to dodge a bullet in 2011 when the Iraqi Parliament failed to approve the agreement that had been negotiated with Prime Minister al-Maliki for a residual U.S. force in that nation. Maybe we should just take Karzai at his word and bring the rest of our troops home from a war that seemed to have lost its purpose years ago.
Photo credit Mohammad Ismail/Reuters