Hookup Culture and the End of Sex
Apparently, today's youth no longer know how to have good sex on account of they're having too much sex.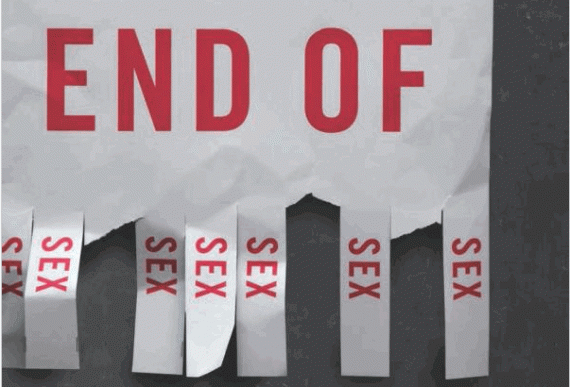 The Atlantic published David Masciotra's "The Real Problem With Hooking Up: Bad Sex" yesterday, but I gather it was not intended as an April Fool's joke.
The first part of the analysis, echoing the article title, rings true:
The often discussed, much maligned, and occasionally defended "hookup culture" bears a name that perfectly captures the boring, lifeless, and dull sexuality that dominates the lives of too many young Americans. It is mechanical, technical, and instrumental. "Hooking up" sounds like something people in a bedroom would do with a desktop computer or DVD player, not something they would do with each others' bodies. It is a term belonging to machinery, not humanity.

George Carlin said that "language always gives us away." The term "hookup culture" turns the electrifying mystery of romance—powered by the surge of a smile from a stranger across the room, the heat generated by hands on an unfamiliar set of hips on the dance floor, and the sweet synchronicity of flirtation—into the predictability of an oil change.

In her important, wise, and brave new book, The End of Sex: How Hookup Culture is Leaving a Generation Unhappy, Sexually Unfulfilled, and Confused About Intimacy, Donna Freitas, scrutinizes, analyzes, and criticizes hookup culture after spending time on several college campuses interviewing thousands of students about sex, romance, and the social pressure to conform to a culture that, in her words, promotes and produces "bad sex, boring sex, drunken sex you don't remember, sex you couldn't care less about, sex where desire is absent, sex that you have just because everyone else is too or that just happens."
While perhaps overstated, a culture that promotes one-night-stands as the preferred mode of sexual relations has downsides that, while perhaps unfathomable to a horny 19-year-old,  are rather obvious from the standpoint of mature adulthood. But Masciotra and Freitas take this to absurd levels:
I teach literature courses at the University of St. Francis just outside of Chicago, and I've noticed that students rarely even flirt on campus (a big change since I graduated college in 2007). Freitas told me that she ends every course she teaches with a plea that students, in future classes, "try to look up from the laptops and various devices once in a while, to notice that there was a professor talking to them, and potential friends and romantic partners sitting in the room with them."
Are we really to believe that college students have stopped flirting over the last six years? To be sure, smart phones have gotten a lot smarter since then and there are iPads and other really cool technology that didn't exist in 2007. But none of the apps I currently have installed have rendered women less desirable. Granted, I went to college before 2007. Way before 2007. But they still have women in college, right?
Freitas's work is important because it offers a third way toward sexual independence and autonomy in an America caught between Puritanism and pornography. Rather than morally condemning college students for promiscuity or telling them to treat romance with the detached analysis of the headhunter, she is promising them that better sex—more fun, excitement, and intensity—is available if they only invest more of themselves than their genitals into the experience.

Freitas writes that hookup culture is, perhaps, above all other things, "ironic." "While being sexually active is the norm for students," she claims, "the sex itself becomes mechanical as a result of so much repression of emotion." She goes onto argue that "college is supposed to be a time when young people get to let go of repression" and that doing so would enable young people to experiences sex that is "good, empowering, and pleasurable."
Somehow, I just don't think this is going to be a long term problem. Human beings have been having sex since at least the 1960s, quite possibly longer. I think this generation will figure it out, too.
UPDATE: Amanda Hess reports that the whole "hookup culture" is overstated.
[S]tudents on college campuses aren't actually hooking up that much. Sociological Images' Lisa Wade, who has researched hookup culture extensively, has found that "between two thirds and three quarters of students hook up at some point during college." Since the term "hookup" can include everythingfrom just kissing (where around 32 percent of college hookups end) to intercourse (40 percent of hookups), that means only that college students are engaging in as little asone makeout every four years. One study found that among students who did hook up in college, 40 percent did it three or fewer times total (less than one hookup a year); 40 percent did it between four and nine times (one to two hookups a year); and 20 percent did it ten or more times. Less than 15 percent of college students are engaging in some form of physical contact more than twice a year. It's unlikely that the solution is for students to have even less casual sex.
Freitas isn't the only one who falsely believes that casual sex is "obligatory" in college. Students themselves routinely overestimate the number of hookups their peers are having. In one survey conducted at the University of Wisconsin-Eau Claire, 77 percent of students reported that their peers are hooking up more than they are. Wade found that student misconceptions about college hookup culture began even before they set foot on campus, thanks to "media portrayals of college life" courtesy of gross-out movies, Girls Gone Wild, and journalistic accounts like Freitas'. And it's not that college students think their sexually-active peers are cooler than they are; half of students look down on people they think hook up too much. Many of the students who are casting a negative view of "hookup culture" aren't actually taking part.
I am disappoint.