House GOP Caucus Could Become Just A Bit More Diverse After Tonight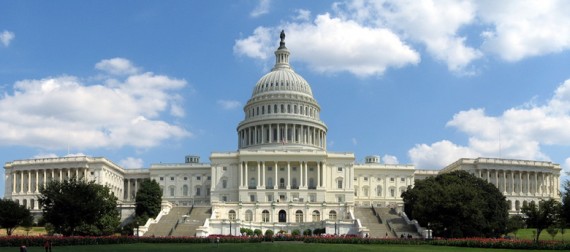 Tonight's elections could bring some small degree of diversity to the House Republican Caucus, including possibly its first African-American female and its first openly gay Member of Congress:
House Republicans are expected to expand their majority in Tuesday's election in part by welcoming a new crop of fiery conservatives – but also by adding something that has been missing from the GOP: diversity.

Republicans in the House will probably add their first African American representative in recent years, if front-runner Mia Love picks up the south Salt Lake City-area open seat. Another black Republican, former CIA undercover officer Will Hurd, is in a tight race with a Democratic incumbent in west Texas.

In addition, House Republicans could see two openly gay congressmen in a conference that currently has none. Republicans Richard Tisei in Massachusetts and Carl DeMaio in San Diego are both in tough races against Democrats.

Adding to the diversity would be a milestone for House Speaker John A. Boehner, who has crisscrossed the country to expand the playing field for his party.

House Republicans are expected to gain as many as 12 seats, "with slightly larger GOP gains not out of the question," according to David Wasserman, the House analyst at the nonpartisan Cook Political Report.

The reinforcements in numbers will help Boehner lead the often unruly conference, giving the Ohio Republican a healthy cushion for tight votes.

Boehner and his party could also benefit if diverse newcomers help improve the party's brand. It's no secret the Republican Party has struggled to broaden its base. The last time the House included a black Republican was after Tim Scott of South Carolina and Allen West of Florida were elected in 2010. Scott was appointed to the Senate two years later and West was defeated in a reelection bid.
Of the candidates discussed here, the most likely win for the GOP seems to be Love, who is running a second time for Utah's 4th Congressional District. In 2012, she lost the race to Jim Mathison, a Democrat who had been representing Utah in Congress since 2001 in the 2nd District before he ended up in the 3rd District after redistrict and the creation of a new Congressional District for the state. Love lost by less than 800 votes two years ago, and most people who were following that race said that the loss could be attributed to a combination of Mathison's long incumbency since the new district included large parts of his old district and the fact that Love, who had been elected Mayor of Sandy Springs, Utah just two years beforehand, did not run the best campaign, especially since she seemed to spend an inordinate amount of time outside the state at conservative conferences prior to the election. This year, though, Mathison has retired and Charlie Cook's Political Report lists the District as "Likely Republican"  while Stuart Rothenberg lists it at "Safe Republican." Tsiei and DeMaio face tougher races but both, and Tsiei in particular, could benefit from stronger GOP candidates further up the ballot. Will Hurd, meanwhile, has a tougher battle in Texas-23, which both Rothenberg and Cook list as "Lean Democratic,"