House Passes Measures To Strengthen Gun Background Checks
Last week, the House passed two bills to strengthen the laws regarding background checks for guns, but they're not likely to even make it to the floor of the Senate.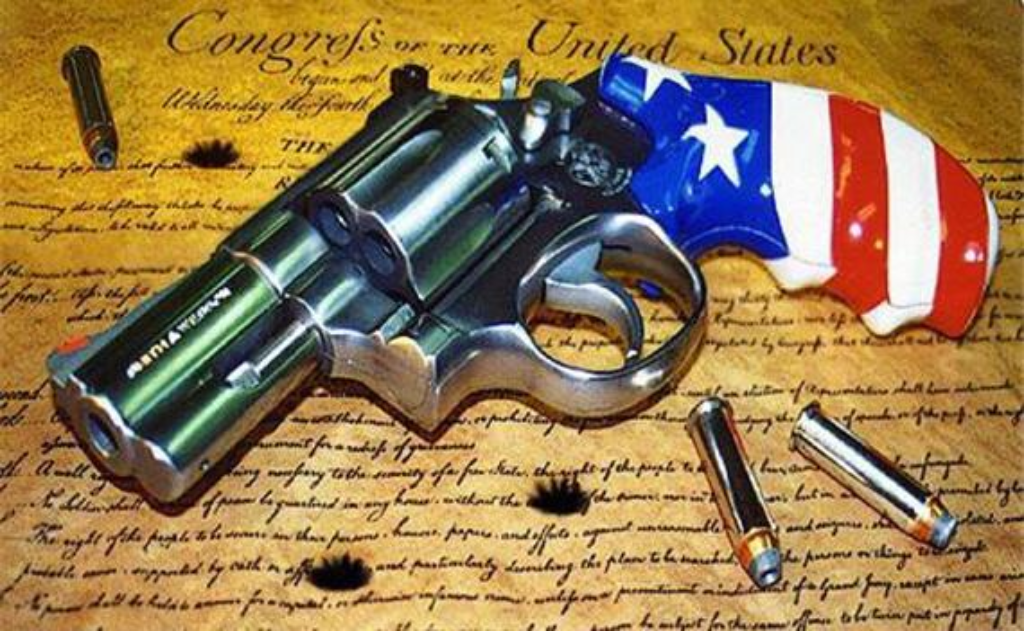 Late last week, the House of Representatives passed two major pieces of legislation that are likely to be popular with the general public, but which likely have no future in the Senate. The first piece of legislation passed on Wednesday expands Federal laws regarding background checks to apply it to a wider number of firearms transfers:
WASHINGTON — The House voted on Wednesday to require background checks for all gun purchasers, including those at gun shows and on the internet — the first significant gun control bill to clear the chamber in a quarter of a century.

The 240-to-190 vote is the first of two gun control measures expected to be put to House lawmakers this week, a turning point in gun legislation after 25 years when the National Rifle Association dominated the chamber. Last year's massacre at Marjory Stoneman Douglas High School in Parkland, Fla., prompted a wave of student-led activism that pressed Democrats to unite around gun control, and the activists cheered when the measure cleared the 218-vote threshold for passage.

The Democratic victory was tempered, however, after Republicans prevailed in adding a provision that would require the F.B.I. to alert Immigration and Customs Enforcement if an undocumented immigrant tried to obtain a firearm. Twenty-six Democrats, primarily from moderate or Republican-leaning districts, broke party lines to support the measure.

But Speaker Nancy Pelosi of California and other Democrats insisted that would ultimately have little import.

"Finally, we have done more than thoughts and prayers. Finally, we have taken a vote to expand background checks and help save lives," said Representative Mike Thompson, Democrat of California, who leads the congressional Gun Violence Prevention Task Force.

"For six long years, we worked on this issue, and the previous majority would not even let us have a hearing, let alone a vote to expand background checks," Mr. Thompson said. "Today is a new day, and the show of support on both sides of the aisle for this important legislation is humbling."

More than 100 student activists, gun violence survivors and advocates — clad in a sea of orange scarves, ties and blazers to denote their support for the legislation — looked on from the House gallery as lawmakers advanced Mr. Thompson's legislation, the Bipartisan Background Checks Act. It seeks to close loopholes that allow individuals to buy firearms on the internet or at gun shows without having to pass a background check.

"We've been working toward this legislation for over a year now," said Laura Kirk, 18, and a founder of a Students Demand Action high school chapter in Virginia. "It's incredible to see our work translate into tangible results."

(…)

The House bill that was approved on Wednesday "is taking the fears and concerns of a nation over gun violence and perpetrating a fraud on them," said Representative Doug Collins of Georgia, the top Republican on the Judiciary Committee. "The reality is nothing in this bill would have stopped Parkland, or stopped any of the other violence we have seen."

Gunmen at the center of a number of high-profile mass shootings passed background checks and legally purchased the firearms they used. But gun control activists have praised both background check measures as a critical first step in a broader drive to reduce gun violence.

"America's current background check system is like having two types of security lines at the airport: one for people who are willing to be screened, and one you can waltz right through carrying whatever you want," said John Feinblatt, the president of Everytown for Gun Safety. "We applaud the House for moving so quickly."

Once divided on the issue, House Democrats returned to the majority, promising meaningful action on gun control, with aid from advocacy groups backing candidates who made the issue central to their campaigns. Michael Bloomberg, the former mayor of New York, spent around $100 million in the midterms last year to elect gun control supporters, according to Everytown.

The group will continue its push this week with $400,000 in digital ads urging lawmakers to support the legislation as it tries to break through the Senate.
In many respects, the bill that passed the House on Wednesday is similar to the bill that was offered in the Senate in 2013 in the wake of the shooting at Sandy Hook Elementary School by Senators Joe Manchin and Pat Toomey, both of whom have generally favorable ratings from the National Rifle Association. Like Manchin-Toomey, this bill seeks to expand the sales required to be accompanied by a background check through a Federally-licensed firearms dealer to include transfers at gun shows that don't already involve a Federally licensed seller as well as most other private transfers outside the Federally-licensed system. Generally speaking, this bill will likely prove to be popular with the public given the fact that nearly all of the past polling on gun control issues has shown that support among the American public for expanded background checks is nearly universal and that even self-identified Republicans, conservatives, and gun owners support measures like this.
Additionally, from a legal point of view, it seems clear that the bill that passed the House would most likely pass muster under the Supreme Court's rulings in District of Columbia v. Heller and McDonald v. Chicago. In the Heller decision, Justice Scalia made clear that the Court's decision did not stand for the proposition that all laws and regulations that impact the right to keep and bear arms are per se invalid. While Scalia did not go into detail regarding what kind of laws would be acceptable under the Court's analysis, but it seems clear that a background check system that is designed to keep weapons out of the hands of people who are not legally entitled to own them is something that would pass legal muster in any court in the country. This is especially true given the fact that, in the years since Heller, far more stringent laws have been upheld by Federal Courts around the country and that, until recently, the Supreme Court has declined to even accept any of those cases for appeal, a strong indication that there is a majority on the Court who doesn't believe that the laws that were upheld cross the line that Heller and McDonald drew more than a decade ago.
The second piece of legislation, passed yesterday, closes perceived loopholes in the existing background check system in an effort to ensure that firearms do not fall into the hands of people who shouldn't have them:
WASHINGTON — The House voted Thursday to extend the time allotted for the F.B.I. to conduct background checks for gun purchasers flagged by the national instant check system, the second major gun control bill to clear the chamber this week after two decades of inaction.

Democratic leaders also succeeded in quelling a small rebellion among freshman Democrats from Republican-leaning districts, persuading them to oppose a politically freighted Republican procedural motion after they backed a similar motion on Wednesday.

The 228-to-198 vote aims to extend the background check review period for gun purchasers to 10 days. Currently, the F.B.I. must perform its review and determine whether there is sufficient evidence to deny a purchase in three business days. If it cannot complete the review within that time, a buyer may return to the dealer on the fourth day to purchase a firearm.

That provision in current law allowed Dylann S. Roof to purchase a handgun and kill nine people at a historic black church in Charleston, S.C., in 2015, even though he should have been denied his firearm.

"Let's give the F.B.I., the authorities, enough time to do their job and save lives," Representative James E. Clyburn of South Carolina, the majority whip and the bill's sponsor, implored his colleagues from the House floor.

Both gun control bills that cleared the House this week face dim prospects in the Senate, but they were cause for celebration for the gun-control activists that mobilized last year after a series of horrific mass shootings.

While Thursday's bill was expected to easily clear the Democrat-controlled chamber, a dose of drama was added after House Republicans staged a successful ambush during the vote on the first gun control measure on Wednesday.

In an attempt to divide Democrats and draw out vulnerable swing-district members, Republicans offered a provision that would require the F.B.I. to alert Immigration and Customs Enforcement if an undocumented immigrant tried to obtain a firearm. Twenty-six Democrats broke party lines to support the measure, catching Democratic leadership caught off guard.

House Republicans tried a repeat ambush on Thursday, surprising Democrats with a last-minute motion to exempt victims of domestic abuse from the new 10-day waiting period. This time, following strict marching orders from Speaker Nancy Pelosi, the motion failed, with only two Democrats, Representatives Jeff Van Drew of New Jersey and Collin C. Peterson of Minnesota, voting for the measure.

"Vote no, just vote no, because the fact is a vote yes is to give leverage to the other side and surrender leverage on the floor of the House," Ms. Pelosi told reporters on Thursday.
The primary purpose of this second piece of legislation is to address a loophole that was discovered in the wake of the murder of nine people at an African-American church in Charleston, South Carolina. In that case, Dylann Roof, the shooter, purchased his weapon earlier in the year in 2016 after he had been charged with two felonies. Ordinarily, those charges alone would be sufficient to bar Roof from purchasing a weapon. However, that did not happen in this case because the law governing background checks provides that if a background check takes more than three days, then the gun dealer can, at their option, allow the purchaser to take possession of the gun. In Roof's case, the check was not completed within the three day period so the dealer let him take the gun home. Under the proposed bill, the three day period would be extended to ten days, meaning that there would be more time to allow a background check to be completed and, hopefully, for people like Roof to be prevented from legally purchasing a weapon.
As with the bill that passed on Wednesday, it's likely that this is a measure that would prove to be almost universally popular. The idea that someone who should not own a weapon would be allowed to legally purchase one just because of the fact that the background check was delayed is something that seems nonsensical and completely irrational. It's also fairly clear that, as with the bill that passed on Wednesday, this bill would also pass legal muster under any reasonable interpretation of Heller and McDonald. After all, if it is reasonable to impose a background check to begin with, and it seems fairly clear that it is, then enhancing that law to ensure that there is sufficient time to conduct that background check.
Notwithstanding all of this, the odds that either of these bills will become law is fairly low. Both bills are opposed by the National Rifle Association and other gun rights organizations, and as a result, they are opposed by Republicans in the House and the Senate. This can be seen most notably by the fact that the House Republican Caucus was nearly united in voting against both pieces of legislation, with only a handful of members crossing the aisle to vote in favor of the bills. This Republican loyalty to the N.R.A. is likely to also exist in the Senate to the extent where it's likely that Senate Majority Leader Mitch McConnell is unlikely to even bring either measure to the floor for a vote. Even if that did happen, though, it seems clear that the supporters of the bill, which would consist mostly of Democrats will be unable to cobble together enough votes to overcome the 60 vote margin to invoke cloture, something that would require at least 13 Republicans to cross the aisle and join the 47 members of the Democratic caucus. Given that, these bills are basically headed to the Senate to die, and the most that Democrats and others who support these bills can hope for is that they are able to turn this into a political issue in 2020 and beyond.