House To Insist On One Year Delay Of Obamacare, Making Shutdown All But Inevitable
The House will reportedly vote on a new Continuing Resolution with conditions that would seem to make a shutdown inevitable.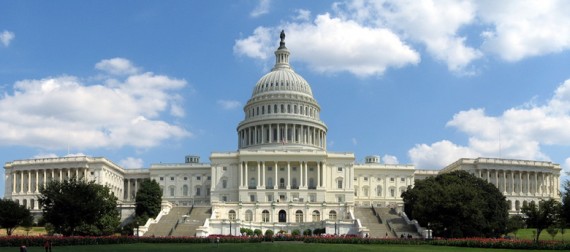 With the Senate having voted yesterday to pass a "clean" Continuing Resolution that doesn't include defunding of Obamacare, the ball is now back in the court of the House of Representatives. As I've previously noted, the House GOP had originally intended to reply to this development by moving past the Continuing Resolution and attaching a list of demands to a bill to raise the debt ceiling. However, thanks in no small part to Senator Ted Cruz lobbying behind the scenes, it became clear yesterday that the House GOP did not have the votes to pass a "clean" CR even with the addition of the debt ceiling items. So, the House GOP caucus met this morning to determine the next step and, based on this afternoon's report, it looks like they plan to send a CR back to the Senate with PPACA conditions still attached to it:
House Republicans will vote to pass a one-year delay of Obamacare in exchange for funding the government, a plan that drastically increases the chances of a government shutdown this Tuesday.

The decision was announced by the GOP leadership in a closed meeting Saturday afternoon, according to sources present. Republicans will also pass a bill to fund U.S. troops if the government shuts down, according to GOP lawmakers. The House's funding measure will keep the government open until mid December.

This puts Senate Democrats and the White House at loggerheads with House Republicans, a standoff that could lead to the first government shutdown since 1995.

Senate Democrats passed a bill to fund the government until Nov. 15, but kept intact Obamacare.

"We've had enough of the disunity in our party," Majority Leader Eric Cantor (R-Va.) told the meeting of House Republicans Saturday afternoon. "The headlines are Republicans fighting Republicans. This will unite us. This protects the people who sent us here from Obamacare."

House Majority Whip Kevin McCarthy (R-Calif.) said it would be the "fastest whip check in history," as every member raised their hand, saying they would support the bill.

The House is expected to vote Saturday, sources say.
There are also reports that the bill that House Republicans are considering will also include a repeal of the Medical Device Tax, a provision of the PPACA that has actually proven to be universally unpopular across party lines, and which may actually be something that Senate Democrats could support as a standalone idea. The question, of course, is whether they'd support it, or any other conditions related to the PPACA when they're attached to a Continuing Resolution that the Senate will receive mere days before the government would shut down. Quite honestly, I don't see this going over any better in the Senate than the previous House CR did, and I don't see many, if any, Democratic Senators voting for it if it manages to come up for a final vote.
If this really is the approach that the House is taking, though, then it would seem to make a shutdown inevitable, even if it is just a short-term one. After it passed the CR yesterday, the Senate adjourned and is not scheduled to reconvene until Monday morning, less than 24 hours before the deadline to avoid a government shutdown. Absent unanimous consent, which seems unlikely, there really isn't any way under the rules of the Senate that would allow the bill to reach even the first procedural vote that the Senate is required to take until nearly mid-week, with a final vote not taking place until the end of the week. Again, these times could be shortened if there was unanimous consent but, even then, it would mean that we'd see a shutdown that lasted at least a couple of days at the shortest.
Now, as I've noted in the past, shutdowns lasting only a few days haven't been all that unusual over the past 30 years, although we have managed to avoid any shutdowns since the disastrous 21 day shutdown that lasted from late December 1995 to mid January 1996. The difference between now and then, though, is that the two sides seems further apart than they have been in the past, about as far apart as Clinton and the Republican Congress was during that last long standoff. That suggests that, if the government does shut down then we're more likely to see something that lasts for an extended period of time than something that just lasts a couple days.
There is one way to avoid all of this, of course. Both sides could agree to pass a very short-term (one to two weeks) "status quo" CR that keeps spending at current levels and doesn't touch the PPACA at all. That would give them more time to come up with something acceptable. Of course, with the debt ceiling coming up right around the corner, that may not be as realistic as it might appear.
Reports indicate that the House will likely vote on this new Continuing Resolution sometime today. At that point, we'll have to wait and see what the Senate does on Monday. Absent some back channel negotiations that we don't know about, though, it seems unlikely that anything can be done to avoid a shutdown at this point unless one side or the other blinks, and that just doesn't seem likely.